JOIN US IN FRANCE IN SEPTEMBER FOR
ROCK IN OPPOSITION 2015!!
http://www.rocktime.org/rio/
Cuneiform Records is Honored to Announce that
Five
Cuneiform-Associated Bands/Recording Artists will Appear at: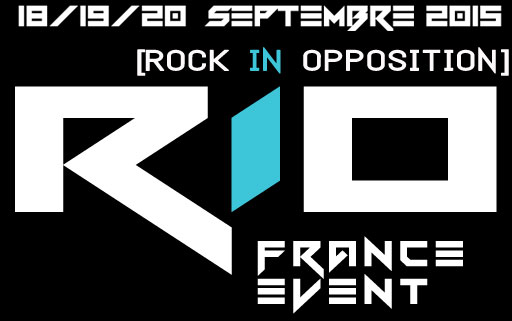 LOCATION: Cap Découverte, 81450 Le Garric, France
Cuneiform Records is proud to announce that 5 bands associated with the label will be among the 11 groups performing at the 2015 Rock in Opposition (R.I.O.) Festival to be held in France. This three-day festival devoted to artistically-uncompromising rock music celebrates "the incendiary spirit of Rock in Opposition" and will draw audiences from around the world. Featuring some of the most provocative, innovative, and artistically progressive rock music created over the past three decades to the present day, the Rock in Opposition festival aims to "transport the creative flames and anti-corporate-rock aesthetic of the original Rock in Opposition movement into the new millennium."

This year, for 2015, the festival will spotlight eleven of the most adventurous artists and bands on the current international avant-music scene. The full lineup for RiO-France 2015 includes:

RiO-France is 2015's essential event for fans of cutting-edge rock, avant-progressive, and chamber-rock music. Visit the official RiO France 2015 website for more information on artists; festival schedule/program; transportation, lodging, and tickets; and more: http://www.rocktime.org/rio/index.php/en/

Four of these bands – Present (Belgium), Mats/Morgan (Sweden), Happy Family (Japan) & Alec K. Redfearn & the Eyesores (USA) – have each released numerous recordings on Cuneiform Records. A fifth band, Rêve Général, includes three members of Volapük, a French band who have released several albums on Cuneiform.

Founded in the USA in 1984 and dedicated to cutting-edge, avant-garde music of the highest caliber from around the world, the adventurous and long-standing Cuneiform record label has the most extensive catalogue of Rock in Opposition recordings in the world. For more information about Cuneiform Records, the talented artists that it represents, and the numerous adventurous music recordings it's released over three decades, please visit: www.cuneiformrecords.com


CUNEIFORM RECORDING ARTISTS AT
RIO FESTIVAL-France 2015 :


The five Cuneiform bands & associated groups appearing at
Rock in Opposition-France 2015 include:
[click band photo for more info]

Present (Belgium)
–
Headlining Sept. 18th @ 11:30 PM
Mats / Morgan Band (Sweden)
–
performing Sept. 19th @ 9:00 PM

Happy Family (Japan)
–
performing Sept. 20th @ 2:00 PM
Alec K. Redfearn and the Eyesores (USA
)

performing Sept. 20th @ 2:00 PM
and

Reve General [Volapuk/Metamorphosis] (France)
performing @ Sept. 19th at 2:00 PM
__________________


CUNEIFORM RECORDING ARTISTS AT
RIO FESTIVAL-France 2015 :
Present (Belgium)
Performing @ RIO-France on September 18th, 2015 at 11:30 PM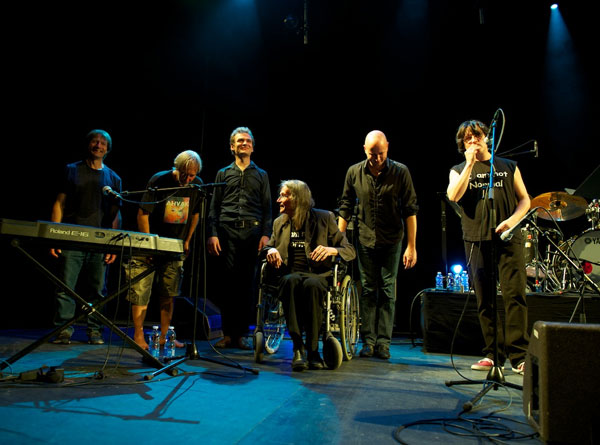 Present @ CuneiformRecords.com


If the Rock in Opposition (RIO) movement has a spiritual Godfather, it is Belgian composer/musician Roger Trigaux, leader of Present. Present has been blasting apart the boundaries between rock, classical and jazz music for more than 3 decades. Widely acknowledged as one of the RIO movement's leading lights, this Belgian band was founded and is led by composer /keyboardist/guitarist Roger Trigaux. Back in 1974, Trigaux co-founded Univers Zero with drummer Daniel Denis and recorded on UZ's first two albums. With both Denis and Trigaux at the helm, Univers Zero performed in London in March 1978 at the first-ever Rock In Opposition concert, ensuring their eternal legacy as one of the RiO movement's official founders.

In 1979, seeking a change of musicial direction towards a more rock-based sound, Trigaux left UZ to form the band, Present. Present's early lineup for live performances and its first two studio albums included members of fellow Belgian band UZ, including Denis on drums. In 1980, Present released its first recording, Triskaidekaphobie, which included Trigaux's landmark composition, "Promenade au Fond du Canal," a Chamber Rock masterwork that helped pave the way for 21st century post-classical music. In 1985, Cuneiform released Present's 2nd album, Le Poison Qui Rend Fou, beginning the label's longstanding support of Chamber Rock and other Rock in Opposition music. In 2014, Cuneiform reissued deluxe editions of both albums, featuring remastered music and illustrated booklets.

With Trigaux always at the helm, Present's lineup evolved over the years from a brief duo lineup with his son Reginald, to a long-standing, full-sized band. For more than a decade, Present has boasted a tightly-honed 6-piece lineup featuring many of the best players on the European avant-progressive/ Rock in Opposition scene. Present's current lineup includes Trigaux and his son Reginald; David Kerman; Keith Maksoud; and two Univers Zero associates, Pierre Chevalier (UZ alumni) and Kurt Budé (UZ member). Despite (or "in Opposition" to) a physical ailment that confines Trigaux to a wheel chair onstage, Present has played in recent years at several of the world's most acclaimed music festivals, including the first-ever RiO-Fest in Japan (2014); Germany's Freakfest; and festivals in France and Belgium. Present's performance at the 2015 RiO-France promises to be not only a festival highlight, but one of the most intense and memorable musical performances on any continent this year.


Present recordings on Cuneiform Records:



-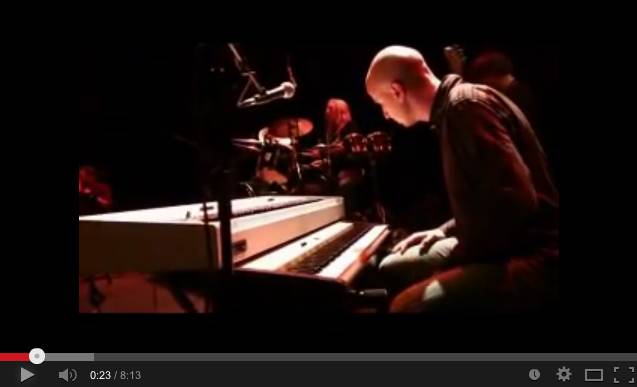 [WATCH Present- Promenade Au Fond d'un Canal]

More information about Present on Cuneiform:
Present @ CuneiformRecords.com

Present on Facebook


__________________

Happy Family (Japan
)
Performing @ RIO-France September 20th 2015 at 2 PM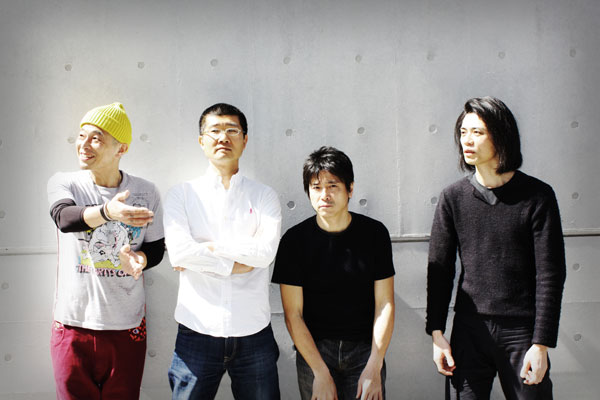 Happy Family was formed in 1987 in Tokyo, Japan by the members from Meiji University musical circle. They began by playing covers of progressive rock such as King Crimson or Yes, but soon afterwards, they started writing original tunes with extremely complex compositions that expanded into hard rock. Happy Family were an active live band in their first years, playing numerous shows before recording the 3-tune demo tape that got them signed to Cuneiform. In 1995, their 1st, self-titled album, Happy Family, came out on Cuneiform; it was the label's first release by a Japanese artist. Also in 1995, they covered a song by Daniel Denis, Univers Zero's composer/leader/percussionist, for Unsettled Scores, a Cuneiform compilation album that celebrated the label's 10th Anniversary. Happy Family continued to refine their signature sound – original hard rock melded with complex composition – and in 1997 they released their 2nd album on Cuneiform, Toscco, which featured a new guitarist. Although these recordings brought Happy Family international critical acclaim, and the band was in-demand for live performances, Happy Family broke up in the autumn of 1998.

In 2012, 15 years after they disbanded, Happy Family reformed with a new lineup and a new sound, different from their 90's sound but still distinctly 'Happy Family'. Happy Family's new lineup consists of Kenichi Morimoto (keyboards), Keiichi Nagase (drums), Takahiro Izutani (guitar), Hidemi Ichikawa (bass). In 2014, Happy Family released a new album called Minimal Gods on Cuneiform, and performed at the first-ever Rock in Opposition-Japan Festival. Their 2015 appearance at RiO-France will be their first-ever performance outside Japan, and is one of the year's most anticipated concerts on the European continent.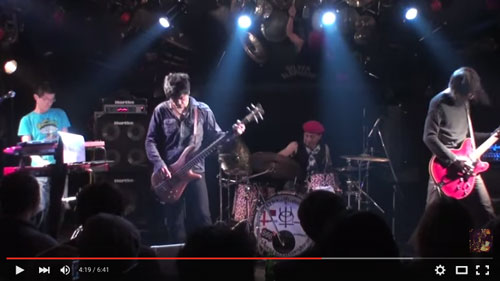 [Watch Happy Family perform LIVE]

Happy Family recordings on Cuneiform Records:



Happy Family @ CuneiformRecords.com:
http://www.cuneiformrecords.com/bandshtml/happyfamily.html

Happy Family on the Web:
https://www.facebook.com/HappyFamily.music

____________________


Mats/ Morgan Band (Sweden)
Performing @ RIO-France September 19th 2015 at 9:00 PM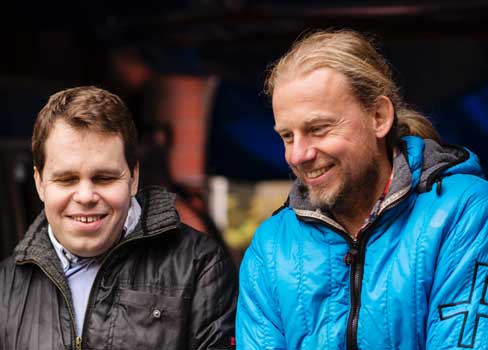 Mats/ Morgan @ CuneiformRecords.com

Keyboardist Mats Öberg and drummer Morgan Ågren have worked together for nearly 3/4s of their lives. Both were childhood prodigies in Sweden who met in 1981 and have since grown into adults recognized as absolute masters of their respective instruments. Their musical collaboration has steadily evolved over the past 30+ years from early duo experiments, to Zappa cover band, to actually meeting and performing with Frank Zappa and his band, to a quintet lineup of their own band, to a keyboard/bass/drums trio, and now, to their current formation as a quartet. Their music has also greatly changed over the years, becoming ever-more accessible and contemporary, with Mats/Morgan adding elements from electronica to their roots in jazz/rock, complex rock, and avant-garde music. Their sound playfully blends these electronic influences with jazz fusion with the soulful grooves of Earth, Wind and Fire, avant-garde atonalities, the melodicism of Stevie Wonder and the complexity and humor of Zappa and Hermeto Pascoal. While some Zappa influence from their early days remains, Mats/Morgan have long since found their own voices, in which humor and restraint are interwoven in these superb players' virtuosity.

Since forming the Mats/Morgan Band in 2001, Mats/Morgan have evolved into a force on the international concert circuit, a well-honed, cohesive progressive jazz/rock unit reknown for amazing audiences in Europe, Asia and the USA. Cuneiform saw their live performance at the 2004 Les Tritonales Festival in Paris, and signed them to the label. Thanks for Flying with Us, their first Cuneiform release, came out in 2005 to international acclaim. n the mid 90's, Mats/Morgan began releasing CDs on Morgan's own label, Ultimate Audio Entertainment.

In addition to releasing all of Mats/Morgan's subsequent new recordings, in 2008 Cuneiform began reissuing remixed/remastered editions of the early Mats/Morgan albums first released on Morgan's label. Cuneiform's new release of [schack tati], in 2014, is the first Mats/Morgan album recorded in Morgan's newly-built studio in Sweden. Mats/Morgan have performed live at festivals worldwide, and each time they've entertained and thrilled audiences with their joyous musical chemistry, born of a lifetime of musical collaboration and friendship.


Mats/Morgan recordings on Cuneiform Records: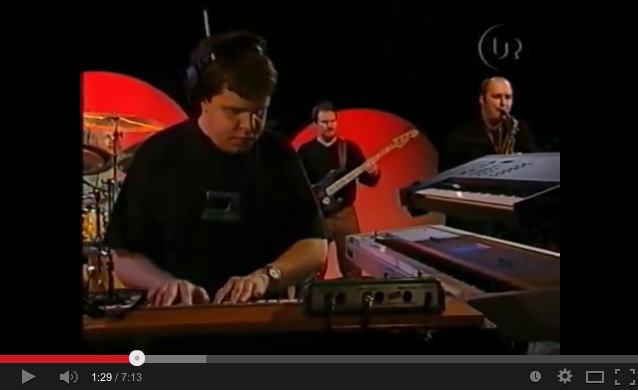 [WATCH Mats/ Morgan Band- The Chicken]

For more information about Mats/Morgan on Cuneiform:
Mats/ Morgan @ CuneiformRecords.com

Morgan Agren's official website
http://www.morganagren.com

____________________

Alec K Redfearn and the Eyesores (USA)
Performing @ RIO-France September 20th 2015 at 2:00 PM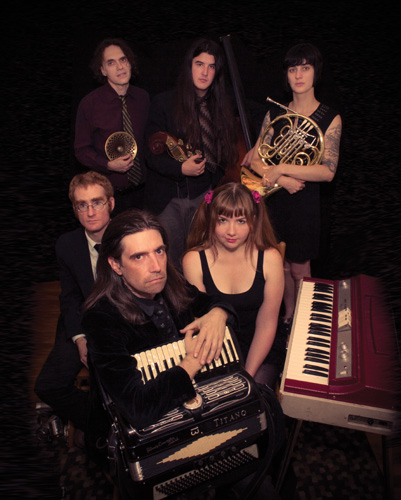 Alec K. Redfearn is a composer, accordionist, songwriter, improviser and performance artist who grew up listening to hardcore (The Minutemen, Meat Puppets, Butthole Surfers) and metal (Slayer, Metallica). He moved to Providence, RI (home of H.P. Lovecraft & Edgar Allan Poe) in the late 80s and became involved in the AS220 Arts and Performance Collective. "I taught myself accordion as a reaction to grunge," Redfearn explains. "Since accordion was hated, I said 'this will be my fuck you' to the rock world. Then I got obsessed with it." The accordion led him to British folk, Eastern European, Indian classical music, Turkish and Arabic music, and gypsy music in all its global variations. He started Space Heater, an absurdist "miniature industrial" band that evolved into the Amoebic Ensemble, whose music fused folk music influenced by Weimar Republic composers and traditional European folk, with classical music, free jazz, rock and punk.

When Amoebic dissolved, he founded Alec K. Redfearn and the Eyesores, combining the influences shared by Amoebic (folk, cabaret, jazz) with a melancholy atmosphere invoked by Redfearn's dark lyrics and songs based on country and rock music. The band's 1998 debut, The Eyesores, was a six-song cassette, and was followed by a series of self-produced mini-albums. Their 1st full album, May You Dine on Weeds Made Bitter by the Piss of Drunkards, came out on Magic Eye Singles. 2002's Bent at the Waist (Handsome) brought them acclaim for its left-field alternative pop sound, while Every Man For Himself & God Against All (Corleone, 2003) was embraced by avant/experimental and indie-rock crowds.

In the mid-noughts, working primarily with the Cuneiform label, Alec K. Redfearn & The Eyesores began releasing a series of impressive recordings that brought the band international acclaim and new followers among the global avant/experimental rock, avant-progressive music and alt-folk scenes. In 2005, Cuneiform released The Quiet Room, a primarily instrumental, 15 song album featuring an 11-piece band plus guests laying down lush layers of strings, horns and feedback - electronics, telephones, noise-making devices - over a solid backbone of drums/percussion, accordion and bowed contrabass. On The Smother Party (North East Indie, 2006) Redfearn and the band played in a more traditional song format and, although the subject matter was grim, they were presented with a playful, fairy tale-like lyricism. In contrast, The Blind Spot (Cuneiform, 2007) was a more "serious" work, both musically and conceptually impressive, mixing classical and folk instrumentation, electronics and processed noise, vocals and invented/experimental musical instruments. A multifaceted epic, The Blind Spot was a lyrical requiem mass in secular form yet highly spiritual, a cathartic work that dealt with Redfearn's former drug addiction and coming to terms with the friends lost along the path to healing.

2012's Sister Death is the band's most recent Cuneiform release and its most accessible album to date. Sister Death explores the mysteries of life, death, love, loss, creation and destruction, subjects that have informed Redfearn's songwriting since the early 90s. The dark beauty of the music and lyrics is simultaneously astonishing and accessible; Sister Death transcends single genres while sounding captivatingly familiar, and the musicianship of the band is impressive throughout.

Perfectly atuned with the Rock in Opposition aesthetic, Alec K. Redfearn and the Eyesores are sure to captivate the crowds at RiO-France 2015. The current lineup of the band includes:
Alec K. Redfearn: vocals, accordion
Ember Schrag: vocals, organ, guitar
Christopher Sadlers: upright bass, vocals
Ann Schattle: French horn
Matt McLaren: drums, percussions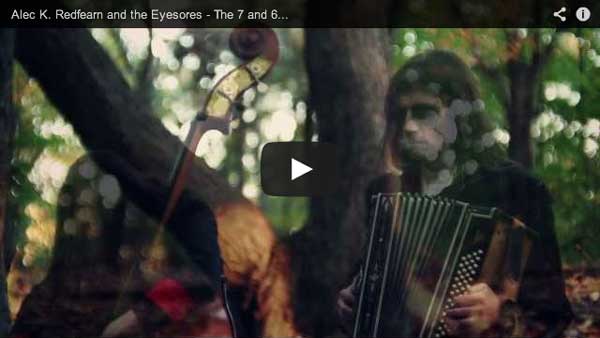 [WATCH the "The 7 and 6" music video]

Alec K. Redfearn & The Eyesores releases on Cuneiform Records:

For more info on Alec K. Redfearn and the Eyesores at Cuneiform:
http://www.cuneiformrecords.com/bandshtml/redfearn.html

Alec K. Redfearn and the Eyesores's Official sites: http://www.aleckredfearn.com/
https://www.facebook.com/aleckredfearnandtheeyesores

"From harsh nightmare riddles, to sweetly swooning tranced-out droning somnambulant reveries, psychedelic folk, prog-rock, old-time country, acidic cabaret, dark circus music, and sinister dream fragments … well worth investigating"
–Dream Magazine

_____________


associated groups:

Rêve Général [includes members of Volapük] (France)

Performing @ RIO-France September 19th at 2:00 PM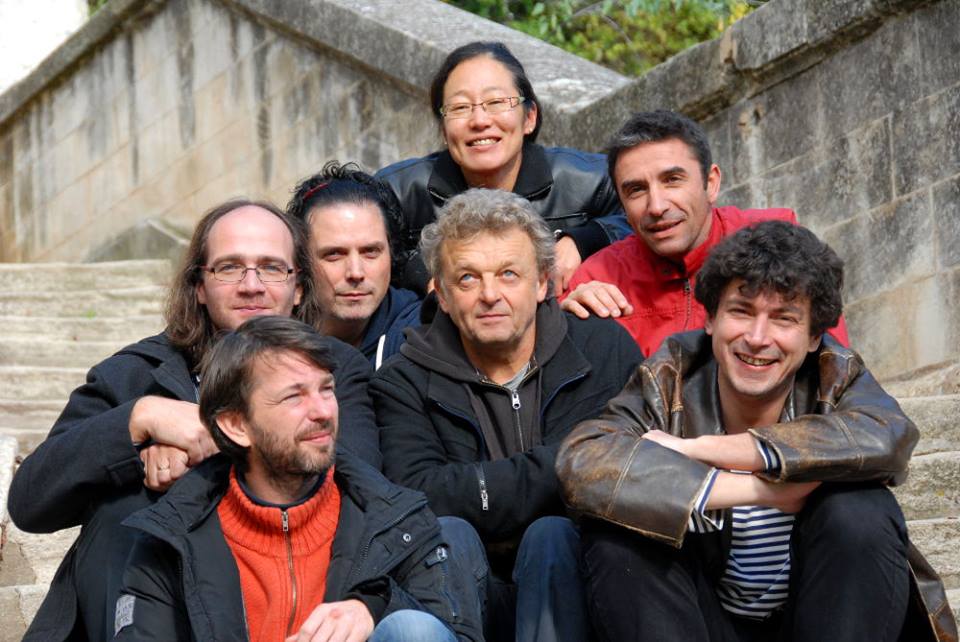 7 musicians, 5 nationalities (Japan, France, Austria, Czech Republic, Turkey) 2 violins, 2 cellos, 2 guitars, 1 drum set. Current Lineup:
From Volapuk:
Guigou Chenevier, Takumi Fukushima, Guillaume Saurel.
From Metamorphosis:
Richard Deutsch, Christoph Pajer, Martin Alacam, Jan Kavan


This wonderful Volapük bio is from the website for RiO-France: "Volapük toured everywhere in the world for17 years (1993 to 2010) : Poland, Italy, Czech Repubic, Argentine, Holland, Ouzbékistan, Canada, New Zeland, etc… In France like everywhere else, Volapük played in the most innovative festivals (Victoriaville, Banlieues Bleues, Vandoeuvre-les-Nancy, Macao, Isole Che Parlano in Sardinia, Burgos in Spain, etc…). Volapük played on the most diverse and strange stages, from squats to sheep folds in the highest mountains of Provence. Volapük has been mentionned to «Les Victoires de la Musique» for the music of the choreography by Maguy Marin, "Aujourd'hui Peut-Être".In 2007, Volapük changed radically its way to do music. From totally written stuff, they started a totally new adventure, experimenting a totally improved set. Impossible perspectives like in a Cornelis Escher painting. Volapük found a new way to improvise in a band, in a collective process. Volapük's basic idea is to let always everything open and possible. Since 2010, Volapük was asleeped. With Rêve Général this is the end of the night, and we can dream awaked again !"
http://www.rocktime.org/rio/index.php/en/artists/reve-general


RIO-France 2015 PRESS CONTACT INFORMATION: http://www.rocktime.org/rio/index.php
for schedules, programs, artist bios, transportation, FAQ, maps and any other queries you may have…


----



www.cuneiformrecords.com

www.twitter.com/cuneiformrecord
www.facebook.com/cuneiformrecords

www.soundcloud.com/cuneiformrecords

www.youtube.com/CuneiformRecords