New York City!
Come Celebrate the Release of Manhattan Moonrise
with The Microscopic Septet
on June 12, 2014 at Small's Jazz Club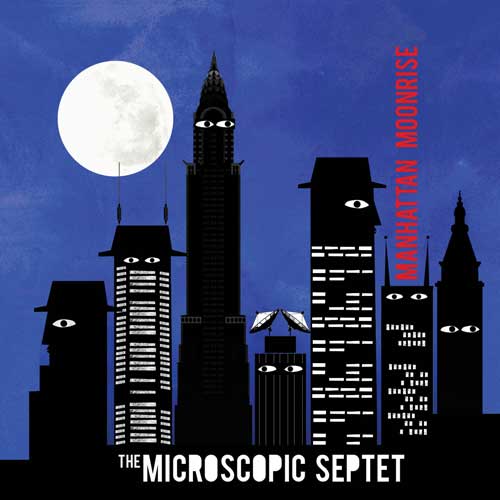 MANHATTAN MOONRISE
NYC ALBUM RELEASE PARTY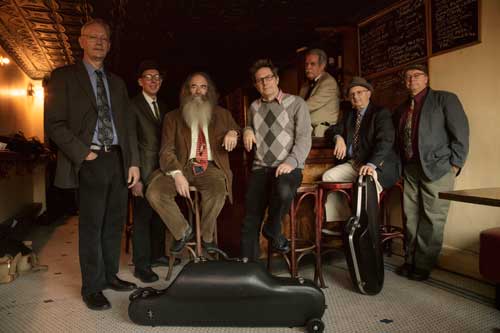 The Microscopic Septet's
June 12th concert at Small's is a "Must See" for NYC jazz fans. Not only is it the official Record Release Party for
Manhattan Moonrise
, but also the Micros'
only
Summer 2014 NY appearance.
The Micros will play two sets, featuring selections from
Manhattan Moonrise
as well as from their previous release,
Friday the 13th: The Micros Play Monk
.
NYC & CA Bay Area Friends!
Make sure to also see the
JOEL FORRESTER / PHILLIP JOHNSTON DUO CONCERTS
on June 10 & 15, 2014
[
scroll down for more info]
*******
THE MICROSCOPIC SEPTET
MANHATTAN MOONRISE

The Microscopic Septet, NYC's Fave Purveyors of Swing,
Roar Back into the Limelight with
Manhattan Moonrise,
an Album of 21st Century Tunes Dedicated to their Beloved Manhattan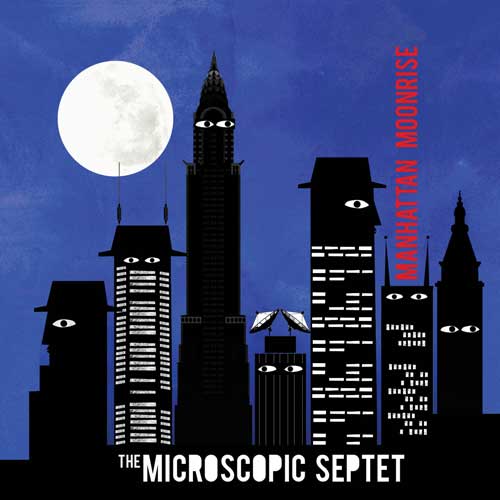 "Let's Coolerate One"
(mp3 download)
-
stream:
@SoundCloud
/
@Bandcamp / @YouTube
Release Date:
5/27/2014
-
Genre:
Jazz

Format:
CD / Digital Download


Track Listing
1. When You Get In Over Your Head (3:50)
2. No Time (5:51)
3. Manhattan Moonrise (8:15)
4. Obeying the Chemicals (3:22)
5. A Snapshot Of the Soul (4:13)
6. Star Turn (5:13)
7. Hang It On a Line (5:49)
8. Let's Coolerate One (5:13)
9. Suspended Animation (5:02)
10. Blue (4:14)
11. You Got That Right! (4:57)
12. Occupy Your Life (5:15)
The Microscopic Septet is
Phillip Johnston
: soprano saxophone
Don Davis
: alto saxophone
Mike Hashim
: tenor saxophone
Dave Sewelson
: baritone saxophone
Joel Forrester
: piano
Dave Hofstra
: bass
Richard Dworkin
: drums
Music lovers and romantics entranced with New York City's jazz life, take note:
The Microscopic Septet
are back in the jazz spotlight, disproving
F. Scott Fitzgerald
's comment that there are no second acts in American lives. Since roaring back into action in 2006 after a 14-year hiatus, the indefatigably creative ensemble has continued to evolve, burnishing and extending a well-earned reputation as one of the most consistently inventive jazz bands of the 1980s and 2000s/2010s. Reverently irreverent, insistently playful, unfussily virtuosic and unapologetically swinging, the band offers further evidence of its resurgence with
Manhattan Moonrise
, the Micros' first project with newly composed originals in 25 years.
With co-founders pianist
Joel Forrester
and soprano saxophonist
Phillip Johnston
crafting all the album's compositions and arrangements the band plays with the loose-limbed precision of a dance orchestra in the midst of a six-month tour. The strength of the Micros flows from the old-school virtue of consistency. Along with the co-founders, the seven-piece ensemble features largely the same cast of improvisers with which it emerged from Manhattan's wild and wooly Downtown scene in 1980. Drummer
Richard Dworkin
, baritone saxophonist
David Sewelson
, bassist
David Hofstra
, and altoist
Don Davis
(who replaced John Zorn in 1981) have all been along for almost the entire Microscopic journey, while tenor saxophonist
Mike Hashim
joined the fold in 2006.
Manhattan Moonrise
touches on the band's entire three and half decade history, with several previously unrecorded tunes from the Micros' early years, like Forrester's lushly orchestrated "No Time," which sounds like a catchy back page from Cedar Walton's songbook. Johnston's brief but scorching "Obeying The Chemicals" is another early piece, a deliciously telegraphic booting barrelhouse romp. And then there's the new work, like Forrester's episodic Beethoven-inflected closer "Occupy Your Life."
Whatever the music's vintage, it shares the unmistakable Micro stamp, a convivial marriage of ingenious craftsmanship and extroverted improvisation. If the band has a patron saint, it's clearly Thelonious Sphere Monk, whose presence is manifest in the Micros' cagey humor, harmonic syntax and hurtling rhythms. In much the same way that Monk's music existed apart from contemporaneous bebop, drawing directly on Ellington and Harlem stride piano while inhabiting its own avant-garde zone, the Micros are avid students of jazz history but unburdened by revivalist notions.
"I've always considered that the Microscopic Septet presents an outward show of being a 'revival' outfit," Forrester says. "But what we attempt to revive...never existed. A revival of the future, then?"
The future has never sounded so hip.
PURCHASE LINKS
//
ITUNES
-
AMAZON
-
BANDCAMP
-
WAYSIDE MUSIC
ARTIST SITES
//
www.microscopicseptet.com
-
www.cuneiformrecords.com
Micros co-leaders/composers Joel Forrester and Phillip Johnston will be playing concerts as a duo on both the East and West Coasts. They have been playing together as a duo for nearly 35 years, and released a duo recording, Jazz Times called their Live At The Hillside, "a masterpiece of intimacy, energy and synergy". This rare Bay Area duo appearance is their first since the recording of their live CD in Berkeley CA in 2011.


OAKLAND / SAN FRANCISCO, CA


Joel Forrester/Phillip Johnston Duo
Sunday, June 15th, 2014
9PM
Duende
68 19th St, Oakland, CA 94612, USA
510-893-0174
http://duendeoakland.com/