- signed into law July 2, 1964
by President Lyndon B. Johnson -
Cuneiform Records is streaming for ONE WEEK ONLY
beginning July 2, 2014

Pulitzer Prize in Music Finalist
WADADA LEO SMITH's
"Lyndon B. Johnson's Great Society and the Civil Rights Act of 1964"
in its entirety (24 min)
from
Smith's Civil Rights Masterpiece
TEN FREEDOM SUMMERS
released by Cuneiform Records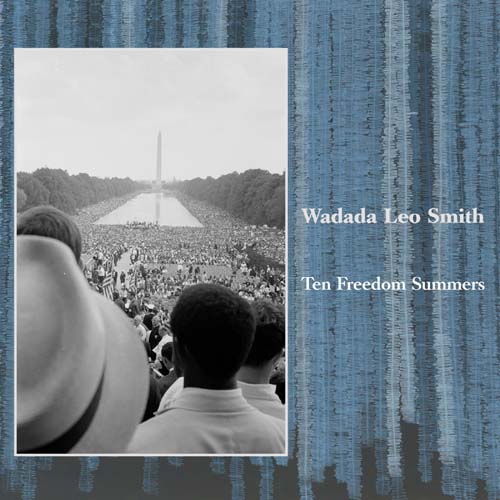 from July 2, 2014 to July 9, 2014, CLICK a link below: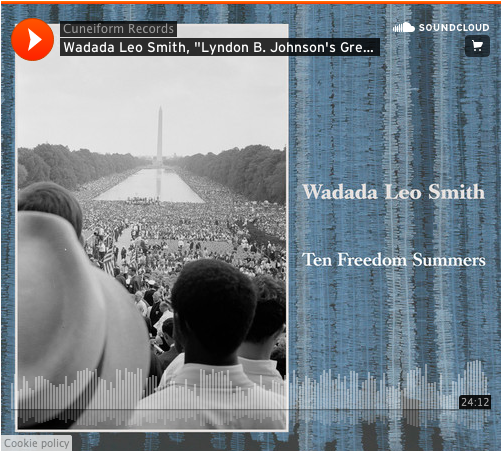 Ten Freedom Summers
Genre: Jazz / Classical / Creative Music
Format: 4-CD Box Set / Digital Download
Release Date: May 22, 2012
"
Ten Freedom Summers
is one of my life's defining works." -
Wadada Leo Smith
-
Ten Freedom Summers Track Listing:
Disc One / Total time 67:30
1. Dred Scott: 1857 (11:11)
2. Malik Al Shabazz and the People of the Shahada (5:15)
3. Emmett Till: Defiant, Fearless (18:02)
4. Thurgood Marshall and Brown vs. Board of Education: A Dream of Equal Education, 1954 (16:06)
5. John F. Kennedy's New Frontier and the Space Age, 1960 (22:12)

Disc Two / Total time 68:02
6. Rosa Parks and the Montgomery Bus Boycott, 381 Days (12:43)
7. Black Church (16:34)
8. Freedom Summer: Voter Registration, Acts of Compassion and Empowerment, 1964 (12:32)
9. Lyndon B. Johnson's Great Society and the Civil Rights Act of 1964 (24:12)

Disc Three / Total time 62:43
10. The Freedom Riders Ride (16:42)
11. Medgar Evers: A Love-Voice of a Thousand Years' Journey For Liberty and Justice (10:23)
12. The D.C. Wall: A War Memorial For All Times (12:18)
13. Buzzsaw: The Myth of a Free Press (15:02)
14. The Little Rock Nine: A Force For Desegregation In Education, 1957 (13:50)

Disc Four / Total time 67:54
15. America, Parts 1, 2 & 3 (14:14)
16. September 11th, 2001: A Memorial (9:30)
17. Fannie Lou Hamer and the Mississippi Freedom Democratic Party, 1964 (9:06)
18. Democracy (14:30)
19. Martin Luther King, Jr.: Memphis, the Prophecy (20:34)

Featuring:
Golden Quintet (#1, 2, 4, 8, 16, 17, 18) Southwest Chamber Music (#5, 7, 9, 11)
Golden Quartet[S. Ibarra] (#10, 12) GQ4[P. akLaff] (#6, 13, 15)
GQ4[S.] & SWC (#3, 14, 19)

Ten Freedom Summers is a monumental tribute to the American Civil Rights movement created by composer, improvisor, trumpeter and music theorist Wadada Leo Smith, a titan in contemporary jazz and creative music. Smith, who was born and raised in Mississippi under segregation, is one of the major figures in the international avant garde; DownBeat Magazine recently (summer 2014) named him one of the "80 Coolest Things in Jazz". Smith's Ten Freedom Summers was released by Cuneiform in 2012 as a 4-CD set, containing 19 works that Smith had composed over a 35-year period. Performed and recorded by Wadada Leo Smith's Golden Quartet/Quintet and Southwest Chamber Music. The music embraces both jazz and classical music.

When released in 2012, Ten Freedom Summers was acclaimed internationally, and topped many critics' "Best of Year" lists. In 2013, it was named one of the three finalists to the Pulitzer Prize in Music, the most prestigious award in American music.

Ten Freedom Summers has been performed live in its entirety - in a series of three special performances - in a number of cities world-wide. Notable performances of the entire work include its premiere in Los Angeles at RedCat in 2011, and in 2013 in a special series of performances held in Washington DC at the Atlas Performing Arts Center to celebrate the 50th Anniversary of the March on Washington (August 1963). In addition, Smith has performed various works from Ten Freedom Summers with his Golden Quartet at numerous festivals worldwide. Smith continues to compose new pieces for Ten Freedom Summers.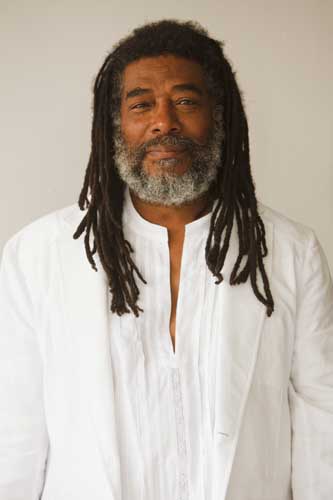 Wadada Leo Smith
Pultizer Prize Finalist 2013
Wadada Leo Smith
was chosen as a
Pulitzer Finalist for Music
in 2013 for
Ten Freedom Summers.
3 official 2013 Pulitzer Prize for Music finalists were selected:
"Wadada Leo Smith for "Ten Freedom Summers," recording released May 22, 2012, an expansive jazz work that memorializes 10 key moments in the history of civil rights in America, fusing composed and improvised passages into powerful, eloquent music. (Cuneiform Records)"
.
[See:
2013 Pulitzer Prize Finalists - http://www.pulitzer.org/citation/2013-Music
]
"By selecting "Ten Freedom Summers" as a finalist among 157 entries, this jury made a clear statement that American music has ventured far beyond the noble traditions of Bach, Beethoven and Brahms. How fitting that an artist indelibly linked with the Association for the Advancement of Creative Musicians — which has been redefining music in America for nearly half a century — should carry that message forward."

- Howard Reich,
"Pulitzer finalist Wadada Leo Smith symbolizes Chicago jazz power,"
Chicago Tribune
, April 15, 2013
-
TEN FREEDOM SUMMERS
ONE OF 2012 BEST ALBUMS/ MORE THAN 60 CRITICS
"A stunning achievement, with the dramatic sweet of the trumpeter's writing (for both a chamber orchestra and his own small group)… It merits comparison to Coltrane's A Love Supreme in sobriety and reach."
-
Francis Davis, Rhapsody Jazz Critics Poll

"His masterpiece."
-
Barry Witherden, BBC Music Magazine
"The veteran trumpeter's defining statement."
-
Mike Hobart, Financial Times

"The most challenging (and emotionally rewarding) release of 2012."

-
Bret Saunders, Denver Post

"A monumental achievement… With anthemic, roiling sounds designed to celebrate and embody the once-inextricable link between protest and music."

-
Peter Margasak, Chicago Reader


Listen to interviews by Wadada Leo Smith about Ten Freedom Summers

on
WBGO, taped April 6 w/ Josh Jackson: edited/official interview aired June 18, 2013
"RAW TAPE: Wadada Leo Smith Ten Freedom Summers," aired April 29, 2013
http://www.wbgo.org/thecheckout/raw-tape-wadada-leo-smith-ten-freedom-summers/
WNYC, with John Schaefer: May 1, 2013 9pm
http://soundcheck.wnyc.org/story/290595-penn-badgley-plays-jeff-buckley-john-grant-live-wadada-leo-smiths-ten-freedom-summers/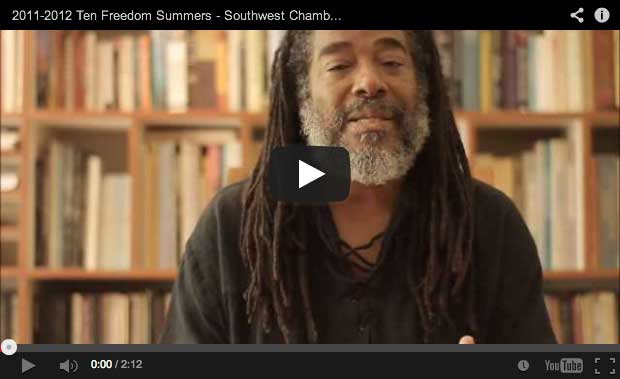 To read more about Ten Freedom Summers, please see:

--------------------------

About Wadada Leo Smith

Wadada Leo Smith, whose roots are in the Delta blues, is one of the most boldly original figures in American jazz and creative contemporary music, and one of the great trumpet players of our time. Born and raised in Leland, Mississippi, Smith start playing trumpet in R&B bands, encouraged by his stepfather, blues guitarist Alex Wallace. By the mid 1960s, he had gravitated to Chicago's burgeoning avant-garde jazz community where he was part of the first generation of musicians to come out of Chicago's AACM (Association for the Advancement of Creative Music). Smith formed the Creative Construction Company together with saxophonist Anthony Braxton and violinist Leroy Jenkins and collaborated with a dazzling cast of fellow visionaries including Muhal Richard Abrams, Richard Davis and Steve McCall. Early in his career, Smith invented an original music notational system called Anhkrasmation, which was radical for its time and remains the physical and philosophical foundation of his oeuvre.

Since the early 1970s, Smith has performed and recorded mainly with his own groups. He has released nearly 50 albums under either his own or his bands' names on ECM, Moers, Black Saint, Tzadik, Pi Recordings, TUM, Leo, Intakt and Cuneiform, among others. In addition to the 4-CD Ten Freedom Summers, he also recently released two CDs on the TUM label: Ancestors, a duo CD with Louis Moholo-Moholo, and Occupy The World, a 2-CD set with the 21-member TUMO, a new improvising orchestra that was assembled specifically for this project.

Smith was named International Musician of the Year for 2012 by Musica Jazz Magazine and one of the New York City Jazz Record's 2012 Musicians of the Year. In 2013 alone, Smith was recognized as one of three finalists, from among 157 entries, for the 2013 Pulitzer Prize in Music; named 2013 Composer of the Year in DownBeat Magazine's 61st Annual Critics Poll; and named both 2013 Musician of the Year and 2013 Trumpeter of the Year at the Jazz Journalists Association Awards.

He has been awarded grants and fellowships from the Fromm Music Foundation at Harvard University, the John Simon Guggenheim Memorial Foundation, Chamber Music America with support from the Doris Duke Charitable Foundation, the FONT (Festival of New Trumpet Music) Award of Recognition, Southwest Chamber Music funded by the James Irvine Foundation and the Clarence E. Heller Charitable Foundation, the MAP Fund and the National Endowment for the Arts, among others. An esteemed educator and music theorist, Smith has been on the Cal Arts faculty since 1993. At Cal Arts, he was director of the African American Improvisational Music Program and profoundly influenced several generations of artists.
www.wadadaleosmith.com



About Ten Freedom Summers

Reviewing Ten Freedom Summers' October 2011 live premiere at REDCAT in LA, Larry Blumenfeld wrote in the Wall Street Journal: "Ten Freedom Summers was as striking a display of his expansive vision and his vitality. He still plays trumpet as he always has: with little vibrato and a tone that can be either boldly declarative or soft to the point of breaking… Mr. Smith had made his own statement through instrumental music. And it sounded complete."

Ten Freedom Summers received equal acclaim on CD. Released in May 2012 on the Cuneiform label, it earned a place as the #3 jazz record of the year in the Rhapsody Jazz Critics poll, where respected critic Francis Davis wrote: "A stunning achievement…. It merits comparison to Coltrane's A Love Supreme in sobriety and reach." National Public Radio included the CD in its Top 50 albums of 2012 and it placed eighth in the 2012 JazzTimes Critics Poll, while music criticism aggregator MetaCritic hailed it as the #1 under-the-radar album of 2012. In addition, Smith was named International Musician of the Year for 2012 by Musica Jazz Magazine and he was one of the New York City Jazz Record's 2012 Musicians of the Year.

The work is "stirringly beautiful … an astounding aesthetic achievement," (Michael Casper, Oxford American), "an emotional and intellectual luxury, a chance to commune with greatness," (Josh Langhoff, Pop Matters), "the work of a lifetime by one of jazz's true visionaries. … Triumphant and mournful, visceral and philosophical, searching, scathing and relentlessly humane, Smith's music embraces the turbulent era's milestones while celebrating the civil rights movement's heroes and martyrs." (Bruce Gallanter, Downtown Music Gallery), and "his magnum opus; it belongs in jazz's canonical lexicon with Duke Ellington's Black Brown & Beige and Max Roach's Freedom Now Suite." (Thom Jurek, All Music Guide). As Stuart Broomer wrote in Point of Departure: "If one had to answer quickly what work will matter most this year in American music (as if matters of mattering arose with some regularity), Wadada Leo Smith's Ten Freedom Summers would trip readily to the tongue."



About Cuneiform Records
Based in the Washington DC area, Cuneiform Records is an internationally-acclaimed, independent record label devoted to releasing cutting-edge, adventurous music in a variety of musical genres, including jazz, rock, electronic, classical minimalism and much more. Much of the label's music defies, redefines and transcends existing genres-leading the way in music's evolution into new and arresting 21
st
Century forms.
Since its founding in 1984, Cuneiform has released more than 370 albums by some of the best composers and improvisers in the international avant garde. Cuneiform has released several notable recordings by Wadada Leo Smith, including his monumental, 4-disc set
Ten Freedom Summers
, a Finalist for the 2013 Pulitzer Prize in Music. Other Wadada Leo Smith recordings on Cuneiform include
Heart's Reflections
;
Spiritual Dimensions
; and
Tabligh
. For more information on these, please see
www.cuneiformrecords.com/bandshtml/smith.html
Cuneiform's recordings by other jazz artists include John Hollenbeck's renowned small ensemble, The Claudia Quintet, Rob Mazurek and his Sao Paulo Underground, The Microscopic Septet, Jason Adasiewicz's Rolldown; John Surman, Steve Lacy-Roswell Rudd Quartet, New York Art Quartet, Chris McGregor's Brotherhood of Breath, Mujician and many more. Cuneiform's rock/pop/electronic/beyond releases include recordings by the DC WAMMIE-award winning duo, Janel & Anthony; Richard Pinhas/Heldon, Henry Kaiser, David Borden/Mother Mallard, Steve Moore, Univers Zero, Blixt(Bill Laswell/Raoul Bjorkenheim/Morgan Agren), djTrio(Christian Marclay/Toshio Kajiwara/DJ Olive), Ahleuchatistas, Soft Machine, Robert Wyatt, and many more.
Cuneiform is headquartered in downtown Silver Spring.
from July 2, 2014 to July 9, 2014, CLICK a link below: