of
dauntless sonic exploration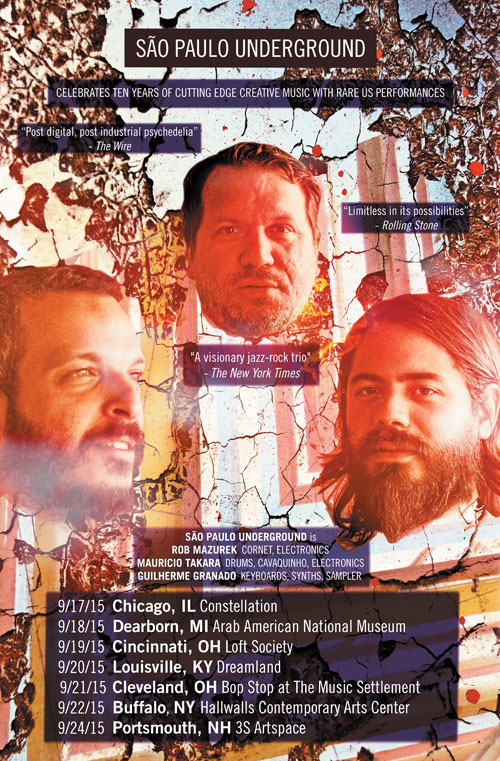 [L-R: Guilherme Granado, Rob Mazurek, Mauricio Takara | Art Work: Damon Locks | Photo: Jason Marck]
Described by
The New York Times
as "a visionary jazz-rock trio" and
Rolling Stone
as "limitless in its possibilities,"
São Paulo Underground
celebrates ten years of creating cutting edge modern music with
rare US performances in September 2015.


Founded in 2005, during Chicago composer and cornetist Rob Mazurek's eight-year Brazilian sojourn,
São Paulo Underground
is a power trio that
links Chicago's volatile creative music scene with São Paulo, Brazil's leading experimental musicians.

São Paulo
Underground
features Chicago composer
Rob Mazurek
on cornet and electronics and two
Brazilian
musicians:
Mauricio Takara
on percussion, cavaquinho and electronics, and
Guilherme Granado
on keyboards, synths, sampler and vocals.
The ensemble's music embodies a fascinating mixture of
Sun Ra-esque cosmic noise with rhythms and phrasing from samba, maracatu, rock and free jazz traditions.
The result is
electronica-laced Tropicália
characterized by
glistening sonic textures
, unabashedly
beautiful melodies
, an
expansive improvisational palette
and
fiercely gleeful interplay.


The trio will perform new compositions and material from its widely acclaimed
Cuneiform
releases,
Beija Flors Velho E Sujo
(2013) and
Tres Cabeças Loucuras
(2011).
Listen to a sample of Beija Flors Velho E Sujo
:
https://soundcloud.com/cuneiformrecords/sao-paulo-underground-the-love-i-feel

"A modern approach to Brazil's Tropicália, that takes into account advances in sound manipulation and engineering. It is street music from the Brazilian subterranean avant-garde."
-
All About Jazz


"This high-energy romp takes the sting out of the term fusion in the best possible way."
-
DownBeat


"Tropicalia never sounded this modern and alive."
- Sound Colour Vibration
___________


Learn more about São Paulo Underground, download high resolution photos, and hear more sound samples at:
São Paulo Underground's Artist Page on Cuneiform's Website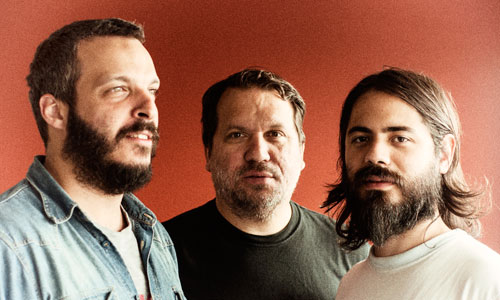 [L-R: Guilherme Granado, Rob Mazurek, Mauricio Takara | Photo: Jason Marck]

SÃO PAULO UNDERGROUND
SEPTEMBER 2015 US TOUR DATES