In December 2015,
Celebrating the Winter Solstice and
Seasonal Festivals of Light,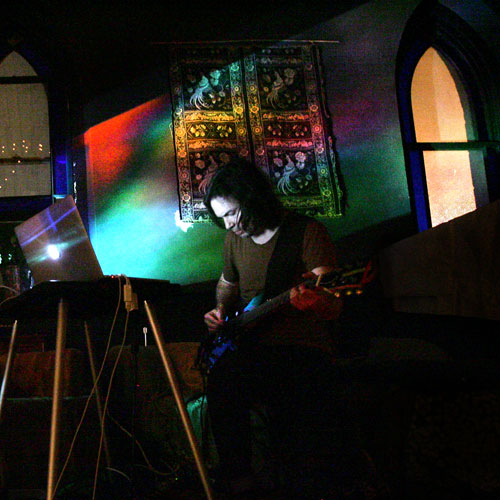 Baltimore Guitar and Electronics Shaman
JONATHAN BADGER
Releases
"Jonathan Badger Talks Process",
a NEW VIDEO Casting Light on his
Artistic and Technological Processes
and
Cuneiform Streams Jonathan Badger's Tune
"St. Lucy's Day"
on SoundCloud throughout December,
Coinciding with the Dec. 13th Festival
Celebrating the Winter Solstice and the Season, Jonathan Badger talks about the process of his art in a fascinating - and technologically illuminating - NEW VIDEO.


WATCH the New Video, "Jonathan Badger Talks Process," to view the magic that underlies Badger's epic creative process
Listening to Jonathan Badger's recorded music, one assumes that he's playing with an orchestra, a multi-member band with a wide assortment of instruments. But those assumptions are proved false when you see him perform live. Badger's onstage solo performances are astounding; he's a one-man chamber orchestra and light show, his sole musical instrument a guitar augmented by effects pedals and a Mac laptop uniquely programmed to transform guitar tones into the sound of orchestral instruments.
Badger has finely-honed his technique through extensive touring, performing his riveting style of "guitaristic" electronic music live. He processes his guitar through an assortment of customized software and hardware - folding and weaving signals together into complex patterns of interlaced rhythm, harmony and texture. "This audio is judiciously processed in the computer in a fashion that causes the music to swerve between acoustic chamber flavors to full-on noise explosions" says Badger. His guitar also controls the video projections/light sculptures that accompany his live performances. The resulting aesthetic is an ambient, avant-rock hybrid with DIY sensibilities.
On our request, Badger created a new video to explain the magic behind his art. The video will fascinate casual listeners and musicians alike. Filled with awesomely beautiful music, it is packed with information that should captivate guitarists and electronic musicians alike.
Enjoy the video! We encourage you to show it to your friends, and for those of you in the Press, we invite you to share it with your readers.
On St. Lucy's Day, a Festival of Light traditionally held December 13th, Jonathan Badger gives us a song inspired by John Donne's poem about the darkest day.
"Both the year's, and the day's deep midnight" -poet John Donne (1572-1631), from "A Nocturnal upon S. Lucy's Day, Being the Shortest Day"
Cuneiform provides a Soundcloud Stream of Jonathan Badger's"St. Lucy's Day", a track from his album Verse for the Month of December

"...the precision in [Jonathan Badger's] "St. Lucy's Day" sparks visions of post-rock/math-rock, though it does bear mentioning those styles rarely attain the non-precious prettiness found here." - Joseph Neff, The Vinyl District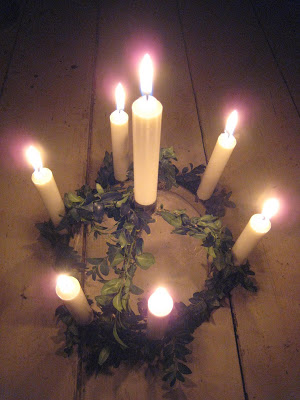 Photo of a candle-lit crown used in some St Lucy's Day celebrations.
Festivals of Light honoring the Winter Solstice have been celebrated for thousands of years, from pagan antiquity to the present day. The feast day of Saint Lucia, whose name refers to "light" (
Lux, lucis)
, is traditionally celebrated on the 13th of December in Advent. The holiday was once a Nordic solstice ritual, honoring the darkness of the shortest day, but also celebrating the happiness of community -- points of light in the dark. Sometime in the early medieval era the Christian St. Lucia's feast merged into this much older pagan ritual. St. Lucy's Day is now celebrated as a Festival of Light on the 13th of December in many countries worldwide [
Wikipedia
]
The song "St. Lucy's Day" opens Jonathan Badger's album, Verse, released in 2014 on Cuneiform. Speaking of "St. Lucy's Day", Jonathan Badger says that:
"My inspiration for the piece came from the John Donne poem ["A Nocturnal upon S. Lucy's Day, Being the Shortest Day"]. It's a meditation on mortality and rebirth. The holy day is remarkable in that it commemorates the "shortest day," the winter solstice. This is a day of darkness, when all life is drawn back down into the hydroptic earth. It is "the year's midnight."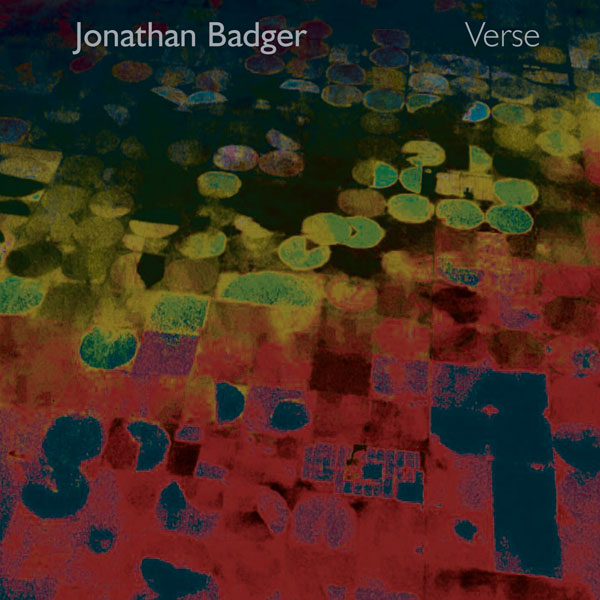 JONATHAN BADGER
VERSE
What the Press has said about Verse:
"...this is a very idiosyncratic, very beautiful, and intimidatingly rigorous piece of sonic art." - Oliver Arditi, Oliver Arditi
"...Verse gives us 10 tracks from a composer who's clearly not afraid to mix things up, whether by individual tracks or within them. Straightforward post-rock moments arise, as on "St Lucy's Day", or the initially clam and quiet "Limbec," but Badger is just lining them up to get mauled into new shapes." - John Shanahan, Hypnagogue
" ...This is a kind of symphonic tapestry for guitars, voice, well produced instruments and alterations. ...contemporary avant rock-oriented compositions and multiple-guitars are central to it. I strongly suggest you hear this one. ...all the labels I could put on it don't quite work... If you want to go to a new place, just get the recording!" - Grego Applegate Edwards, Applegate Guitar and Bass Blog
"...On pieces such as "The Bear" and "Nimbus", his various percussion grooves, electronics effects, acoustic guitar and banjo work transmit a bizarre take on Americana with orchestral synth overlays, cyclical chord voicing's and a few nods to 70s Canterbury prog rock." - Glenn Astarita, All About Jazz
"...hard to define album which...shows off several sides to this composer..." - The Answer Is In The Beat

************

JONATHAN BADGER
VERSE
Verse Track Listing:
1. St Lucy's Day (2:48)
2. Dotter (3:03)
3. It came down from the night and stood
on the porch until I invited it in for tea (1:34)
4. The Bear (2:15)
5. Nimbus (4:31)
6. The Valley of the Shadow (4:56)
7. Limbec (6:43)
8. Bouge (3:17)
9. Erbarmen (6:23)
10. Sickle's Compass Come (3:31)
Cat. #:
Rune 394
, Format:
CD / LP / DIGITAL DOWNLOAD
Genre:
Rock / Electronic / Experimental,
Released:
September 30, 2014

Jonathan Badger
Electric and acoustic guitars, banjo, piano, computer, sundry percussion.
with
Ruby Fulton
- Flugelhorn
Patrick McMinn
- Trumpet
Tiffany DeFoe
- Tenor and baritone saxophones
Shodekeh
- Human beatbox
Alexandra and Victoria
- the Sisters Wick
- Mezzo sopranos
Michael Gates
- Violin
Sasha Keen
- Cello
Recorded at
High Horse Studios
, Baltimore, autumn 2013.
Mastered by
Thomas Dimuzio
at Gench Studios, San Francisco.
Photography by
Jonathan Badger.
Package design by
Bill Ellsworth
.
************

PROMOTIONAL TRACKS
//
If you'd like to share music from this release with your readers/listeners, please feel free to use the following tracks:
STREAM / SHARE the track "St. Lucy's Day"
for the month of December 2015 only:



STREAM / SHARE
the track
"Nimbus"
@
SOUNDCLOUD
/ @
BANDCAMP
/ @
YOUTUBE
PURCHASE LINKS
//
ITUNES
-
AMAZON
-
BANDCAMP
-
WAYSIDE MUSIC
When is a guitar not a guitar? When it's played by the inimitable Jonathan Badger. Not that he doesn't have a solid grounding in the six-string essentials -- Badger's been playing guitar since age 5, and has studied under none other than King Crimson mastermind Robert Fripp. But his astonishing approach to the guitar is so unlike anyone else's that he might almost as well be playing an entirely different instrument. (In a way, he is, as you'll learn in a moment.) On his stunning third studio album (and first for Cuneiform), Verse, Badger proves that if you want to make the kind of music no one's ever heard before, you've got to invent your own world from the ground up. Nourished by Baltimore's vibrant experimental music scene, Badger has created an artistic universe that is technologically unprecedented, radically multidisciplinary, conceptually fascinating, and musically captivating. The music on Verse, says Badger, "flows in the post-rock and minimalist veins of contemporary music," while the concepts that fertilize it derive from ancient philosophical and poetic tracts that he had explored in his recently published book.
If you want a little peek behind the wizard's cape, Badger's basic approach involves sending two signals out of his guitar -- one is a standard analog signal that generates relatively conventional guitar tones, but the other is a digital feed that runs through a computer system he programmed himself (naturally) to trigger samples from a broad array of orchestral instruments.
That's the setup that powers Verse. His rig has evolved a lot since 2006's Metasonic (on his own High Horse label) and 2010's Unsung Stories from Lily's Days as a Solar Astronaut (MT6 Records), not to mention his live releases, Taps (2007) and Summer Electra (2011), both on High Horse. But for Verse, Badger expanded his sonic universe. While his own unique system's bewitching (and at times even bewildering) bounty of sonic sources dominates the album, he also employs other players to augment his musical palette further still, bringing in brass, strings, and even a beatboxer.
Badger's fondness for inserting himself into surprising circumstances goes all the way back to his college days, during which he was commissioned to compose both a ballet (On Wings of Angels, premiered in Berlin and performed in Dallas and Atlanta) and an opera (Dance of the Spiders, at Boston's Emerson College). Soon after college, Badger began formal study of philosophy and earned his PhD in political philosophy from Fordham University. His dissertation was on Nietzsche's interpretation of Plato. In the middle of that work, he returned to music in an academic setting, and studied at the graduate level at Duke University with Steven Jaffe, Scott Lindroth and John Harbison.
But it was after he began working as a professor at St. John's College in Annapolis, MD that Badger's path took a turn that profoundly informed his artistic vision. He became intensely involved in the Guitar Craft school founded by Robert Fripp. Over a seven-year period, Badger eagerly assimilated Guitar Craft's combination of musical and philosophical principles, while taking a number of courses with Fripp himself, in the U.S., Argentina, and Italy.
Not only did this experience turn his head around aesthetically, on a more pragmatic level it led him to working with his fellow Guitar Craft students in various groups in the Baltimore/Washington D.C. area. But it wasn't long before he found his own voice -- one so daringly individual that it led him to work in a strictly solo format & until now.
Badger published a book, Sophocles and the Politics of Tragedy: Cities and Transcendence (2012: Routledge Press) that explored his ideas about the interaction of artistic and philosophical ideas. But Verse takes that intersection to a new level. Discussing the concept, he explains, "The idea of verse points beyond poetry and philosophy to that which stands in unity behind their apparent separateness."
"This album is a musical version of the ideas I worked through in the book," says Badger. He describes Verse as both "emblematic of mortality" and possessing "rich layers of dark and light." Even the track titles on the mostly instrumental album illustrate Badger's knack for juxtaposition, such as the combination of hominess and horror inherent in the tune "It came down from the night and stood on the porch until I invited it in for tea," a cut where unearthly explosions of sound share space with meditative drones and angular but almost endearingly clunky piano splashes.
In a similar manner, musing on "The Bear," Badger suggests that "Bears are cuddly but also extremely deadly," adding mordantly, "Children like to sleep with them." Taking the contrasting-concepts theme even further, Badger brings the inhuman and the humane together on this track through the unlikely device of the banjo. "The banjo on 'Bear' is in duet with the computer," he reveals. "The computer mimics the banjo waveform, producing a jaunty electronic burble."
As a thinking man's guitar anti-hero, Badger could be seen as the latest link in a chain that reaches back to forward-looking six-string iconoclasts like Frank Zappa, Richard Pinhas, and Badger's old teacher, Robert Fripp. But anyone who has absorbed the fractal electronic visions of electronica pioneers like Aphex Twin and Squarepusher, or been bowled over by the eclectic post-rock sound constructions of Tortoise or Godspeed You! Black Emperor should be able to find their way into Badger's bewitching world.
And throughout Verse, the musical DNA of Badger's guitar recombines in a constant, kaleidoscopic fashion, melding the organic and the electronic in ever-shifting dynamics. At the same time, Badger's own efforts intertwine with the interjections of his guests on trumpet, sax, violin, cello, and more. The sound all these elements make together bears elements of everything from post-rock to avant-garde experimentalism and contemporary classical composition, but for all these seeming disparities, Verse undeniably offers up a journey.
"The first part of the record is naive and blithe-minded," says Badger, "but gives way to somber recognition," much like the trip we take through life itself. For the trip to be a memorable one, though, you need a unique guide, and it's abundantly clear that the sonic Sherpa leading you through Verse is about as uncommon as they come.