Sculpting a Sonic Architecture of Mystery & Power:
Swiss Experimental Rockers
SONAR
Tour Static Motion in Europe 2014
Following the release of their critically acclaimed album, Static Motion (Cuneiform), Sonar focuses their laser-like intensity on live audiences over the Spring/Summer/Fall months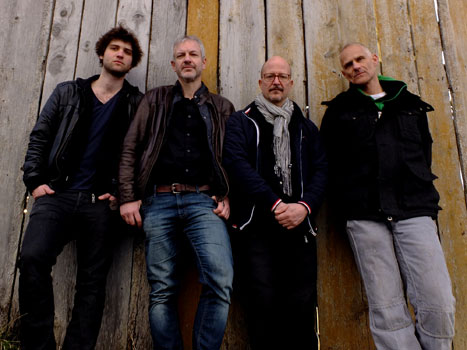 Sonar European Spring Tour
April 11 - October 30, 2014
April 11 - Perlaton Festival - Friction - Zürich, Switzerland
April 24 - EXIL - Zürich, Switzerland (CD Launch party)
May 10 - Sedel - Luzern, Switzerland
May 15 - Stanzerei - Baden, Switzerland
May 16 - Klubi - Zürich, Switzerland
May 17 - Tangente - Eschen, Liechtenstein
June 6 - Grabenhalle - St. Gallen, Switzerland
June 8 - Festival at the Mines Museum - St. Etienne, France
June 13 - Gate 68 - Solothurn, Switzerland
June 19 - Ono - Bern, Switzerland
June 28 - Brüggli Bar - Thun, Switzerland
July 24 - Komm Doch Festival - Luzern, Switzerland
July 25 - Festival L'abore - Hauptmannsgrün, Germany
September 28 - Moods - Zürich, Switzerland

October 2 - Mahogany Hall - Bern, Switzerland
October 30 - Playground Lounge - Bern, Switzerland


***


Watch the new video for the album title track, "Static Motion"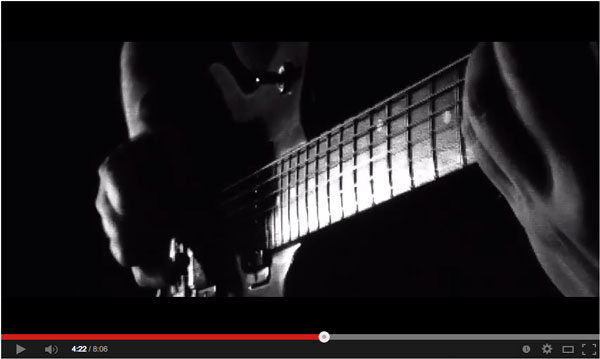 Read an interview:

Anil Prasad of "Innerviews" interviews Sonar
For more information on Sonar, please see:
www.sonar-band.ch - www.facebook.com/sonarband
@sonar_band

Static Motion

[released on Cuneiform, January 2014]
Listen to a free Track from Static Motion, courtesy of Cuneiform Records:


"Static Motion" (mp3 download)
stream: @SOUNDCLOUD / @BANDCAMP / @YOUTUBE


"one of the five great albums you should hear in 2014"
-
Prog Sphere
"A really fascinating blend of art-rock, groove-based minimalism and abstract mathematical theory, all woven together to great effect."
-
John Schaefer, host of New Sounds
"This quartet is unlike anything you've heard before. How often can you say you've encountered a truly unique act? Rarely. Here's one that qualifies"
-
Anil Prasad, Innerviews
"Static Motion bewitches with unique sonic rituals that beautifully combine mystery and power.
This is simply captivating music by four skillful guys who think outside of the box and defy classification..."

-
Gad Kapulis, Igloo Magazine
"Had MC Escher made music instead of drawing his famously impossible and perplexing perspectives, it would sound like Sonar"
-
Sid Smith, Prog Magazine
"This is truly music as you've never experienced it before and a one of a kind musical performance."
-
The Capstone Theatre, Liverpool UK

To the uninitiated, minimalism may seem like an intimidating concept, but in reality it's just the embodiment of the common axiom "less is more." And in the case of
SONAR
, less happens to be a lot more, especially on their second album,
Static Motion
. You don't even realize how much extraneous material exists in most of the music you hear every day until you listen to something like Static Motion and get your senses realigned. By hewing to a cunningly crafted set of constrictions on this album of nine ultra-streamlined instrumentals, the Swiss quartet somehow manages to wring the maximum amount of music out of a minimalist agenda.
SONAR
is set to bring
Static Motion
to life in front of audiences across its native Switzerland and neighboring countries, as well as in festivals in France, during its Spring/Summer/Fall European tour. "Nik Bärtsch told me that it took him a few minutes to get used to our sound world," Thelen says, "but that he then found it very difficult to leave. I think that is a very a good description of what can happen if you are willing to immerse yourself in our music."
Sonar's minimalist aesthetics resonated beyond the music world to that of fashion in January 2014. For New York Fashion Week 2014, a track from
Static Motion
– "Zero Tolerance" – was featured in a video produced by
Helmut Lang's 2014 Fall - Winter Collection Runway Show
Sonar is a progressive, post-minimal band from Switzerland. Their name stands for SONic ARchitecture, a name which alludes to their intention of creating polymetric and highly structured avant-rock. Static Motion is their second full-length release, and their first release outside of Switzerland.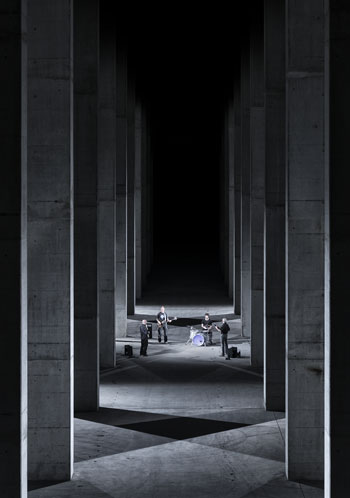 Fusing a rigorous minimal esthetic with the power of a rock band, every note and rhythm is precisely composed and performed, all of which are designed to move you from one rhythmic and / or harmonic tension to the next. Sonar is the last word in a rock band that works by building their music out of blocks consisting of slowly rising and unfolding musical tension and relief. While you can hear elements of Sonar's sound in ensembles such as Glenn Branca, King Crimson, Pharaoh Overlord, Present, etc, ultimately, no one else sounds like this and Static Motion is a powerful and extraordinary listen!
Just about everything is different with Sonar: the sound, the harmonies, the rhythms, the whole musical concept. Their instantly recognizable sound is partly due to the special tuning of the guitars and the bass guitar to tritones (C / F# / C / F# / C / F#), an interval sometimes called the "devil in music" ("diabolus in musica").
A large proportion of their music is played using only the natural harmonics of these two notes, thereby creating a harmonically ambiguous musical microcosmos that the group calls "tritone harmonics" and that avoids conventional musical cliches. The group's rhythms are also highly unconventional and usually consist of layered polyrhythms and isorhythms in odd metres.
Sonar's music is always played live without any sequencers, loops or computers, using a minimum amount of equipment: 2 guitars, a bass guitar, 3 small amplifiers und a basic drum kit. Nearly effect-free (with just a touch of reverb and tremolo allowed), the band does this to keep the music as clear, direct and immediate as possible. Sonar does not consider itself or operate as a collection of soloists; rather, their efforts are oriented towards collective efforts making the music more than the sum of the individual parts of the players.