CUNEIFORM NIGHT IN BROOKLYN:
"IDE
A

L MICROSCOPIC NUMBERS"
on October 22, 2014 at Shapeshifter Lab
celebrating the 30th anniversary of Cuneiform Records
with a night of jazz & new releases by:
The Microscopic Septet
Ideal Bread
Curtis Hasselbring's Number Stations



Cuneiform Records
is very excited to announce the
third
in a series of concerts along the East Coast celebrating the
record label's 30th anniversary
. It will take place on
October 22, 2014
at
Shapeshifter Lab
, an art/performance space in Brooklyn NY, and will feature three Cuneiform's jazz artists with new releases on Cuneiform:
The Microscopic Septet
, who
Curtis Hasselbring
with his newest project Number Stations, and
Ideal Bread.

Founded in 1984 and based in
Washington DC
[Silver Spring, MD],
Cuneiform Records
is one of the longest-running and largest independent record labels in North America, dedicated to releasing high-quality recordings by some of the world's best and most adventurous musicians, and distributing and promoting these releases worldwide. The label focuses on cutting-edge music regardless of genre: the progressive frontier of myriad musics, from avant jazz to noise/electronica, classical minimalism to experimental rock, and especially music that transcends, redefines, and goes "beyond" traditional genres.
In recent years, Cuneiform has been widely acclaimed for its jazz releases, and has been frequently cited in critics "Best of" lists as one of the top 15 jazz labels worldwide. It's released numerous notable jazz recordings, include Wadada Leo Smith's
Ten Freedom Summers,
one of 3 finalists for 2013's Pulitzer Prize in Music. Cuneiform's jazz recordings have often helped to expand that genre's reach into rock, classical music and minimalism, electronic music and pop. Numbering more than 400 records, Cuneiform's catalogue includes recordings by some of the best artists in the international avant-garde, from long-established icons and revered innovators to young, fast-rising stars.
***

"Ideal Microscopic Numbers"
Oct. 22, 2014
Shapeshifter Lab, Brooklyn, NY

Shapeshifter Lab
18 Whitwell Place, Brooklyn, NY
(Between 1st & Carroll St, off 4th Ave)
20$ cover charge for the whole evening -- [
Buy Tickets
]
Celebrating the 30th anniversary of Cuneiform Records!

[Cuneiform's founder, Steve Feigenbaum, looks forward to seeing you October 22 at Cuneiform Night in Brooklyn!]


THE BANDS

Curtis Hasselbring's Number Stations


Curtis Hasselbring's Number Stations represents one iteration of his ever-evolving ensemble The New Mellow Edwards. This edition features Curtis Hasselbring (trombone, guitar), Chris Speed (tenor saxophone, clarinet), Matt Moran (vibraphone), Brad Shepik (guitar), Chris Lightcap (bass) and Tomas Fujiwara and Ben Perowksy (drums). The New York Times has said, "They suggest rough and rocking reflections on film music (Mancini and Herrman), the Mothers of Invention and the Art Ensemble of Chicago."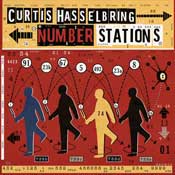 Curtis Hasselbring
Number Stations
Cuneiform Rune 356 (2013)
Genre: Jazz / Avant-Jazz

"Green Dress, Maryland Welcome Center, 95 NB"
Co-led by composers/arrangers Phillip Johnston and Joel Forrester, The Microscopic Septet is one of America's most iconic jazz bands. Their brand of 'surrealistic swing' has continued to bring them accolades in their fourth decade since forming in 1981.Voted #5 Jazz Group in DownBeat's 2011 International Critics Poll, the Micros creat some of contemporary jazz's most meomorable music, simultaneously sophisticated and accessible. The band features Phillip Johnston, Don Davis, Mike Hashim, and Dave Sewelson on saxophones, and Joel Forrester, David Hofstra and Richard Dworkin in the rhythm section.
The Microscopic Septet has released seven CDs on Cuneiform Records, beginning in 2006 with two double CD sets called
History of the Micros
(vol. 1 &2) which reissued of all of the band's 1980's albums and featured album art by Art Spiegelman. Their 2011 tribute album,
Friday the 13th: The Micros Play Monk
, featured cover art by
New Yorker
illustrator Barry Blitt and is praised by critics world-wide as one of the best Thelonious Monk tributes ever made. The Septet recently (summer 2014) released an album of new compositions and arrangements, called
Manhattan Moonrise
.
"the Microscopic Septet...have fought against the notion that fun and art are mutually exclusive by creating genre-defying mélanges that regularly jitterbug along the edges of anarchy." –Jazziz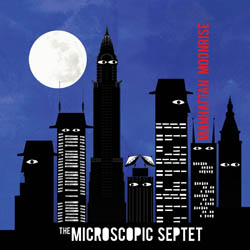 The Microscopic Septet
Manhattan Moonrise
Cuneiform Rune 370 (2014)
Genre: Jazz

"Let's Coolerate One"
Seven Men in Neckties:
History of the Micros Vol. 1

Cuneiform Rune 236/237 (2006)
***

Ideal Bread

Ideal Bread is devoted to the exploration of the music of Steve Lacy in new and exciting ways. The band features Josh Sinton (baritone sax), Kirk Knuffke (cornet), Adam Hopkins (bass) and Tomas Fujiwara (drums). Their new Cuneiform double CD of Lacy music is called Beating The Teens. "Ideal Bread lays down a serious marker for the posthumous evolution of Steve Lacy's music."

Ideal Bread released their last album, Beating the Teens, on Cuneiform Records in 2014.


Ideal Bread
Beating The Teens:
Songs Of Steve Lacy

Cuneiform Rune 386/387 (2014)

Genre: Jazz / Avant-Jazz / Improv

"Crops"

stream: @

SoundCloud

/ @

Bandcamp

/ @

YouTube
Ideal Bread Cuneiform Artist Page
****
CUNEIFORM NIGHT 2014: 30TH ANNIVERSARY CONCERT SERIES
CUNEIFORM NIGHT IN BROOKLYN, NY - October 22

Cuneiform Night at Shapeshifter Lab
- 18 Whitwell Place - Brooklyn, NY 11215
(with The Microscopic Septet, Ideal Bread & Curtis Hasselbring's Numbers Stations Band)
CUNEIFORM NIGHT IN BOSTON, MA - October 17

Johnny D's
- Somerville, MA (with Birdsongs Of The Mesozoic and the cellar and point)
CUNEIFORM NIGHT IN BALTIMORE, MD - September 13 - [Past Event]

Orion Sound
- 2903 Whittington Ave., Suite C - Baltimore, MD 21230 (Record Release Party for all 3 bands! - record release show! with Jonathan Badger, The Cellar And Point and Anthony Pirog)