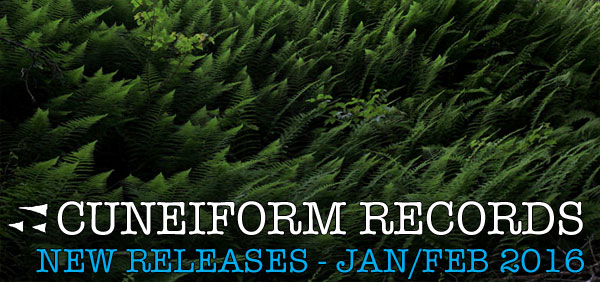 CUNEIFORM RECORDS ANNOUNCES ITS
JANUARY/FEBRUARY 2016 RELEASES:

EMPIRICAL
ERGO
GARY LUCAS' FLEISCHEREI [FEATURING: SARAH STILES]
NAIMA
THE ED PALERMO BIG BAND

___


Winter has finally arrived in Washington DC, and while the weather temperature continues to drop, the political temperature is rising, anticipating 2016's elections. Cuneiform Records, nestled on DC's edge in downtown Silver Spring, is braving the frigid weather, a "history making" blizzard (today January 22!), and political noise to release 5 new albums that will warm hearts, expand audiences for jazz via music that reshapes jazz's borders, and expose listeners around the world to some of contemporary music's best and most adventurous musicians, composers and arrangers.
Cuneiform is proud to announce its
January/February 2016 New Releases
: five albums that celebrate Jazz and/or American popular music. Two of those are albums by long-established and widely-known American musicians – jazz composer/arranger/saxophonist
Ed Palermo
, and rock/blues/genre-chameleon guitarist/songwriter/composer
Gary Lucas
– that celebrate the
American Songbook
with love, humor, brilliant insight, and astounding musicianship. In the wittily titled
One Child Left Behind
, Ed Palermo leads his masterful 18-piece jazz big band through 16 tracks that feature his legendary jazz arrangements of
Frank Zappa
rock tunes and some arrangements of other artists, including
Lieber/Stoller
,
Neil Young, Los Lobos
and Palermo himself. Featuring vocals by
Napoleon Murphy Brock, Candy Zappa
and others, this is Palermo's 5
th
disc celebrating Zappa, positioning him as one of the late musicians greatest interpreters, introducing the composer's Song Book to the jazz world.
Whereas the new Palermo album celebrates American popular music from the 1970s-90s,
Gary Lucas' Fleischerei
:
Music from Max Fleischer Cartoons
spotlights American popular music from the 1930s. With Broadway/Off-Broadway vocalist
Sarah Stiles
, trombonist/arranger
Joe Fiedler
(who crafted the ensemble arrangements), and several of NYC's finest jazz musicians, Lucas (
Captain Beefheart, Jeff Buckley, Gods & Monsters
) revives music once popularized by the
Fleischer Studios
via the cartoon characters
Betty Boop
,
Olive Oyl
and
Popeye
. The result is an engaging, eye-opening musical extravaganza from a time when the
Jazz Age
crashed into the
Great Depression
, and
Tin Pan Alley
borrowed from
Harlem
.
Fleischerei
opens doors into a forgotten American past, a long-overlooked slice of American culture forged by Jewish and Eastern European immigrants, and casts new light on classic cartoons that remain as nostalgically familiar to Americans as their grandparents' stories of the "old neighborhood".
Jazz was born in America, but it's come a long way since then, and its gone a long way as well, traveling 'round the world to countries whose young musicians embrace it, adding their own influences (and instruments) and reshaping its contours. The jazz emerging from such cross-border encounters is some of the most vibrant, fresh and interesting music produced today in ANY genre. Three of Cuneiform's Winter 2016 releases are by young jazz musicians from different countries:
Ergo
, from the
USA
;
Naima
, from
Spain
; and
Empirical
, from
England
. Based in NYC and led by composer, trombonist and electronic musician
Brett Sroka
, Ergo's music is beautiful and spacious, steeped in jazz, crossing into classical music and electronica, and inspired by artists from
Stockhausen
,
Xenakis
, and
Terry Riley
to
Sigur Ros
and
Aphex Twin
.
As subtle as tomorrow
, its 3rd Cuneiform release, is dedicated to and influenced by American poet
Emily Dickinson
. A quartet from England, Empirical are one of the hottest young European jazz groups.
Connection
is the prize-winning group's 5
th
album, and first release on Cuneiform. Empirical create jazz roiling in emotion, influenced by the improvisational ethos of the 1960s New Thing, embracing oblique harmonies, translucent textures and jagged, quick shifting rhythms. And last but not least is
Naima
, a piano-based, electro-acoustic trio from Valencia, Spain whose use of electronic effects and synthesizer adds an unusual element to their sound. Their jazz is dramatic and darkly romantic, an unmistakeable group sound that marks them as one of the leading young combos on the European stage.
We thank you in advance for taking time to read about our new releases and listen to the music samples. Your time won't be wasted; we carefully curate our releases after listening to hundreds of recordings and seeing countless live bands. Cuneiform receives dozens of demos every week and only selects and releases 15 albums per year. We invite you to join us and discover some of the best new jazz on the planet, and re-discover some hidden gems from the American Song Book.
Best regards
Joyce




Empirical
Connection
Genre: Jazz
Release Date: 2/5/2016

"The Two-Edged Sword"
stream: @SoundCloud / @Bandcamp





Ergo
As subtle as tomorrow
Genre: Jazz / Electronic / Minimalism
Release Date: 2/5/2016

"That never came"
stream: @SoundCloud / @Bandcamp




Gary Lucas' Fleischerei
[featuring Sarah Stiles]
Music from Max Fleischer's Cartoons
Genre: Jazz / Musical
Release Date: 2/5/2016

"The Broken Record"
stream: @SoundCloud / @Bandcamp




Naima
Bye
Genre: Jazz
Release Date: 1/22/2016

"Bye"
stream: @SoundCloud / @Bandcamp / @YouTube

The Ed Palermo Big Band
One Child Left Behind
Genre: Jazz / Big Band
Release Date: 1/22/2016
"Dirty White Bucks"
stream: @SoundCloud / @Bandcamp

-----
CUNEIFORM'S NEW RELEASES
JANUARY/FEBRUARY 2016
MOBO Award-Winning British Jazz Quartet
– EMPIRICAL –
Delivers a Potent Dispatch from the Post-Bop Frontier with CONNECTION,
a Program of Smart and Searing Originals

EMPIRICAL
CONNECTION



STREAM/SHARE: "The Two-Edged Sword"
stream: @SoundCloud / @Bandcamp

Cat. #: Rune 416, Format: CD / DIGITAL DOWNLOAD
Genre: Jazz
Release Date: February 5, 2016




While Empirical's moniker implies cool detachment and disinterested observation, the quartet has become one of Europe's top jazz ensembles by creating a bracing sound rife with roiling emotion. The band builds on the extroverted improvisational ethos of the 1960s New Thing, embracing oblique harmonies, translucent textures and jagged, quick shifting rhythms. Featuring Nathaniel Facey (alto saxophone), Shaney Forbes (drums), Lewis Wright (vibraphone) and Tom Farmer (bass), Connection is the fifth Empirical album. The band's first release on the American label Cuneiform, it captures the ensemble at its most pure and potent.

"Each of our previous albums was an experiment, where we included various guests from a string quartet to a pianist to bass clarinet," Farmer says. "This time we went into a great sounding studio with just the four of us. It's an accurate representation of what we're doing now, what our gigs sound like. This is our expression."

Following the release of its eponymous debut album in 2007, which was produced by British saxophone star Courtney Pine and released on his Destin-E label, Empirical quickly established itself as a creatively-charged crew unafraid to explore jazz's wild and wooly left field. They threw down the gauntlet with their acclaimed second album, 2009's Out 'n' In (Naim). Produced by rising British saxophonist Jason Yarde, the project offers a highly personal salute to Eric Dolphy that won the band Best Jazz Act in the 2010 MOBO Awards (MOBO stands for Music Of Black Origin).

In many ways Connection is a similarly bold statement, a program of original music that unfolds with the kind of intuitive narrative momentum generated by a great set. Opening with Farmer's concise stop-and-start "Initiate the Initiations," the album kicks off like a carnival parade driven by Forbes' deft trap work. Farmer contributes half of the album's 10 tracks, and his pieces often key on particular emotional states. "Anxiety Society" pits Facey discursive alto against Wright's calm and cool vibes. By the end of the piece, they are both caught in a labyrinth, searching for a way out. He explores a different kind of disorientation on "Maze," a piece that sways too and fro in various directions before breaking apart at the end as the center cannot hold.

Facey offers several surprises on "Stay the Course," the album's longest track. With three distinct sections, it opens with a brooding theme, moves to an introverted swagger, and resolves with a long skittering vibes solo that's unlike anything else on the album. Wright contributes some of the album's most divergent tracks, from the seductive tranquility of "Lethe" to the angular "Mind Over Mayhem," an abstract, intricately constructed sojourn tips the balance from order to disorder. In a fascinating pairing, Wright's "It's Out of Your Hands" follows, closing the album on a soft, insinuating ostinato. It's another moment of probing contemplation on a musical journey marked by unanticipated swerves and cutting drama.

If Empirical sounds uncommonly grounded in jazz's experimental tradition, it's probably because the quartet came together in an environment that treats jazz as a search rather than a destination. The musicians came together while involved in the scene around the acclaimed program Tomorrow's Warriors, which was founded by prolific Jamaican-born bassist and arranger Gary Crosby (the nephew of guitar legend Ernest Ranglin and a founding member of the hugely influential mid-80s band Jazz Warriors).

With its West African-tinged compositions and conventional hard-bop instrumentation of trumpet, sax, piano, bass and drums, Empirical's 2007 debut album hinted at the band's potential. But it wasn't until the horn players and pianist dropped out, Farmer took over the bass chair, and vibraphonist Lewis Wright joined the following year that the quartet's distinctive sound came sharply into focus. While developing arrangements for a tribute to Eric Dolphy, Empirical delved into his classic 1964 Blue Note album Out To Lunch! featuring vibraphonist Bobby Hutcherson. The concert was a huge success, but more importantly, the musicians bonded with a sense of purpose driven by devotion to jazz's defiant ethos.

"We were working really well, taking it really seriously," Farmer says. "I'd never met guys who took it so seriously. The process of studying together is really what brought us together, and we just carried on doing it."

The band's interactive group approach in built on Farmer and Forbes highly kinetic rhythm section tandem, while Facey possesses an instantly recognizable alto tone. But in many ways Wright's vibes define the group's sound. From the moment he joined the band, he catalyzed a new way of writing and arranging material. "We all loved the transparency," Farmer says. "You can hear exactly what everyone's playing. Lewis is quite a unique player. He gets this warmth on an instrument that can sound quite harsh and metallic. I love having all this room on the bottom, without having to think about a pianist's left hand."

After the 2011 release of the band's third album Elements of Truth (Naim), Empirical won the inaugural Golubovich Jazz Scholars fellowship at Trinity Laban Conservatoire of Music and Dance. The residency at the prestigious conservatory led to the band's collaboration with the all-women string ensemble Benyounes Quartet, who were featured on Empirical's 2013 double album Tabula Rasa (Naim). The ambitious, often spiritually-tinged project featured some of the band's most beautiful and complex writing.

Released by Cuneiform in February 2016, it's no surprise that Connection finds the quartet getting back to basics. Recorded after a week-long run at Foyles Bookshop London, the album captures the raw energy, brash ideas, and volatile group sound that Empirical has built upon the vast territory opened by jazz's mid-1960s explorers. "That particular period isn't just a musical inspiration," Farmer says. "That constant search for meaning in the early avant garde was really powerful. A lot of those ideas are relevant today and they're essential to our band."

PROMOTIONAL TRACK //
If you'd like to share music from this release, please feel free to use the following track:


"The Two-Edged Sword": @SoundCloud / @Bandcamp

PURCHASE LINKS //
ITUNES - AMAZON - BANDCAMP - WAYSIDE MUSIC

ARTIST SITES //
www.empiricalmusic.com - www.facebook.com/Emprical - www.cuneiformrecords.com




-----
The Bold Minimalist Trio ERGO Delivers
a Striking, Improvisation-Laced Sonic Journey
Inspired by the Cryptic Verse of Poet Emily Dickinson
in the Suite As subtle as tomorrow
the Electro-Acoustic Ensemble's Third Cuneiform Release


ERGO
AS SUBTLE AS TOMORROW


STREAM/SHARE: "That never came"
stream: @SoundCloud / @Bandcamp

Cat. #: Rune 419, Format: CD / DIGITAL DOWNLOAD
Genre: Jazz / Electronic / Minimalism
Release Date: February 5, 2016

As subtle as tomorrow
That never came,
A warrant, a conviction,
Yet but a name.
--Emily Dickinson


With his embrace of open space and strategic use of silence, trombonist, composer, and sonic architect
Brett Sroka
has honed an inviting improvisation-laced sound in his trio
Ergo
, an electro-acoustic group approach that often reveals astonishing, strangely beautiful and unexpected realms. What's not surprising about Ergo is discovering Sroka's affinity for
Emily Dickinson
, the poet whose radical concision and visionary deployment of silence is unmatched in the English language. Featuring drummer
Shawn Baltazor
and
Sam Harris
on piano, prepared piano and Fender Rhodes, Ergo's third Cuneiform album
As subtle as tomorrow
is based on a brief and typically cryptic
Dickinson
verse. The project captures the latest evolution of Sroka's singular vision.
A seven-piece suite in which overlapping melodies, motifs and improvisations organically evolve into and out of the music's electronic elements,
As subtle as tomorrow
takes its name from a Dickinson poem that can be reconstructed from the fragments and phrases that Sroka borrowed as tune titles. Evocative and mysterious, playful and spiritually charged as a Zen koan, the music is inspired by the stark intensity and hymn-like clarity with which Dickinson considers and transcends thoughts of time and destiny.
"She's my favorite poet," Sroka says. "There's something about her simplicity and succinctness and clarity, which is so direct and poignant, that I decided I wanted to use that verse for this suite. As I started writing I gave fragments to different pieces, and the only reason that the poem is broken up is that the music flowed better that way. The title for each one felt right."
Steeped in jazz and inspired by artists from
Stockhausen
,
Xenakis
, and
Terry Riley
to
Sigur Ros
and
Aphex Twin
, Sroka infuses Ergo's music with an improvisational ethos. While he uses various effects, every sound is drawn from or created out of the acoustic instruments sampled in real time as the trio plays together. The experience of performing the music in concert deeply informed the suite's development, and the music unfolds with its own interior logic.
The album opens with "As tomorrow," a spare, shimmering soundscape that introduces the haunting theme that reconstitutes itself in various guises throughout the suite. The results can be uneasy and dreamlike ("A warrant"), mournful and resigned ("As subtle"), or jubilant and spritely ("A conviction"). Concluding with "A name," which is almost a mini-suite in itself,
As subtle as tomorrow
doesn't resolve neatly or deliver a cozy resolution. With Sroka's trombone tranquilly searching in the midst of a sparse field of electronic textures, Baltazor's cymbal caresses and Harris's repetitive, rising and falling piano line, the music raises more questions than it answers, which seems to be exactly what Dickinson intended with the verse.
In something of a "chicken and egg" approach, Sroka composed the themes on paper in conjunction with designing a Max/MSP software instrument to sample and process them. Through a combination of techniques, including slicing/sequencing, granular synthesis, time stretching and pitch shifting, this custom Max/MSP patch creates loop-based rhythms, abstracted timbral accompaniments, and interactive responses.
Under Sroka's direction the trio is devoted to exploring the push and pull between structure and freedom, density and spaciousness, and electronic and acoustic timbres. One can see Ergo's transparent sound as a conscious reaction to the prevalence of frenetic, sonically dense music being created by some of Sroka's contemporaries.
"There's something that appeals to me about space and silence and attractive melodies," he says. "I'm interested in ambient music, which led to
Arvo Pärt
and
John Cage
and patient listening music that incorporates a lot of silence. One motivation might have been a response to jazz that's out there, music that's hyper technical, hyper busy, with a lot going on all the time."
In many ways, Ergo is the sum of its manifestly creative parts. Raised in Lexington, Mass., Sroka studied with trombone greats
Britt Woodman
and
Steve Turre
at Manhattan School of Music, where he earned a BA in 1997 and pursued his own compositional studies by dissecting dozens of
Duke Ellington
scores. He made his recording debut as a leader with 2002's impressive Fresh Sound-New Talent CD
Hearsay
, a stellar sextet session featuring rising masters
Jason Moran
,
Eric Harland
and trumpeter
Avishai Cohen
. Shortly after the album's release, electronic music captured his imagination. Feeling hemmed in by the limited opportunities for his horn, Sroka immersed himself in synthesizers and software.
"When you're a trombonist playing jazz, you feel marginalized," Sroka explains. "You're not the most popular instrument. I think I felt inadequate and that motivated me to get into electronics, to develop another palette to draw from. It's funny, there's a bunch of other trombonists who use electronics. I saw a video of
George Lewis
and he said something to a similar effect, that the trombone wasn't enough."
Ergo came together in 2005 when Sroka was working with a cadre of similarly inclined musicians unconcerned about genre conventions, performing in venues with audiences open to musical exploration such as Mercury Lounge, 55 Bar and Galapagos. Evolving out of these musically permissive forums, Ergo released its 2006 debut album
Quality Anatomechanical Music
on its own
Actuator
label, an album lauded as the year's best debut CD by
All About Jazz-NY
. The original lineup featured Sroka on trombone and computer,
Carl Maguire
on Rhodes electric piano, Prophet Synthesizer and effects, and drummer
Damion Reid
(best known for his work with
Robert Glasper
,
Greg Ward
and
Rudresh Mahanthappa
).
The album's success led to performances at an international array of major festivals and Ergo's ongoing relationship with
Cuneiform
. Ergo's Cuneiform debut, 2009's
multitude, solitude
, featured a new version the band with Sroka, Maguire and drummer Shawn Baltazor, a dynamic, stylistically expansive drummer and composer who performs with heavyweights like
Jon Irabagon
,
Seamus Blake
,
Ben Street
,
Ben Monder
and
Darcy James Argue's Secret Society
.
Baltazor also works regularly in various settings with pianist Sam Harris, who joined Ergo on 2012's
If Not Inertia
(a critically hailed album that featured left-field guitar star
Mary Halvorson
on three tracks). Born and raised in Dallas, Tex., Harris has emerged in recent years as one of the most sought after young pianists in New York City, performing and recording with superlative artists such as trumpeter
Ambrose Akinmusire
, vocalist
Gretchen Parlato
, and drummer
Rudy Royston
.
"Shawn and I were in a group Atticus led by
Sebastian Kruger
before Ergo, and he's really self motivated and open to the concept of the music," Sroka says. "It's spacious and can sound simple but there's a lot of freedom within that, and you have to get into that mindset. I met Sam when Jason Moran recommended him. Initially I wanted Ergo to go in a much more electronic direction, but by the time Sam came in I was ready to incorporate acoustic piano. He's an amazing, fiery young player and I designed some compositions to push him and Shawn in the directions they might not otherwise go."
In the works for several years, Sroka started developing the new suite when he was a fellow at the I-Park Foundation in Connecticut in 2012. He completed the music in the spring of 2014 at the Vilnius Academy of Art - Nida Art Colony in Lithuania. To draw on the input and distinctive styles of the ensemble members, excerpts were also developed live, before a broad range of audiences, including experimental music fans at the Sonic Circuits Festival in Washington D.C., New York City jazz crowds at Shapeshifter Lab and the Cornelia Street Café, and composition students during a workshop at the University of Pennsylvania.
In addition to Ergo, Sroka is a prolific film composer who co-leads the melodronoise duo
Cherubim
(and was formerly a member of the psych/noise/rock collective
12,000 Trees
). When he's not making music, Sroka is a carpenter who also works for a prestigious New York art gallery.
PROMOTIONAL TRACK
//
If you'd like to share music from this release, please feel free to use the following track:

"
That never came
": @
SoundCloud
/ @
Bandcamp

PURCHASE LINKS
//
ITUNES
-
AMAZON
-
BANDCAMP
-
WAYSIDE MUSIC
ARTIST SITES
//
www.ergoisaband.com
-
www.facebook.com/ergoisaband
-
www.cuneiformrecords.com
-----
Prodigious American Guitar Explorer, Captain Beefheart Alumnus & Pop Culture/Film Archeologist
GARY LUCAS
Revives the Street-Smart, Playful Music of Classic 1930s Cartoons
with the Tribute
MUSIC FROM MAX FLEISCHER CARTOONS
Featuring Broadway & Off-Broadway Vocal Sensation
SARAH STILES
Capturing the Playfully Erotic Spirit of Betty Boop and Mischievious Energy of Olive Oyl

GARY LUCAS' FLEISCHEREI
[FEATURING SARAH STILES]
MUSIC FROM MAX FLEISCHER CARTOONS



STREAM/SHARE: "The Broken Record"
stream: @SoundCloud / @Bandcamp

Cat. #: Rune 405, Format: CD / DIGITAL DOWNLOAD
Genre: Jazz / Musical
Release Date: February 5, 2016

Gary Lucas
is one of the great spelunkers of contemporary culture, a fearless explorer who delves into forgotten and overlooked crevices and returns bearing exquisite treasures. His latest project
Music from Max Fleischer Cartoons
is a particularly spectacular find, a gleaming confection from a hurly-burly era when the
Jazz Age
crashed into the
Great Depression
and
Tin Pan Alley
borrowed shamelessly from
Harlem
. A 2016
Cuneiform
release, the album features songs from
Fleischer Studios
cartoons originally delivered by actress
Mae Questel
, who provided the voice and vocals for two beloved but very different characters: the eternally sexy
Betty Boop
and Popeye's sometime 'goilfriend'
Olive Oyl
.
A breathtaking guitarist whose dauntingly eclectic career encompasses a formative stint with
Captain Beefheart
, a crucial collaboration with
Jeff Buckley
, and an abiding passion for film scoring (just for starters), Lucas enlisted trombonist/arranger
Joe Fiedler
to craft zingy, kinetic and historically grounded arrangements for
Sarah Stiles
, a fiercely intelligent actor and singer best known for her work on and
Off Broadway
(in
Hand to God
and
Avenue Q
, respectively). Loose-limbed and girlish, sensuous and soulful, Stiles taps into the raw, unsentimental energy that animated
Max Fleischer
's angsty animation, which provided a street-smart East Coast alternative to
Walt Disney
's California confections.
"Fleischer's animation has a gritty, funky urban sensibility that feeds right into
R. Crumb
," Lucas says. "His cartoons had that
Jewish
and urban wiseguy sensibility. There's a dark, black humor associated with
Eastern European
immigrants, and even though I'm from upstate, those are my roots. Betty Boop in particular embodies a knowing sophistication emanating out of
Times Square
, which was a node of melting pot culture where Broadway, Yiddish theater, and jazz all converged."
Fiedler brought in a brilliant group of players for the project.
Jeff Lederer
is a supremely versatile saxophonist who can be found playing salsa with trombonist
Jimmy Bosch
and raucous post-bop with drummer
Matt Wilson
.
Michael Bates
, a virtuoso bassist with nine albums under his own name, has delved deeply into cutting edge jazz and soul, while drummer
Rob Garcia
is also an acclaimed bandleader and composer who's at the center of Brooklyn's vibrant jazz scene.
Casting the cats was the easy part. Finding a singer who could capture the insouciant spirit of Mae Questel while comfortably inhabiting the material proved far more difficult. Lucas turned to his wife
Caroline Sinclair
, a New York City casting director, who said, "why don't you let me cast this one?" "That was a good idea," Lucas says. "Sarah is really a bundle of fire who can do it all. It was crucial to find a singer who wouldn't try to hijack the idea and make it about her. We conceived this as a tribute to Mae Questel and the Fleischers. This is about trying to spread
Fleischermania
."
Part of what makes Stiles such a perfect fit for the material is the way she captures the spirit of the characters. It's immediately obvious when she's singing a song associated with the effervescent Ms. Boop and when she's donning the slippery guise of Ms. Oyl. The album opens and closes with bits lifted from Fleischer productions. Lucas himself raises the curtain, crooning a brief bit of silliness on
"Sweet Betty,"
which is followed by Stiles' winning rendition of the Boopsters' theme song
"Don't Take My Boop-Oop-a-Doop Away"
(we wouldn't dream of it Betty). She gives such a sly and sultry sheen to another Boop vehicle,
"That's My Weakness Now,"
that it's hard to understand why it didn't become a standard.
Some of Betty Boop's numbers did make it into the pop pantheon, particularly,
"Penthouse Serenade,"
which opens as a touching recitative before turning into a roiling rent party ("that's instrumental music we lifted straight off the cartoon soundtrack," Lucas says). She's beyond charming on the beguilingly goofy
"The Music Goes Round and Round"
and so forthrightly amorous on
"Do Something"
it's no wonder that the prudes enforcing the Hays Code were determined to hide her shimmying boop-oop-a-doop under a bushel.
Stiles slips effortlessly into Olive Oyl's considerable shoes on her bump-and-grind anti-hirsute anthem
"I Want a Clean Shaven Man"
and the can't-we-all-get-along plea
"Brotherly Love"
(two numbers that are clearly ripe for revival). The album closes with a vivid and hilarious recreation of the soundtrack for the classic 1935 cartoon
"Beware of Barnacle Bill,"
where Popeye and Bill vie for the affections of the resilient Oyl.
Hewing closely to the original scores, Lucas and his crew summon a lost world of rent parties and Yiddish music halls, Vaudeville emporiums, Broadway revues, and even klezmer dance parties (themes often written by
Fleischer Studios
mainstay
Sammy Timberg
). Lucas actually took an earlier stab at some of this music, creating a solo National guitar medley of Popeye and Betty Boop tunes for his 1998
Tzadik
album
Busy Being Born
under the title of
"Fleischerei"
(which is German for butcher shop, word play evoking the cartoons' raucous, irreverent sensibility).
As an artist who thrives by keeping dozens of projects spinning at any given time, Lucas credits Fiedler with moving
Fleischerei
from the back burner to the front. He had mentioned the idea to the trombonist about a decade ago as they worked on two albums for Cuneiform with
Fast N' Bulbous: The Captain Beefheart Project
. When their paths crossed about two years ago, Fiedler brought up the Fleischer concept, noting that his day job as music director for
Sesame Street
left him ideally situated to tackle the project.
"That was the immediate spur," Lucas says. "I've got a guy with the perfect skill set. I'm a classically trained musician and can read but I don't write out music when I don't have to. I prefer to do everything as head arrangements, but this needed a real arranger's touch. Independent of Joe I figured out guitar arrangements in the original keys, to keep the flavor of the songs."
In many ways,
Fleischerei
is the latest dispatch from
Lucas's lifetime affair with the moving image. Growing up in Syracuse, he would rent silent 8-mm copies of classic Universal horror films and screen them for neighborhood kids ("I had a piggybank filled with nickels and dimes," he recalls). He made his own stop-motion animated shorts, and by the time he was in high school got hired for a gig scored an animated film about DNA created for biology classes. His budding career as a director screeched to a halt when he enrolled at
Yale
, which then didn't offer any filmmaking courses. But over the course of his exuberantly creative journey in music, he's never lost his acute case of cinephilia.
Still, summing up Lucas's kaleidoscopic career is a daunting task by any measure. He's got a project for every day of the week, and three on Sunday. He composes soundtracks for television and film, and can often be found performing his scores live, including the classic 1934 Chinese silent feature
The Goddess
and the Brazilian cult classic
This Night I Will Possess Your Corpse
. Not surprisingly given his Castle-haunted youth he's demonstrated a particular affinity for horror films, creating acclaimed scores for
Carl Theodor Dreyer
's classic 1932
Vampyr
, a Spanish-language version of
Tod Browning
's immortal version of
Dracula
,
and
James Whale
's definitive
Frankenstein
(both from 1931).
Famously dubbed "the thinking man's guitar hero" by
The New Yorker
, Lucas first made his mark in the early 1980s with the last incarnation of
Captain Beefheart's Magic Band
, an association that continued fruitfully after
Don Van Vliet
's retirement from music. He collaborated with the lamented legend
Jeff Buckley
, contributing incisive guitar work and two songs to the epochal 1994 album
Grace
(including the title track). More recently, he's released
Otherworld
(
Esoteric/Cherry Red Records
); a duo collaboration with UK vocalist
Peter Hammill;
and a project with Hungarian jazz-rock ensemble
DeBORT
.
With
Fleischerei,
Lucas has created a particularly vivid and entrancing realm, a musical world that's uncannily familiar, utterly original and tantalizingly foreign like only the past can be.
PROMOTIONAL TRACKS
//
If you'd like to share music from this release, please feel free to use the following track:

"The Broken Record":
@
SoundCloud
/ @
Bandcamp
PURCHASE LINKS
//

ITUNES
-
AMAZON
-
BANDCAMP
-
WAYSIDE MUSIC
ARTIST SITES
//
www.garylucas.com/www/fleischerei
-
www.cuneiformrecords.com
-----
Rising from Valencia, Spain,
Electro-Acoustic Piano Trio NAIMA
Delves into Dark and Beautiful Territory on BYE,
a Selection of Finely Calibrated Originals and
Arresting Versions of
Songs by Jaga Jazzist and Elliott Smith
NAIMA
BYE



STREAM/SHARE: "Bye"
stream: @SoundCloud / @Bandcamp / @YouTube

Cat. #: Rune 418, Format: CD / LP / DIGITAL DOWNLOAD
Genre: Jazz
Release Date: January 22, 2016

If creating an unmistakable group sound is the ultimate goal of a jazz ensemble the Spanish trio
Naima
is well on its way to securing a spot as one of the leading combos on the contemporary European scene. Featuring
Enrique Ruiz
on piano and synths,
Luis Torregrosa
on drums, and
Rafael Ramos Sania
on bass, the Valencia-based electro-acoustic band has honed a dramatic, darkly romantic sound marked by astringent textures, arresting melodies, and tightly coiled rhythms. Naima makes its
Cuneiform
Records
debut in 2016 with
Bye,
the group's fourth album.
While the group has undergone several changes since coming together a decade ago, Naima has maintained the founding core of Ruiz and Torregrosa, who write and arrange the majority of the material together. Avoiding the jazz trio trope of a theme followed by a string of solos, they've concentrated on a group approach that often erases distinctions between soloist and accompanist. The ebb and flow of energy and finely calibrated inner dynamics sometimes brings to mind
The Bad Plus
, but in the hands of Naima the results reach very different emotional terrain.
The artful use of electronic effects and synthesizer adds an unstable element to the trio's sound, which flows from a collective ethos that "is one of the key factors of Naima's music," says Ruiz. "It is what gives the band its character and also exerts influence while we're writing new material. The new songs are less predictable and you can be more creative and try out things that may open up new pathways for us."
The album kicks off with the gut-punch of
"A Father's Anthem,"
a gorgeous, wrenching tune that opens as a mournful elegy and quickly evolves into a defiant
cri de coeur
driven by Ramos's keening distortion-tinged arco bass. The title track picks up on a similar mood, but more in sadness than anger, finding a core of resilience in the insistent snare tattoo, the sinuous synth line, and telegraphic march of Ruiz's piano.
"In this disc we use synthesizers as an extra instrument, amplifying our range of colors and intensities," Ruiz says. "However, this doesn't only happen with the record. We've worked towards making our live sound at least as intense as on the disc."
The album's emotional centerpiece might be
"Al Llegar Sabríamos Tanto Como Ella"
(which translates as "upon arrival we would know as much as she"). With its gradual building of tension and release and lapidary textures, the piece suggests a destination that's both inviting and forbidding. The synth driven opening of
"Future Imperfect"
powerfully evokes the dystopian implications of its title, with a theme that would serve effectively as the soundtrack to a chase scene through a
Blade Runner
movie. Working in a similar vein,
"Les Débris"
paints a portrait in deep shadows, where Ruiz's stuttering piano finally gives way to Ramos's thick, ringing bass.
Aside from the operatic intensity of some pieces, what draws comparisons to The Bad Plus is that Naima possesses a gift for reinterpreting material not often addressed in jazz settings, and the trio closes the album with two revelatory covers.
Jaga Jazzist
reed player
Lars Horntveth
wrote
"Animal Chin,"
which is given concise and detailed treatment with zooming synth textures that contrast brightly with the spritely melody. And Naima's version of
Elliott Smith
's
"Can't Make a Sound"
somehow ramps up the song's desperation, adding an additional layer of existential angst to an already haunting plea. Rather than ending the album on that note, Naima offers two alternate takes, finding more resignation and quiet celebration in
"A Father's Anthem"
and
"Les Débris,"
while opening a window into the band's creative process in the studio.
The origins for Naima date back to a fateful encounter between Ruiz and Torregrosa as teenagers. "We hit it off from the very start because he was wearing a t-shirt of
Surfer Rosa
," says Ruiz, referring to the classic album by the alt-rock band the
Pixies
. "But it wasn't until nearly 10 years later when we bumped into each other again at a jazz concert that we decided to start up a group together."
They had a clear sense of musical mission from the beginning, writing original compositions and developing striking arrangements of songs by contemporary artists like
Depeche Mode
, Elliott Smith, the Pixies and
The Smiths
. "We were totally sure about what we were doing and where we were going," Ruiz recalls. "We wanted to set up a jazz band which would have a sound and some song material closer to the music from groups of the last 30 years, which we grew up with."
A quartet in its first incarnation with tenor saxophonist
Manolo Valls
and bassist
Alex Olías
, Naima released its debut album in 2006,
Uno
, making a strong impression on the Spanish jazz scene. The group followed with another impressive quartet release,
Buscas
, in 2010 (with
Oscar Cuchillo
taking over the bass chair). The group debuted sans saxophone on 2012's
A Trio Conspiracy
, an album that captured the band's volatile new sound. Inspired by other powerhouse triumvirates like The Bad Plus, the
Brad Mehldau Trio
, and
E.S.T
., Naima has also absorbed concepts from combos like disparate plugged-in bands such as
Tortoise
,
Jaga Jazzist
,
Cinematic Orchestra
, and
Christian Scott
's
Stretch Music
.
In many ways, finding
Rafael Ramos Sania
was key to the band's evolution, which is captured on
Bye
. With his big sound, elastic sense of time, and facility with electronics, he contributed greatly to Naima's riveting sound.
"We were very lucky to meet him as it's really difficult to find a musician who can fit into a group with clear ideas about how they should sound," Torregrosa says. "He was able to adapt wonderfully well and also contribute new ideas. With him we're now a compact unit and this disc is living proof of that."
PROMOTIONAL TRACKS
//
If you'd like to share music from this release, please feel free to use the following track:

"Bye"
: @
SoundCloud
/ @
Bandcamp
/ @YouTube
PURCHASE LINKS
//
ITUNES
-
AMAZON
-
BANDCAMP
-
WAYSIDE MUSIC
ARTIST SITES
//
www.naima.es
-
www.facebook.com/naimajazz
-
www.cuneiformrecords.com
-----
From Los Lobos and Neil Young to Scarface and Leiber & Stoller,
THE ED PALERMO BIG BAND
Explores Brave New Worlds Without Neglecting Frank Zappa on
ONE CHILD LEFT BEHIND
THE ED PALERMO BIG BAND
ONE CHILD LEFT BEHIND



STREAM/SHARE: "Dirty White Bucks"
stream: @SoundCloud / @Bandcamp

Cat. #: Rune 420, Format: CD / DIGITAL DOWNLOAD
Genre: Jazz / Big Band
Release Date: January 22, 2016

Over the past two decades
Ed Palermo
has earned an avid international following with his brilliantly executed, reverently irreverent arrangements of
Frank Zappa
's tempestuous and wildly inventive music. On previous Cuneiform albums like 2006's
Take Your Clothes Off When You Dance
and 2009's
Eddy Loves Frank,
the New Jersey saxophonist, composer and arranger infused the world of Zappalogy with his own brand of incisive wit and bracing improvisation. He doesn't neglect Zappa on his fourth Cuneiform dispatch,
One Child Left Behind
, released in January 2016. But instead of offering another full-Frank immersion he turns his big band loose like it's playing one of its regular gigs at
Iridium
or
The Falcon
, a Hudson Valley jazz oasis. Exploring an expansive array of moods and material, the band delivers an audaciously entertaining program that's full of surprises.
Featuring the same formidable cast of players as on his last release, 2014's critically hailed double album
Oh No! Not Jazz!!
, the 18-piece band interprets a fatalistic film theme and a gorgeous
Neil Young
ballad. They demolish an existential
Leiber and Stoller
hit and rhapsodize with an intoxicating
Los Lobos
classic. Palermo also throws in some beautifully crafted originals, and of course offers a generous helping of Zappa too. As he's quick to acknowledge,
One Child
"is more of a mixed bag, where my past albums were more thematic. I've been wanting to mix it up like we do at our live shows. These pieces are all road tested, and it felt like a good time to document them."
Longtime fans of the Palermo band can rest assured that Zappa is well represented on
One Child
, which opens with a sassy and brassy version of
"Cleetus Awreetus Awrigtus,"
a chart that always goes over big at gigs.
"Spider of Destiny,"
a brief track from 1979's
Sleep Dirt
(released on Zappa's own
DiscReet Records
) turns into a glorious fanfare, while veteran Zappa vocalist
Napoleon Murphy Brock
brings his dexterous swagger to
"Pygmy Twylyte"
and
"Po-Jama People."


"Napoleon used to sing with Zappa in the 70s and was part of Frank's greatest band with
Jean-Luc Ponty
,
George Duke
and
Chester Thompson
," Palermo says. "We've played a lot of gigs together over the last 15 years and I got him to sing one tune
Oh No! Not Jazz!!
What's funny is that Zappa originally wrote 'Po-Jama People' for Napoleon, but Frank sang it on
One Size Fits All
," an injustice rectified on
One Child
. Speaking of authentic Zappalogy, Frank's younger sister,
Candy Zappa
, provides vocals that capture the gentle absurdity of the psychedelic art song
"Evelyn, A Modified Dog."


The band is equally impressive when it ventures into non-Zappa territory. Candy Zappa's voice brings just the right note of mythic grandeur to
"Kiko and the Lavender Moon,"
a mysterious gem from the Los Lobos songbook. Palermo's arrangement of Italian record producer
Giorgio Moroder
's theme for
Brian De Palma
's movie
Scarface
recasts the film as a Spaghetti Western, a mood perfectly captured by
Katie Jacoby
's emotionally trenchant violin work. Another highlight is the lush treatment of Neil Young's
"Harvest Moon"
which features artful and heartfelt crooning by
Bruce McDaniel
(an essential Palermo collaborator who produced the big band's two previous albums).
"I think 'Harvest Moon' is one of Neil Young's best songs, and I gave it a
Nelson Riddle
treatment, like it was something written for
Sinatra
," Palermo says. "I've done a lot of arranging in that style and a lot of transcribing of Riddle, and I wanted to recontextualize the song like I've done with Zappa. If you're trying to replicate the original, you're going to lose."
It's not surprising that Palermo's originals stand up so well alongside the other material. The second disc of
Oh No! Not Jazz!!
focused exclusively on his compositions, and he includes three excellent tunes on this album that showcase his deep bench of players. Keyed to the orchestral drumming of
Ray Marchica
,
"Dirty White Bucks"
soars and swoops like a daredevil on a flying trapeze, building to a pyrotechnic trumpet solo by
John Bailey
.
Ben Kono
's booting tenor gives
"Vengeance"
its predatory vibe, and
"The Goat Patrol"
writhes and surges as it bounces back and forth between the sections.
If there's one track that distills the Palermoian aesthetic in all its erudition and broad humor, it's the caustic rendition of
"Is That All There Is?"
that hymn to anomie that turned into an unlikely hit for
Peggy Lee
. More a deconstruction-by-dynamite than an homage, the track features vocalist
Mike James
, who mostly dispenses with Leiber and Stoller's jaded lyrics and improvises his own hilarious, gimlet-eyed narrative while the saxophones quote various Zappa tunes behind him (including
"Uncle Meat,"
"Idiot Bastard Son,"
and
"King Kong"
). "I have great respect for the composers. but I always considered it one of the most overblown, melodramatic songs ever written, and through the years I would quote it as a joke," Palermo says. "When I started doing the Zappa tributes I decided to throw the song in with all these Zappa quotes. Mike James ad-libbed all of that stuff, and I was crying laughing."
In many ways, Palermo's career is a case study in getting the last laugh. Born in Ocean City, New Jersey on June 14, 1954, he grew up in the cultural orbit of Philadelphia, which was about an hour drive away. He started playing clarinet in elementary school, and soon turned to the alto saxophone. He also took up the guitar, and credits his teenage obsession with Zappa to opening his ears to post-bop harmonies and improvisation. He caught the jazz bug while attending
DePaul University
, and took to the alto sax with renewed diligence inspired by
Edgar Winter
,
Phil Woods
and
Cannonball Adderley
. Before he graduated he was leading his own band and making a good living as a studio player recording commercial jingles. But like so many jazz musicians he answered New York's siren call, moving to Manhattan in 1977. After a year of playing jam sessions and scuffling from band to band, Palermo landed a coveted gig with
Tito Puente
, a four-year stint that immersed him in
Afro-Cuban
music.
An encounter with trumpeter
Woody Shaw
's septet at the
Village Vanguard
in the late 1970s stoked his interest in writing and arranging for multiple horns, and by the end of the decade he had launched a nine-piece rehearsal band with five horns. Between
Don Sebesky
's well-regarded book
The Contemporary Arranger
and advice from
Dave Lalama
and
Tim Ouimette
, "I got a lot of my questions answered and I'll love them forever," Palermo says. "Then the real education was trial and error. I lived in a little apartment with no TV or furniture. All I had was a card table, and once a week I'd rehearse my nonet, then listen to the cassette of the rehearsal and make all the changes."
Palermo made his recording debut in 1982, an impressive session featuring heavyweights such as
David Sanborn
, Edgar Winter and
Randy Brecker
. As a consummate studio cat and sideman, he toured and recorded with an array of stars, including
Aretha Franklin
,
Eddie Palmieri
,
Celia Cruz
,
Lena Horne
,
Tony Bennett
,
Mel Tormé
,
Lou Rawls
,
Melba Moore
,
The Spinners
and many others. As an arranger, he's written charts for the
Tonight Show Band
,
Maurice Hines
,
Eddy Fischer
,
Melissa Walker
, and a concert by
James Brown
at the Hollywood Bowl.
Palermo had been leading his big band for more than a decade before the Zappa concept started coming together. Inspired by electric guitar master
Mike Keneally
, who performed with Zappa on some of his final concerts before his death in 1993, Palermo decided to arrange a program of 12 Zappa tunes. When the time came to debut the material at one of the band's regular gigs at the
Bitter End
in early 1994, a sold-out crowd greeted the band.
"The Internet was just becoming powerful, and word really got around," Palermo says. "We were used to paying small audiences, and the place was packed. There were people who had driven down from Canada, and up from West Virginia who didn't have a clue who I was, but they wanted to hear Zappa's music. It was amazing night."
The Ed Palermo Big Band earned international attention with its 1997 debut
The Ed Palermo Big Band Plays Frank Zappa
on
Astor Place Records
. With Palermo's brilliant arrangements and soloists such as
Bob Mintzer
,
Chris Potter
,
Dave Samuels
,
Mike Stern
, and
Mike Keneally
, the album made an undisputable case for the Zappa jazz concept.
At this point, the Palermo Big Band has honed some 300 Zappa arrangements, while steadily expanding the band's book with his originals and the kind of arrangements that make
One Child
such a revelation. Nothing demonstrates the ensemble's ongoing vitality better than the stellar cast of players, with longtime collaborators such as violinist
Katie Jacoby
, baritone saxophonist
Barbara Cifelli
, drummer
Ray Marchica
, keyboardist
Ted Kooshian
, and the father/son trumpet tandem of
Steve Jankowski Sr.
and
Jr.
Many of these top-shelf musicians have been in the band for more than a decade, and they handle the diverse array of material with aplomb.
One Child Left Behind
doesn't leave Zappa behind, but it makes a compelling case that the Palermo bandwagon can comfortably accommodate a wild and wooly menagerie.
PROMOTIONAL TRACKS
//
If you'd like to share music from this release, please feel free to use the following track:

"Dirty White Bucks"
: @
SoundCloud
/ @
Bandcamp
PURCHASE LINKS
//
ITUNES
-
AMAZON
-
BANDCAMP
-
WAYSIDE MUSIC
ARTIST SITES
//
www.palermobigband.com
-
www.facebook.com/palermobigband
-
www.cuneiformrecords.com