CUNEIFORM RECORDS

Is Proud to Announce

Mu

A New ALBUM by

RICHARD PINHAS & BARRY CLEVELAND

a FALL 2016 Release

Out NOW!!

Richard Pinhas and Barry Cleveland
Explore Zen and the Art of Improvisation on Mu,
a Startlingly Strange and Beautiful Quartet Session with
Bass Innovator Michael Manring and Brazilian Drum Maestro Celso Alberti
"Mu presents what great improvisation should be … the four voices work together magically to create this superlative improvisational environment … the brisk pace of ebbs and swells throughout as well as the constant parade of mysterious instrumentation makes Mu nothing short of a masterpiece, beginning to end."
-Peter Thelen,
Exposé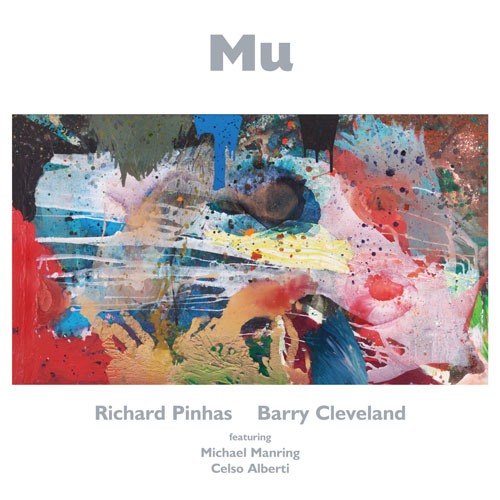 Richard Pinhas & Barry Cleveland

[Featuring: Michael Manring & Celso Alberti]
Mu

STREAM/SHARE:
"Zen/Unzen" [excerpt]

stream: @
SoundCloud
/ @
Bandcamp
/ @
YouTube
Cat. #:
Rune 426
, Format:
CD / Digital Download
Genre:
Avant-Progressive
/
Art Rock
/
Experimental
/
Fourth World
/
Psychedelic
Release Date:
September 16, 2016
One day a troubled monk approached Joshu, a renowned Chinese Zen master, intending to ask him for guidance. A dog walked by and the monk asked Joshu, "Has that dog a Buddha Nature or not?" The monk had barely completed his question when Joshu shouted: "Mu!"


Mu' is often translated as "nothingness," but as the response in Zen's most famous koan, the gesture speaks to a truth deeper than rational dualistic thinking can obtain -- therefore also resonating with the creative mindset accompanying the purest forms of musical improvisation.
The music created by French guitar iconoclast and electronic music pioneer
Richard Pinhas
and insistently inventive San Francisco Bay Area guitarist
Barry Cleveland
on
Mu
originated in just such a way, arising seemingly from "nothingness." The two had contemplated performing as well as recording together for several years before their stars finally aligned during Pinhas'
2013 North American Tour
. The guitarists played several Bay Area shows as a duo and invited two other musicians to join them for a studio session lasting less than four hours.
Unfettered by genre conventions,
Mu
is a mesmerizing combination of entirely improvised music and Cleveland's post-production compositional development. The four long pieces unfurl as a confluence of overlapping musical currents informed by
art rock, ambient, electronic, avant-garde jazz, and various "world" music inflections. Joined by two longtime Cleveland collaborators -- electric bass innovator
Michael Manring
and Brazilian-born drum master
Celso Alberti --
these expansive and timeless soundscapes feel unlike anything created before them.
"I've worked with Michael for years and he and Celso were both featured on my previous album,
Hologramatron
, as well as in the band of the same name," Cleveland explains. "
Hologramatron
had opened for Richard a couple of times here in California, so he was familiar with Michael and Celso's playing and readily agreed that we should record together as a quartet."
Pinhas' distinctive musical aesthetic is facilitated by his
Metatronic
live-looping and effects system that enables him to create an astonishing variety of tones and textures and layer them into continually changing stream-of-consciousness soundscapes. His approach on
Mu
was especially dynamic. "Besides opening up fresh sonic horizons himself, Richard did an impressive job of responding to the rapid shifts in tempo, tonality, and intensity of the quartet, which is far from easy when using a looping system such as his," explains Cleveland. "His performance on
'I Wish I Could Talk In Technicolor,'
in particular, may be the most dynamic and nuanced I've heard from him yet."
Cleveland's aesthetic is equally sui generis. In addition to playing guitar in the conventional manner he plays with a bow, a bowhammer, an EBow, and other devices, as well as using sophisticated electronics and looping to access intriguing new aural realms. On
Mu
, he also played Moog Guitar, sitar guitar, Vocalizer 1000 woodwind synth, M-Tron, zither, kalimba, gong, and incidental percussion.
"Hyperbassist" Michael Manring's mind-blowing virtuosity is equaled only by the richness of feeling expressed in his playing. He and drummer/percussionist Celso Alberti, a master of multiple rhythmic traditions, share a near-psychic connection that enlivens their truly uncanny interactions.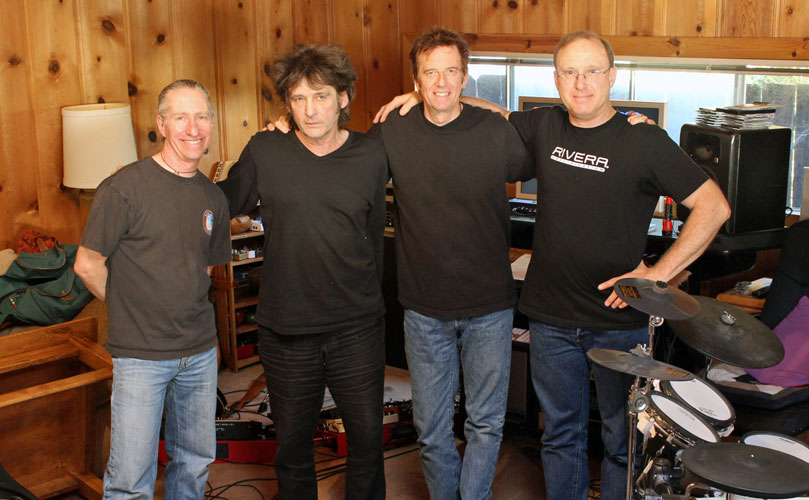 [Michael Manring, Richard Pinhas, Celso Alberti, and Barry Cleveland]
Following their recording session, Cleveland spent months "overdubbing different instruments, including the remarkable Moog Guitar, and arranging, processing, and mixing the core tracks into complete musical statements. Long stretches of the improvised material were used in their entirety (
"I Wish I Could Talk In Technicolor"
and
"Zen/Unzen"
), which helps explain the music's cohesive flow. The final touch was composing
'Forgotten Man'
around an extended guitar-synth track by Richard, including programming the percussion parts."
"My production and mixing fingerprints are all over
Mu
, and may even be evident to those familiar with my other recordings," Cleveland says. "But the essential character of the music is the result of four unique musicians improvising together on a particular day, at a particular time, and the creative possibilities and energies available to them in that moment." It's the kind of confidently interactive invention that can only take place with deeply connected musicians.
While not originally intended as a suite,
Mu
is effectively an audio odyssey that flows naturally from beginning to end.
Mu
opens with the darkly cinematic
"Forgotten Man."
It's the only track without Manring and Alberti, but Cleveland's programmed percussion keeps the mysterious gentleman on the move, wending his way across churning synthesizer landscapes driven by the polyrhythmic pulse of tribal drumming and ever-shifting permutations of the soaring melody.
The album's 26-minute centerpiece,
"I Wish I Could Talk In Technicolor,"
seduces the listener into an enigmatic and at times unsettling world of strange new sounds and tonal colorations that are in turns intimate and orchestral in scope. One moment an alluring soundscape propelled by hypnotic kalimba rhythms and Pinhas' pulsating guitar loops; the next exotic atmospherics hovering atop Manring's elastic bass figures and Alberti's rapid-fire electronic kit work; the next full immersion in trippy textures infused with sitar guitar; and the next a spacy art-rock excursion featuring Pinhas' multidimensional droning and Cleveland's bowed guitar layering, dynamic looping, and fuzz-drenched soloing.
"Zen/Unzen"
uncoils gradually like a sonic Slinky, continually generating fresh kinetic waves. An evocative Pinhas' guitar loop becomes suffused with coruscating Moog Guitar textures, before Manring and Alberti emerge into the foreground and establish an Afro-tinged groove with uncommon power and authority. Jon Hassell-inspired melodies executed on a toy woodwind synth and jazzy faux trumpet MIDI guitar lines push the piece into world-fusion territory, while runaway Echoplex sounds nod in the direction of electric Miles.
The gorgeous closer,
"Parting Waves,"
blends moody loops and brooding EBow bass with cascading 12-string guitar clusters and a majestic yet mournful melody that swells and then subsides before gradually merging into the sound of breaking waves punctuated by the cries of distant gulls.
In bringing together this singular quartet, Cleveland and Pinhas take another bold step with
Mu
. Given their long histories of innovation and experimentation it shouldn't be surprising to find them venturing into the unknown. But there's still something inspiring about witnessing veteran artists willing to follow a thread of inspiration into the void, only to emerge with new revelations. "In many ways," says Cleveland, "this album represents the culmination of concepts and techniques I've been developing my entire life."
Mu
, the first Richard Pinhas / Barry Cleveland collaboration to be released by Cuneiform, should appeal to fans of such artists as
Jon Hassell
,
Arve Henriksen
,
Nils Petter Molvaer
,
Bill Laswell
,
David Torn
,
Brian Eno
,
David Sylvian
, and
David Bowie.
PROMOTIONAL TRACK
//
If you'd like to share music from this release, please feel free to use the following track:

"Zen/Unzen" [excerpt]
: @
SoundCloud
/ @
Bandcamp
/ @
YouTube

MU TRACK LISTING //

1.
Forgotten Man
(9:13)
2.
I Wish I Could Talk In Technicolor
(25:41)
3.
Zen/Unzen
(9:28)
4.
Parting Waves
(4:09)
ALBUM CREDITS //
Richard Pinhas
-
guitar, guitar synthesizer, Metatronics
Barry Cleveland
- guitar, Moog guitar, bowed guitar, bowhammer guitar, EBow guitar, sitar guitar, M-Tron, Vocalizer 1000, kalimba, zither, gong, incidental percussion, percussion programming, samples
Michael Manring
- bass, EBow bass
Celso Alberti
-
drums, electronic drums, percussion
All compositions by
Richard Pinhas
and
Barry Cleveland
.
Produced, recorded, and mixed by
Barry Cleveland
at
ElevenEleven Recorders
.
Mastered by
John Cuniberti
.
Cover painting "A World On Its Own" by
Bedri Baykam
.
Courtesy of
Bedri Baykam
and the
Istanbul Museum of Modern Art
.
Graphic design and layout by
Bill Ellsworth
.
PURCHASE
//
ITUNES
-
AMAZON
-
BANDCAMP
-
WAYSIDE MUSIC
ARTIST WEB SITES
//
www.richard-pinhas.com
-
www.barrycleveland.com
-
www.cuneiformrecords.com

RAVE REVIEWS
//
"Mu sounds like the penultimate work for Cuneiform records, the ultimate progressive quartet that fits perfectly amongst the other prog giants."
-
Bruce Lee Gallanter
, Downtown Music Gallery
"The music speaks for itself … a great album!"
[12/15 points]
-
Jochen Rindfrey
,
Babyblaue-Seiten


"An electrifying voyage through both philosophies and fascinations of overwhelming sonic possibilities."
-
Dave Thompson
,
Goldmine


"A trance-y, grooving work that is recommended if you like Jon Hassell, King Crimson, Brian Eno, etc."
-
Gary Davis
, The Artist Shop
"Mu is a unique release—familiar and strange at the same time, non-mainstream, and appealing."
-
Mike Borella
,
Avant Music News


"Ethereal soundscapes emerge from the ether to construct monolithic krautrock monuments on an extra-terrestrial jungle world."
-
Chuck Foster
,
The Big Takeover


"Pinhas, Cleveland, Manring, and Alberti are perfect collaborators when it comes to taking a spiritual voyage with
Mu
."
-
Zachary Nathanson
,
Music From The Other Side of the Room
****


// RICHARD PINHAS - TOUR DATES: 2016-2017 //
Oct. 12
USA
Richard Pinhas & Wume

Nightlight


405 1/2 West Rosemary St, Chapel Hill, NC 27516
phone (919-960-6101)
http://www.nightlightclub.com
[FB event]
Oct. 13
USA
Richard Pinhas & Wume

Strange Matter


929 W Grace St, Richmond, VA 23220
http://www.strangematterrva.com
[FB event]
Oct. 14
USA
Richard Pinhas & Wume

Metro Gallery


1700 N Charles St, Baltimore, MD 21201
http://www.themetrogallery.net
[FB event]
Oct. 15
USA
Richard Pinhas & Wume

Comet Ping-Pong


5037 Connecticut Ave NW, Washington, DC 20008
http://www.cometpingpong.com
[FB event]
Oct. 20
USA
Richard Pinhas
Zeitgeist Multi-Disciplinary Arts Center
1618 Oretha Castle Haley Blvd, New Orleans, LA 70113
http://www.zeitgeistnola.org
$20
[FB event]
Oct. 21
USA
Richard Pinhas

14 Pews
800 Aurora St, Houston, TX;
phone: (718) 389-0854
http://www.parkchurchcoop.org/

Oct. 22
USA
Richard Pinhas

Farewell Books
913 East Cesar Chavez St, Austin TX 78702
phone: (512) 473-2665
http://www.farewellbookstore.com/
https://www.facebook.com/FarewellBooks/

Nov. 3
JP
Richard Pinhas & Yoshida Tatsuya

Syuyukan
Omihachiman Shiga Sakederik space Syuyukan
Yubinbango 523-0862, Shiga Prefecture, Omihachiman, Suwaichonaka 21
http://www.shuyukan.com/index.html
Nov. 4
JP
Richard Pinhas & Yoshida Tatsuya w/ Seiichi Yamamoto

Club Metro
Japan, 606-8396, Kyoto Kyoto, sakyo-Ku, Kawabata log town under
http://www.metro.ne.jp
Nov. 5
JP
Richard Pinhas & Yoshida Tatsuya
Txalaparta
770-0915, Japan Tokushima Prefecture, Tokushima Tomita-Cho 2-18 B1
http://bartxalaparta.jimdo.com
Nov. 6
JP
Richard Pinhas & Yoshida Tatsuya
Helluva Lounge
650-0011, Japan, 3--1 - 18 under the Yamate Dori Chuo-ku, Kobe-Shi, Hyogo, Japan
http://helluva.jp
Nov. 7
JP
Richard Pinhas & Yoshida Tatsuya w/ Vampillia
Conpass
542-0083 Osaka Prefecture, Osaka, Chuo-ku, East heart Shinsaibashi 1-Chome 12-20
http://www.conpass.jp
Nov. 8
JP
Richard Pinhas & Yoshida Tatsuya w/ Ryoko Ono
Tokuzo
8, novel imaike 1-Chome-6 - 12 Uchiyama, Chikusa-Ku, Nagoya-Shi, Aichi 464-0075
http://www.tokuzo.com
Nov. 9
JP
Richard Pinhas & Yoshida Tatsuya w/
Up-Tight
Kirchherr
Nov. 10
JP
Richard Pinhas & Yoshida Tatsuya w/ Atomic Farm

So-gen
10th Shizouka SOGEN
420-0032, 2 Chome-5-7 Ryogaecho, Aoi Ward, Shizuoka, Shizuoka Prefecture 420-0032
http://sougen0228.wixsite.com/live
https://twitter.com/sougen0228

Nov. 11
JP
Richard Pinhas & Yoshida Tatsuya

Sakuraza Cafe
Yubinbango 400-0032 Kofu, Yamanashi Prefecture center 1-1-7
Japan 1-1-7 Chuo koufushi, Yamanashi City Japan
http://www.sakuraza.jp/
https://twitter.com/sakurazakofu
Nov. 12
JP
Richard Pinhas

Disk Union
Diskunion Shinjuko Progressive Rock Store (3F)
Yamada Bldg. 3F, 3-31-4 Shinjuku, Shinjuku-ku, Tokyo 160-0022
http://diskunion.net/shop/ct/shinjuku_progre
Nov. 13
JP
Richard Pinhas & Yoshida Tatsuya
Showboat
Oak Hill Koenji B1F, 3-17-2 Koenji Kita
Tokyo Suginami high yen North Temple 3-17-2 B1
http://www.showboat1993.com/
https://twitter.com/ShowBoat_1993