Brazilian/American Trio São Paulo Underground
Is Set to Cast New Mind-Bending
Psycho-Tropicalia on Europe
During a Fall 2016 Record Release Tour for
Cantos Invisíveis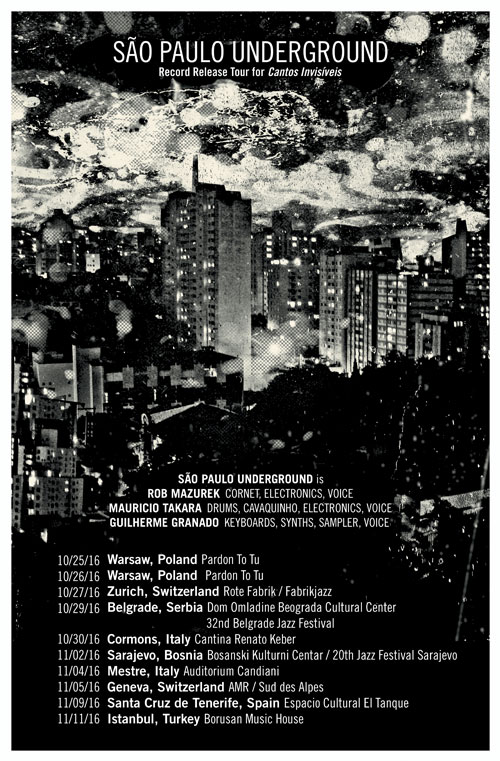 [Art Work: Damon Locks]

To celebrate the release of
Cantos Invisíveis
,
São Paulo Underground
-- the "visionary"
[New York Times]
Brazilian/American trio that
Rolling Stone
calls "limitless in its possibilities" -- is embarking on a
European Record Release
tour starting in October 2016.
Cantos Invisíveis
is
São Paulo Underground's fifth album and third release for Cuneiform.
Founded in 2005, during Chicago composer and cornetist Rob Mazurek's eight-year Brazilian sojourn,
São Paulo Underground
is a power trio that
links Chicago's volatile creative music scene with São Paulo, Brazil's leading experimental musicians.

São Paulo
Underground
features three multi-instrumentalists, Chicago-reared polymath
Rob Mazurek
(cornet, electronics and voice) and two Brazilian masters of modern psycho-Tropicália --
Mauricio Takara
(drums, cavaquinho, electronics and voice) and
Guilherme Granado
(keyboards, synthesizers, sampler, percussion and voice).
The ensemble's music embodies a fascinating mixture of
Sun Ra-esque cosmic noise with rhythms and phrasing from samba, maracatu, rock and free jazz traditions.
The result is
electronica-laced Tropicália
characterized by
glistening sonic textures
, unabashedly
beautiful melodies
, an
expansive improvisational palette
and
fiercely gleeful interplay.

Listen to a sample of Cantos Invisíveis
:
https://soundcloud.com/cuneiformrecords/sao_paulo_underground-olhaluai-from-cantos_invisiveis


"São Paulo Underground's work draws from multiple traditions, each of them already porous and absorbent, and combines ideas from each into something utterly new, while keeping it welcoming to almost any curious listener."
- The Wire


"A modern approach to Brazil's Tropicália, that takes into account advances in sound manipulation and engineering. It is street music from the Brazilian subterranean avant-garde."
-
All About Jazz


"This high-energy romp takes the sting out of the term fusion in the best possible way."
-
DownBeat


"Tropicalia never sounded this modern and alive."
- Sound Colour Vibration

___________


Learn more about São Paulo Underground, download high resolution photos, and hear more sound samples at:
São Paulo Underground's Artist Page on Cuneiform's Website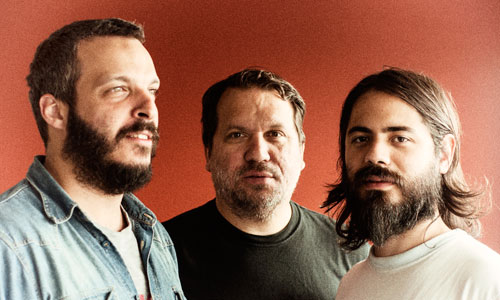 [L-R: Guilherme Granado, Rob Mazurek, Mauricio Takara | Photo: Jason Marck]
-
SÃO PAULO UNDERGROUND
Fall 2016 Cantos Invisíveis Tour
EUROPEAN TOUR DATES
WARSAW, POLAND - TUESDAY, OCTOBER 25, 2016

Set at 8:30PM
Pardon, To Tu

Pl. Grzybowski 12/16
00-104 Warsaw, Poland
www.pardontotu.pl

Event Details
-
Purchase Tickets
-
Facebook Event Link

WARSAW, POLAND - WEDNESDAY, OCTOBER 26, 2016

Set at 8:30PM
Pardon, To Tu

Pl. Grzybowski 12/16
00-104 Warsaw, Poland
www.pardontotu.pl

Event Details
-
Purchase Tickets
-
Facebook Event Link


ZURICH, SWITZERLAND - THURSDAY, OCTOBER 27, 2016

Set at 8:30PM
Rote Fabrik/Fabrikjazz

Clubraum - Seestrasse 395
8038 Zürich, Switzerland
www.rotefabrik.ch

fabrikjazz@rotefabrik.ch
Event Details
BELGRADE, SERBIA - SATURDAY, OCTOBER 29, 2016

Set at 11PM
32nd Belgrade Jazz Festival

Dom Omladine Beograda Cultural Center
Makedonska 22/4
11000 Belgrade, Serbia
www.domomladine.org

Event Details
-
Purchase Tickets
-
Facebook
CORMONS, ITALY - SUNDAY, OCTOBER 30, 2016

Set at 4PM
Cantina Renato Keber

Località Zegla, 15
34071 Cormons, Italy
www.renatokeber.com


SARAJEVO, BOSNIA - WEDNESDAY, NOVEMBER 2, 2016

Set at 10PM
20th Jazz Festival Sarajevo
Bosanski Kulturni Centar

Branilaca Sarajeva 2
Sarajevo, Bosnia
www.jazzfest.ba

Event Details
-
Purchase Tickets
-
Facebook Event


MESTRE, ITALY - FRIDAY, NOVEMBER 4, 2016

Set at 9PM
Auditorium Candiani

Piazzale Candiani 7
30174 Mestre (Venezia), Italy
www.caligola.it

Event Details
-
Facebook Event


GENEVA, SWITZERLAND - SATURDAY, NOVEMBER 5, 2016

Set at 9:30PM
AMR Sud des Alpes

10 Rue des Alpes
1201 Geneva, Switzerland
www.amr-geneve.ch

Event Details
-
Purchase Tickets
-
Facebook Event


SANTA CRUZ DE TENERIFE, SPAIN - WEDNESDAY, NOVEMBER 9, 2016

Set at 9PM
El Tanque Espacio Cultural

C/Fuente de Santa Cruz, S/N. 38003
Santa Cruz de Tenerife, Spain
www.keroxen.com
ISTANBUL, TURKEY - FRIDAY, NOVEMBER 11, 2016

Set at 10:30PM
Jozef Van Wissem Opens at 8:30PM
Borusan Music House

Istiklal Cad, Orhan Adli Apaydin Sk No:1
80670 Istanbul (Beyoglu), Turkey
www.borusanmuzikevi.com

Event Details
-
Purchase Tickets


TOUR UPDATES AT

www.robmazurek.com
|
www.cuneiformrecords.com/tours.html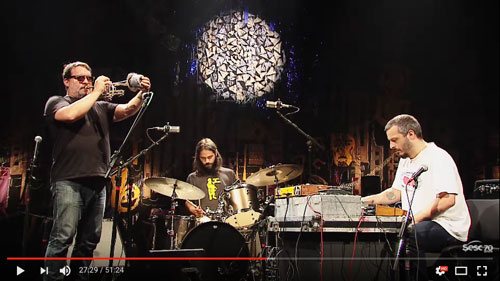 [
WATCH: São Paulo Underground perform on Instrumental SESC Brasil
]
-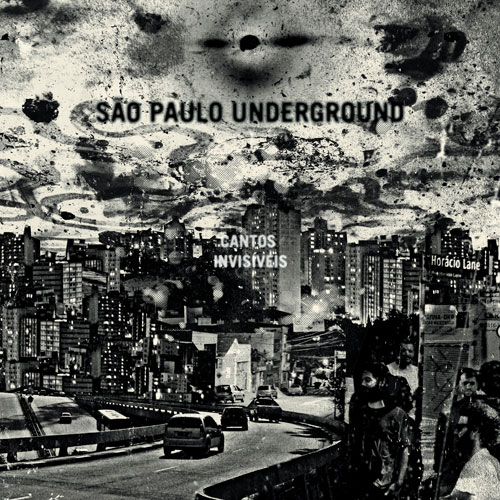 SÃO PAULO UNDERGROUND
CANTOS INVISÍVEIS


Stream/Share:
"Olhaluai"
@
SoundCloud
/ @
Bandcamp
/ @
YouTube
Cat. #:
Rune 423
, Format:
CD / Digital Download

Release Date:
October 14, 2016
Pre-order:
ITUNES
-
AMAZON
-
BANDCAMP
[
HD 96khz/24 bit
] -
WAYSIDE MUSIC
-
"Limitless in its possibilities." -
Rolling Stone
"A visionary jazz-rock trio." -
The New York Times
Cantos Invisíveis is a wondrous album, a startling slab of 21st century trans-global music that mesmerizes, exhilarates and transports the listener to surreal dreamlands astride the equator. Never before has the fearless post-jazz, trans-continental trio São Paulo Underground sounded more confident than here on their fifth album and third release for Cuneiform. Weaving together a borderless electro-acoustic tapestry of North and South American, African and Asian, traditional folk and modern jazz, rock and electronica, the trio create music at once intimate and universal. On Cantos Invisíveis, nine tracks celebrate humanity by evoking lost haunts, enduring love, and the sheer delirious joy of making music together. São Paulo Underground fully manifests its expansive vision of a universal global music, one that blurs edges, transcends genres, defies national and temporal borders, and embraces humankind in its myriad physical and spiritual dimensions.

Featuring three multi-instrumentalists, São Paulo Underground is the creation of Chicago-reared polymath Rob Mazurek (cornet, Mellotron, modular synthesizer, Moog Paraphonic, OP-1, percussion and voice) and two Brazilian masters of modern psycho-Tropicalia -- Mauricio Takara (drums, cavaquinho, electronics, Moog Werkstatt, percussion and voice) and Guilherme Granado (keyboards, synthesizers, sampler, percussion and voice). They're joined on several tracks by Swiss-born, São Paulo resident Thomas Rohrer (rabeca, flutes, soprano saxophone, electronics, percussion and voice), who made a memorable contribution to Mazurek's Black Cube SP on the transcendent 2014 Cuneiform release Return the Tides: Ascension Suite and Holy Ghost. Together, these singular and wildly imaginative sonic explorers create music unlike any other ensemble.

In many ways the music on Cantos Invisíveis is a celebration of camaraderie and the spaces that allow love and friendship to unfurl. Alchemical aural conspirators for over a decade, the group has developed its own approach to structure, with slippery forms, unabashedly beautiful melodies and lapidary textures laced with disquieting electronica beats and stutter-stepping improvisation. Rather than evoke a particular time and place, the music inhabits multiple planes simultaneously as "a projection of sound that celebrates as well as mourns past, present and future times," Mazurek says. "The vocal quality of this particular music shouts and hollers for love and compassion, the joy and sorrows of life. It's a street parade for everybody." In the transcendent spirit of the Second Line, São Paulo Underground summons a joyful noise for all mankind.

The experience of listening to Cantos Invisíveis often feels like stepping through the fourth wall, as if you're in the room with the musicians, watching the instrumental conversations unfold in real time. The production enhances the intimacy, creating a space to enter the music rather than building a protective shell around it. It's a communion that can only develop "as a result of a lot of time spent together working on music and ideas and then travelling together playing throughout the world," Takara says. "I think there's a certain atmosphere that only living and spending time together brings, and the record captures that beautifully."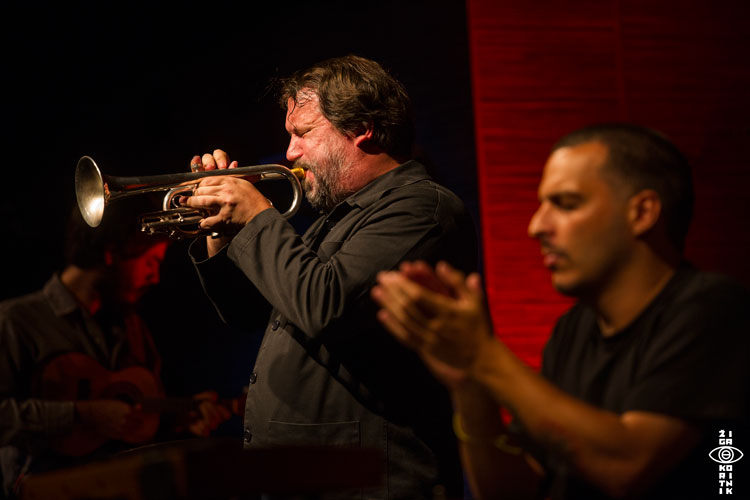 [L-R: Mauricio Takara, Rob Mazurek, Guilherme Granado | Photo: Ziga Koritnik]
The title Cantos Invisíveis translates from Portuguese as "invisible corners" or "invisible songs" or "disappearing corners or songs," and the music evokes the elusive nature of these phantom songs, "always masking it in some kind of way, a disappearing through layering and sound manipulation," Mazurek says. "The songs kind of disappear in a way like a cloud of pink in the sky. We create atmospheres that cause form and melody to disappear," and to reappear, enticing savvy sound explorers to join São Paulo Underground on a journey, like following a mountain trail obscured by drifting clouds.

The album opens with the elegiac "Estrada Para o Oeste," a buzzy, fuzzy processional that flows and ripples into a band incantation, an invitation for revelry. The party kicks off with the brief percussion-driven "Violent Orchid Parade," which quickly gives way to a very different celebration on "Cambodian Street Carnival," an unhurried piece based on a wordless chant.

While it opens with electronic blips and beeps, Takara's wheezy "Lost Corners Boogie" gradually dials into an eight-legged Rube Goldbergian contraption, with each player providing locomotion. The tune paints a vivid interactive portrait of funky street life, simultaneously taking in, documenting and participating in the passing parade.

Mazurek unleashes on Takara's quicksilver "Fire and Chime," while the whole band summons spirits with "Olhaluai," a mesmerizing, revelatory looping chant that feels like the album's emotional centerpiece. The celebration comes to a conclusion with the shimmering Beach-Boys-meets-Pharoah-Sanders good vibrations "Of Golden Summer," a piece featuring Mazurek's exquisite melodic horn. For the after party, where the piper is paid and the dawn brings new insight, São Paulo Underground offers what amounts to a mini-suite. Part invocation and part country lament, the 16-minute "Falling Down From the Sky Like Some Damned Ghost" offers a final and utterly unexpected trip around the universe.

With Cantos Invisíveis, São Paulo Underground expands into realms seen and unseen, deconstructing the material (defying borders and genres) and manifesting the spiritual (universal human spirit and emotion) to create a new organism. Each of the album's resulting songs is a breathtaking musical world, a living planet within São Paulo Underground's visionary universe. Based on the extraordinary music on Cantos Invisíveis, as well as the dynamic albums the trio released in the past, the universe that São Paulo Underground is boldly charting will continue to flourish, evolve and expand.

SÃO PAULO UNDERGROUND: BAND BIO

São Paulo Underground was born at the end of Mazurek's eight-year Brazilian sojourn, when he began collaborating with the group's co-founders Takara and Granado in São Paulo. In 2006, São Paulo Underground released its mind-bending debut Sauna: Um, Dois, Três (Aesthetics/Submarine). This record established the ensemble as a singular São Paulo/Chicago axis, with contributions by Hurtmold, Marcos Axe, Tiago Mesquita, Wayne Montana, Damon Locks, Joshua Abrams and Chad Taylor. Following up with The Principle of Intrusive Relationships (Aesthetics/Submarine) in 2008, the band expanded to a quartet with the inclusion of drummer Richard Ribeiro. By the time the group recorded its 2011 Cuneiform debut Três Cabaças Loucuras, Ribeiro was on the way out and São Paulo Underground took its present form as an expansive trio. In 2013, Cuneiform released the trio's critically acclaimed fourth recording, Beija Flors Velho E Sujo.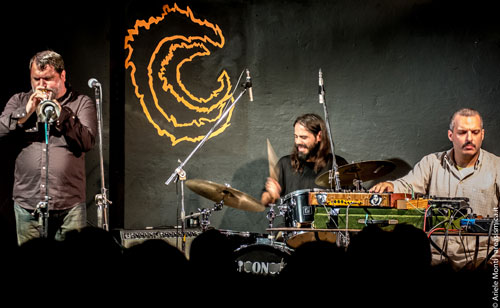 [L-R: Rob Mazurek, Mauricio Takara, Guilherme Granado | photo credit: Ariele Monti]

ROB MAZUREK

It's difficult to overstate Mazurek's immersion in the experimental ethos of Brazil's avant garde. From 2000-2008, he moved between the dense Amazon jungle of
Manaus
, the
Oscar Niemeyer
-designed architectural wonderland in the capital Brasilia and the megalopolis São Paulo. This brought him recognition throughout Brazil and allowed him to make lasting ties with leading artists and musicians that he continues to collaborate with today. Simultaneously, Mazurek continued his ascent stateside, in Europe and in Asia, by maintaining an intense touring schedule and constant flow of critically acclaimed, genre-defying recordings.
A polymorphously creative bandleader, Mazurek directs, composes and performs in a wide array of ensembles, from his highly interactive
Chicago Underground Duo
with drummer Chad Taylor, which released
Locus
(Northern Spy) in March 2014, to his talent-laden octet, which was captured on 2013's
Skull Sessions
(Cuneiform), and of course São Paulo Underground. Always looking for synergistic cross-fertilization, he brought together his two subterranean ensembles,
Chicago Underground
and São Paulo Underground
), and paired them with tenor saxophone legend
Pharoah Sanders
in
Pharoah and the Underground
, which released the CD
Spiral Mercury
and the LP
Primative Jupiter
(Clean Feed) in August 2014. His latest releases include a duo with
Jeff Parker
,
Some Jelly Fish Live Forever
(Rogue Art), and
Alien Flower Sutra
(International Anthem Recording Company), a science fiction song cycle with singer/songwriter
Emmett Kelly
of
The Cairo Gang
.
Exploding Star Orchestra
remains one of the most important vehicles for Mazurek's increasingly ambitious orchestral compositions. This constantly shifting and capaciously inventive large ensemble has featured the likes of
Roscoe Mitchell
, as well as the late
Bill Dixon
and
Fred Anderson
, with
Nicole Mitchell
,
Angelica Sanchez
,
Matana Roberts
, Jeff Parker,
John Herndon
, Chad Taylor,
Matt Bauder
, Damon Locks, Mauricio Takara and Guilherme Granado, among others. The volatile ensemble released
Galactic Parables: Volume 1
, the most recent of nine Mazurek suites written for Exploding Star Orchestra, on Cuneiform in 2015.
Born in Jersey City, New Jersey, Mazurek moved to the Chicago suburbs as a child. In 1983, wanting to follow the example of his hero
Sun Ra
, he moved to the city and immediately immersed himself in the eclectic Chicago scene, playing alongside and studying with jazz masters like
Ken Prince
,
Jodie Christian
,
Earma Thompson
,
Billy Brimfield
,
Fred Hopkins
and
Lin Halliday
.
In 1994, he and guitarist Jeff Parker launched the Chicago Underground workshop at Chicago's storied jazz club The Green Mill. The workshop featured many of the scene's rising stars including drummer Chad Taylor. Eventually the workshop gave birth to the
Chicago Underground Collective
, an ensemble that recorded several albums for Delmark, Thrill Jockey and most recently Northern Spy. Mazurek's collaborations include a wide cross section of leading figures and ensembles in jazz, electronic, rock and improvised music, including the late Bill Dixon,
Yusef Lateef
,
Naná Vasconcelos
and Fred Anderson, Pharoah Sanders, Roscoe Mitchell,
Mike Ladd
, Emmett Kelly,
Jim O'Rourke
,
Sam Prekop
and
Isotope 217
.
More than a prolific composer, Mazurek is increasingly recognized by major arts institutions as an accomplished visual artist and has received a number of grants and commissions for multi-media projects and collaborations. In 2016, he was awarded a grant from Chicago's
Graham Foundation for Advanced Studies in the Fine Arts
for a film shot in collaboration with
Lee Anne Schmitt
at
Mies van der Rohe
's iconic Farnsworth House. In 2015,
Marfa Book Company
presented "
Marfa Loops Shouts and Hollers
," a solo exhibition of paintings, sculpture and sound by Mazurek. In 2013, he received a
Helen Coburn Meier and Tim Meier Arts Achievement Award
and was given a residency at the famed
URDLA Centre International Estampe & Livre
in Villeurbanne, France where he realized four 3D lithographs to be used as graphic scores for improvisation. In 2010, Mazurek received a Commissioning Music USA grant from
New Music USA
for a multi-media work developed in collaboration with video artist and choreographer
Marianne Kim
. In 2005, the year before he founded São Paulo Underground, he was awarded a prestigious artist residency at the French
Abbaye Royale de Fontevraud,
which gave him the opportunity to hone his interest in multi-media works.
Mazurek received a commission from the French Ministry of Culture in 2015 for a new work for a 17-piece ensemble comprised of French and American musicians. In 2013, the Sant'Anna Aressi Jazz Festival commissioned Mazurek's
Galactic Parables: Volume 1
, which was performed live on Italian Rai Radio3. He topped off a highly productive 2012 by being voted
International Musician of the Year
alongside
Wadada Leo Smith
by Musica Jazz, Italy's top jazz magazine. In 2011, the Jazz & Wine Festival in Cormons, Italy commissioned him to compose his
Violent Orchid Suite
and the Sant'Anna Aressi Jazz Festival in Sardinia, Italy commissioned the
Transgressions Suite
.
MAURICIO TAKARA
Mauricio Takara
is considered one of the leading voices in the new post-Tropicalia wave of Brazilian music. A São Paulo native, Takara has performed and recorded with a dazzling array of artists. From Brazil, key connections include
Paulo Santos
,
Toninho Horta
,
Nacao Zumbi
,
Vanessa Da Mata
,
Sabotage
,
Naná Vasconcelos
and
Marcelo Camelo
. On the international scene he's allied with heavyweights such as Pharoah Sanders,
Archie Shepp
, Yusef Lateef,
Tony Bevan
and
Prefuse 73
. Besides São Paulo Underground, Takara has also worked with other Chicago-connected projects and artists such as Exploding Star Orchestra, Joshua Abrams and John Herndon. Born in 1982, Takara started playing the acoustic guitar at the age of seven. Two years later, he took up drums. He played with local hardcore punk bands throughout the '90s and started
Hurtmold
in 1998, releasing six records on the Submarine label. Most recently, Selo Sesc released a collaborative recording,
Curado
, featuring Hurtmold with Brazilian multi-instrumentalist
Paulo Santos
. Since 2003, Takara also released five solo albums on Desmonta Discos including
Puro Osso
in 2014 and
Sobre Todas e Qualquer Coisa
in 2010. Takara has toured extensively in Europe (Sonar Festival/Barcelona, Roskilde/Denmark, WOMEX/Seville & Club Transmediale/Berlin), the US, India (World Socials Forum) and Brazil (Nublu Jazz Festival, SESC Pinheiros, and opening for Lo Borges and Milton Nascimento at Coquetel Molotov Festival).
GUILHERME GRANADO

Also hailing from São Paulo,
Guilherme Granado
is in the vanguard of Brazil's electronic spiritualism sound makers, devoted to promoting music, beats and ideas in Brazil. He's been avidly sought after by a disparate array of artists, including
Prefuse 73
,
Naná Vasconcelos
,
Tulipa
, Pharoah Sanders and Exploding Star Orchestra. Granado is an integral member of the Brazilian rock group Hurtmold and has released five records under
Bodes
and Elefantes
, his solo project. His 2014 release,
Glaciers of Nice Vol. 1
(Propósito Records), is a glorious electronic-infused spiritual. In 2016, Granado released
Bode Holofonico
(Prop Recs) with
Leandro Archela
,
Prestige Duo
with
Ricardo Pereira
,
Transition Hustle
and
Homeless Loops Vol. 2
(
guilhermegranado.bandcamp.com
).
PROMOTIONAL TRACK
//
If you'd like to share music from this release, please feel free to use the following track:

"Olhaluai"
stream: @
SoundCloud
/ @
Bandcamp
/ @
YouTube

PRE-ORDER LINKS
//
ITUNES
-
AMAZON
-
BANDCAMP
[
HD 96khz/24 bit
] -
WAYSIDE MUSIC
ARTIST WEB SITES
//
Twitter: @
rob_mazurek
- Instagram: @
androidlovecry
www.robmazurek.com
-
www.facebook.com/robmazurekensembles
-
www.cuneiformrecords.com
-
ROB MAZUREK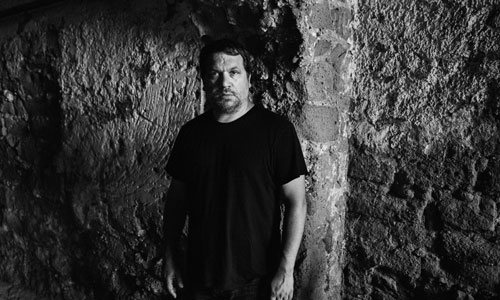 [Rob Mazurek | Photo: Guido Gazzilli]

"Mazurek's cornet playing, always affecting and timbrally luminous, achieves the paradox of being simultaneously corporeal and ethereal."

-
The Wire


"Mixing the opaque with the diffused and blurring the lines between electric and acoustic, Rob Mazurek's wide ambition continues to race toward the outer limits of what is possible in music."

-
Something Else


Chicago cornetist and composer Rob Mazurek's broad electro-acoustic palette defies simple categorization and has earned him a reputation as one of the most respected figures on the international creative music and avant jazz scenes.

His expansive vision and vast catalog of over 300 compositions and 58 recordings (released on some of the world's most respected record labels) have kept him reshaping modern music's cutting edge for the past three decades with inspiration from jazz, Latin, alternative rock, modern classical, electronic and experimental music. Mazurek currently leads and composes for Chicago Underground Duo, Exploding Star Orchestra, Pulsar Quartet, and Pharoah and the Underground (featuring Pharoah Sanders).

His work receives worldwide praise from publications such as The Wire (UK) and DownBeat (USA), and earned him the title of International Musician of the Year in Italy's Musica Jazz magazine. His recordings have been listed among Top 10 Records of the Year in the New York Times, Los Angeles Times and Chicago Tribune.


For more information on Rob Mazurek:

Rob Mazurek Official Website
|
Cuneiform Rob Mazurek Website

-
SÃO PAULO UNDERGROUND & ROB MAZUREK
RECORDINGS ON CUNEIFORM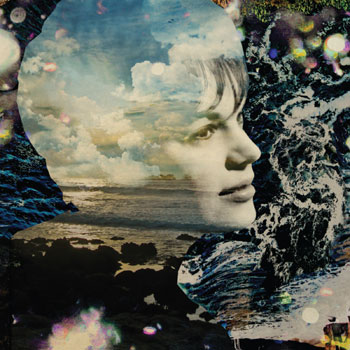 Rob Mazurek and Black Cube SP
Return the Tides:
Ascension Suite and Holy Ghost
[2014, Rune 399]
AMAZON - ITUNES
BANDCAMP - WAYSIDE MUSIC