TWO NEW RELEASES
BY TWO NEW CUNEIFORM SIGNINGS
OUT TODAY - MAY 26, 2017 - WORLDWIDE!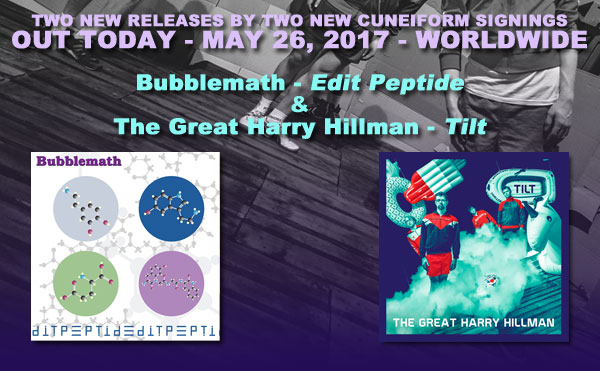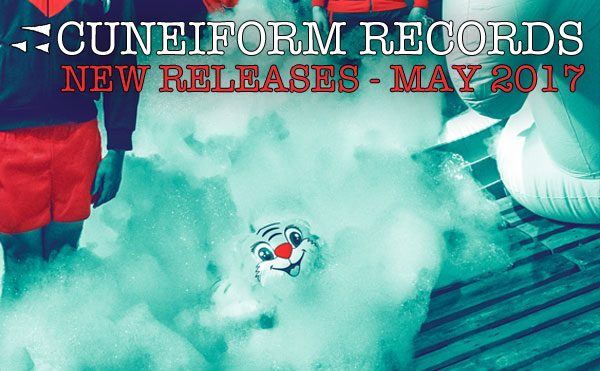 CUNEIFORM RECORDS'
MAY 2017 RELEASES:


TWO NEW RELEASES BY TWO NEW CUNEIFORM SIGNINGS...
BUBBLEMATH
EDIT PEPTIDE

THE GREAT HARRY HILLMAN
TILT

TWO NEW RELEASES BY TWO LONGSTANDING CUNEIFORM BANDS...
CHEER-ACCIDENT
PUTTING OFF DEATH

MIRIODOR
SIGNAL 9
Dear Friends in Music,

It's mid-Spring 2017 here in Washington DC, where both the weather (temperatures 80 F one day and 45 F the next; sunny skies to hailstorms) and the current political climate can best (and most politely) be described as 'unpredictable.' These are unusual times.

But much to our comfort and delight, some things remain predictable. This spring - as in springs past - daffodils and tulips and lilies of the valley and hundreds of green leafy thingies burst from the ground and unfurled from branches to bloom in sunlight. Defying 2017's chaotic atmosphere, the cycle of life continues on course - and against the odds. Bursting through packed clay, defying an erratic climate, these blooms return to an increasingly hostile environment. Propelled by Nature's lifeforce, they are compelled to bloom until their days end. They have something vital to express, beauty to share, and our world is better for it.

This Spring, Cuneiform releases new albums by four bands who likewise have something special to contribute to the world, something unique to express, and who persevere despite the fact that surviving in the Music Biz in the year 2017 -- especially in non-mainstream music -- should be re-classified as an Extreme Sport.

Three new releases are by rock groups, two of which - CHEER-ACCIDENT and Miriodor - are longtime Cuneiform artists each with a distinctive sound and remarkably longstanding careers. Chicago's CHEER-ACCIDENT and Montreal's Miriodor are 30+year veterans of the music biz who continue to have something new and unique to say in each new album they release. Purveyors of Avant Pop / Art Rock tunes that sometimes evoke Beach Boys, XTC and Van Dyke Parks, CHEER-ACCIDENT proudly unveil their 18th album this spring. Known as French Canada's answer to Europe's Rock in Opposition tradition, Miriodor, release their ninth album this spring; they've been active on the international avant-progressive scene since 1980. Progressively expanding rock's parameters in multiple releases across multiple decades, CHEER-ACCIDENT and Miridor create truly progressive / innovative music.

The band Bubblemath is a new signee to Cuneiform. These progressive rockers from Minneapolis had a following of nearly 90,000 Myspace fans at the time of their first album in 2002. Their second album and first on Cuneiform is an epic story of creative drive and determination. To record and release their sophomore album, Bubblemath persevered over a 15 year period riddled with personal hurdles and technical and logistic potholes. They had something important to express, to share with the public, and Edit Peptide is the result.

Our fourth Spring 2017 release is by a young Swiss jazz/post-jazz/post-rock group called The Great Harry Hillman. These Millennial musicians named their band after an American athlete who won multiple Gold Medals for hurdles in the 1904 Olympics, and they playfully continue this sports theme in visuals across their website, on videos (check out their 360 video, "How to Dice and Onion" from Tilt) and in their promo photos. They leap over genre barriers, pulling in elements from rock to progressively expand jazz. Like the three rock groups discussed above, these jazz musicians play complex, sophisticated music with ease, skill and wit, and their entertaining performances make such music accessible to wide audiences. The Great Harry Hillman play complex music that is also great fun.

Music is an art, but it is also - like sports - entertainment. In 2017, surviving in the music industry demands skill, practice, determination, and persistence. One must learn to master the hurdles with grace, keep one's eyes on the prize, and stay focused on the long run. And even then, success is not always assured, save an element of luck to help seize the prize. The music that Cuneiform releases - whether rock, jazz, or beyond - is special, and the artist/musicians who create it do so because they are compelled to create, and compelled to share their unique creations with the world. The world -- and especially the world of music -- is a better place because of their contributions, and hopefully also because of Cuneiform Records' role in it.
Let's welcome Spring, and let's welcome a new season of musical blossoms from Cuneiform Records: our Spring 2017 New Releases.

Best regards
Joyce
Director of Publicity & Promotion, Cuneiform Records


Bubblemath
Edit Peptide
Genre: Rock / Eclectic Prog /
Avant-Pop / Technical Metal
Release Date: 5/26/2017
"The Sensual Con"
stream: @SoundCloud / @Bandcamp / @YouTube
CHEER-ACCIDENT
Putting Off Death
Genre: Rock / Avant-Progressive
Release Date: 5/12/2017
"Immanence"
stream: @SoundCloud / @Bandcamp / @YouTube
The Great Harry Hillman
Tilt
Genre: Jazz / Post-Jazz
Release Date: 5/26/2017
"The New Fragrance"
stream: @SoundCloud / @Bandcamp / @YouTube

Miriodor
Signal 9
Genre: Rock / Avant-Progressive / Rock In Opposition
Release Date: 5/12/2017
"Venin"
stream: @SoundCloud / @Bandcamp / @YouTube
-----
CUNEIFORM'S NEW RELEASES - MAY 2017
Fifteen Years in the Making, Minnesota Eclectic Prog / Avant-Pop / Technical Metal Quintet BUBBLEMATH's Sophomore Sequence
Edit Peptide
Proves a Worthwhile Wait with its Frankenstein's Monster-Formula of Lively Textures, Wacky and Virtuosic Musicianship, Hypnotically Robust Vocals, and Charmingly Astute Attitudes.

Bubblemath
Edit Peptide



STREAM/SHARE: "The Sensual Con"


stream: @

SoundCloud

/ @

Bandcamp

/ @

YouTube



Cat. #:

Rune 434

, Format:

CD / Digital Download

Genre:

Rock / Eclectic Prog / Avant-Pop / Technical Metal

Release Date:

May 26, 2017


Radical yet refined composer and songwriter Frank Zappa once remarked, "Progress is not possible without deviation," and if he were alive to hear them, he'd almost certainly agree that Minnesota fivesome Bubblemath exudes his philosophy (and daring spirit) with every unconventional rhythmic change, off-the-wall timbre, and multilayered melody. Like 2002's debut LP, Such Fine Particles of the Universe, the band's long-awaited second sum, Edit Peptide, equates to a masterful medley of artful aural arithmetic. Blending the in-your-face intricacy of Between the Buried and Me and The Mars Volta with the eccentric experimentation of Mr. Bungle, the dense and poppy harmonies of Umphrey's McGee and Echolyn, the symphonic vibrancy and tongue-in-cheek foundation of Beardfish, and the forceful fluidity of Bent Knee, The Dear Hunter, and Emanuel and the Fear, Bubblemath ensures that the sequence builds upon itself with enough intriguing discipline to make Fibonacci proud (you know, if he listened to this kind of thing).

The current Bubblemath line-up (vocalist/keyboardist Kai Esbensen, vocalist/drummer James Flagg, vocalist/guitarist Jon Smith, guitarist/keyboardist Blake Albinson, and bassist Jay Burrit) came together in 1998. Naturally, they recognize that having so many years between albums could be—as Esbensen jokes—"[an] advantage or a detriment. Maybe both!" He reflects that the group originally thought it'd be "a breeze" to follow-up Such Fine Particles of the Universe, an album that won them 86,000 MySpace followers and Minnesota Music Academy's "2002 Best Eclectic Recording" award. However, a series of setbacks, ranging from "broken equipment, to broken promises, to loss of funding, to loss of partners and pets and parents, to incompatible mix engineers, to extended sabbaticals, to extended medical emergencies," made it difficult to accomplish that ambition. Add in the fact that "for several years, [they] were only able to commit about three hours a week to working on the album," as well as various issues regarding engineers and recording quality, and it's easy to see why Edit Peptide gestated for so long. In reaction to the skepticism of devotees, Esbensen jovially declares, "We absolutely weren't crying wolf! We wouldn't wish this kind of delay experience on our worst band-enemies. Not that we have band-enemies. But if we did, we would not wish it on them!" Ultimately, the lengthy hiatus did prove positive, though, as it allowed "all five of [them] to become better musicians" who are capable of yielding a more striving, unpredictable, and colorful collection. They couldn't be prouder of it.

Cleverness has always been a cutting part of the Bubblemath brand, and Edit Peptide keeps the blade sharp. Just as their moniker "is a tip of the hat to the branch of physics that deals with the mathematics being the surface tension of bubbles," the name of the LP "relates to the idea that music and ideas can modify body chemistry through emotion." Esbensen adds, "We like the name because we have a penchant for chemistry and physics . . .also, it's a palindrome, which ties into our penchant for recursion and wordplay."

Along the same lines, several of the track titles contain subtle wordplay, and while Esbensen doesn't want to reveal the best ones yet ("We want to give people a chance to discover it for themselves"), he's happy to give a few hints. For instance, "Routine Maintenance" toys with its common connotation by making "routine" a noun instead of an adjective to conjure both "the maintenance of routine itself, and the importance of being attentive and taking action in order to maintain one's sanity throughout the ebbs and flows of the daily grind." Later, "Perpetual Notion" tells the tale of "a man who is always falling for investment scammers . . . peddling a perpetual-motion / free-energy machine," while "Making Light of Traffic" examines "people who gather to observe a shimmering light that appears nightly on a heavily forested horizon." Without actual investigation, they proffer all sorts of explanations—such as it being "a ghost . . . [or] alien technology"—while skeptics undermine those inferences by "putting forth equally untested claims of rare natural phenomena." In the end, though, it turns out to just be car lights driving down a far-off highway. In this way, Bubblemath evokes the elaborate storytelling of, say, Camper van Beethoven.

Such concepts need extremely fitting lyricism to soar, and luckily, Edit Peptide is bursting with it. Throughout the disc, the quintet channels the various social commentaries of Chuck Palahniuk's Fight Club with lines like "Routine, where there's no distinction between the unwholesome and unholy motions of the everyday machine" ("Routine Maintenance") and "See the perfect people in that ad. They leave you longing for the things you lack. That artificial wish'll drive you mad." Elsewhere, they provide subtly smart quips like "Can't we all just get a lawn? No, we're not gonna take any mower" ("Get a Lawn") and "Sell out, compromise, hacking each human right down to size. Trespass, intervene, shut your eyes to what you've never seen" ("The Sensual Con"). From beginning to end, Edit Peptide captivates with its words alone.

Of course, the arrangements are arguably the most important part of any record, and Bubblemath "edits the hell out of all your peptides" by fashioning one of the most complex yet alluring sequences you'll ever hear. Pieces like "Routine Maintenance" and "Perpetual Notion" explode with the biting riffs of Metallica and the grandiose zaniness of Native Construct, never letting up as they shift movements with an array of gripping melodies and timbres (including flutes, pianos, and miscellaneous effects), keeping your ears glued and your jaw dropped. In contrast, "Avoid that Eye Candy" and "A Void That I Can Depart To," while still immensely decorative, are lighter in tone, focusing mostly on luscious yet quirky interlocking harmonies (although the latter piece also incorporates some '80s synth vibes and death metal vocals, a la Haken's recent Affinity). There's even a warm jazz-fusion aesthetic to "Making Light of Traffic" (thanks mostly to spurts of saxophone and a major sense of freeform playfulness), plus a staggering amount of rhythmic dexterity and dynamic temperamental deviations throughout "Destiny Repeats Itself." (Seriously, just try to count all of the time signature changes.) As clichéd as it is to say, there's not a dull moment on Edit Peptide, as each second offers an exuberantly exhaustive sonic pool in which to swim.

It's not often that a band releases a new album after such a long hiatus—we're looking at you, Tool—let alone something that exceeds expectations beyond fans' wildest dreams (still looking at you, Tool!). Somehow, though, Bubblemath has done just that with Edit Peptide. By conducting so many divergent styles, refining their songwriting and compositional skills, and most of all, sticking to their guns when it comes to crafting highly challenging and adventurous, but also quite hypnotic and welcoming, tunes, the quintet proves just how perfectly a band can fuse the familiar and the fresh. As rewarding as any record by any of the aforementioned analogous acts, Edit Peptide also stands as its own idiosyncratic statement of purpose and possibility, making it an invaluable tool to conquer both the stagnancy of mainstream music and the absurdity of the world around us.

PROMOTIONAL TRACK //
If you'd like to share music from this release, please feel free to use the following track:


"The Sensual Con" stream: @SoundCloud / @Bandcamp / @YouTube

PRE-ORDER LINKS //
ITUNES - AMAZON - BANDCAMP - WAYSIDE MUSIC

ARTIST WEB SITES //
www.bubblemath.com - www.facebook.com/Bubblemath - www.twitter.com/Bubblemath - www.cuneiformrecords.com



-----

Chicago Avant-Prog Pioneers CHEER-ACCIDENT
Return After a Six-Year Hiatus with Putting Off Death,
a Predictably Unpredictable Celebration of their
Unlikely Longevity and Tireless Originality

CHEER-ACCIDENT
Putting Off Death


STREAM/SHARE:
"Immanence"

stream: @
SoundCloud
/ @
Bandcamp
/ @
YouTube
Cat. #:
Rune 446
, Format:
CD / LP / Digital Download
Genre:
Rock / Avant-Progressive
Release Date:
May 12, 2017

Bands, like the human beings that comprise them, are mortal. Whether a group of neighborhood kids banging on instruments in their parents' garages or iconic rock stars selling out the world's largest arenas, their time on the planet is finite, their demise assured.
Against all the odds, in the face of an unstable record industry that never embraced their restless experimentation, Chicago avant-rock pioneers
CHEER-ACCIDENT
have survived to release their 18
th
album,
Putting Off Death
. More than 30 years after first joining forces, fellow eclecticists
Thymme Jones
and
Jeff Libersher
have faced down the inevitable and returned with a new set of songs that's as unpredictable, exploratory and viscerally compelling as anything they've released over the course of their erratically evolving career.
Putting Off Death
, with Libersher's evocative cover painting, may suggest a sense of whiling away the hours until the final curtain falls, but sonically it's more like a game of three-dimensional chess with the Grim Reaper.
The music is action packed and filled to the brim with living, breathing humanity. The band's continuing hunger bleeds through in the music's immediacy. As Jones says, "There's still something to prove."
The band's third release for Cuneiform follows in the elusive, meandering trajectory of their earlier work, which is always instantly identifiable if never quite definable. They've managed to conjure a unique collage of intricate prog, lush pop and experimental noise, drawing on the disparate influences of
Pere Ubu, King Crimson, Can, Art Bears, Wire,
early
Genesis
and
Yes
, and the more Baroque leaps of the
Beatles
and the
Beach Boys
without ever settling on a sound that could be definitively traced to any of them in isolation.
Following their previous release,
No Ifs, Ands or Dogs
, after a gap of six years,
Putting Off Death
is on the one hand simply an assertion that "We're still here" from a band that never expected to be. CHEER-ACCIDENT continues to make vital, adventurous music after three decades despite - or maybe because of? - a revolving cast of collaborators (more than a dozen musicians are featured), a notoriety in uneasy balance with an accompanying obscurity, and a fair share of the kind of tragedies that have ended lesser (and maybe a few greater) bands, most notably the sudden death of guitarist
Phil Bonnet
of a brain aneurysm in 1999.
"I remember asking Jeff at that time how long he saw doing this," Jones recalls. "I was kind of floundering and didn't really see us as having a band at that point, but he said, 'It's a till I die kind of thing.' That inspired me to keep going, and it's been a series of little moments like that, where we realize it's still worth it somehow, ever since."
In the unusually long span since the band's last release, the music industry has undergone seismic changes, which led CHEER-ACCIDENT to question whether traditional albums were still the ideal platform for their music. In the meantime, they continued to write music until the seven songs that make up
Putting Off Death
revealed their thematic and musical coherence and virtually demanded to become an album.
Listening to the singular blend of invention and accessibility, challenge and chemistry throughout the new album, another meaning for
Putting Off Death
emerges. Complacency can be its own kind of death, one that CHEER-ACCIDENT defiantly laughs in the face of. Seeing too many so-called "progressive rock" bands become calcified by life-squelching technical perfectionism and virtuosity for its own self-congratulatory sake, Jones and Libersher have adhered to the forward-thinking definition of the term "progressive" while subverting and diverting from the genre with cleverness and abandon.
"Progressive rock has become really boring to me since it's become a genre with a lot of rules," Jones says. "Back when it first excited me there were a lot of questions being asked, and I like music that asks questions rather than just feeding people predigested styles like it was created in a lab. Even if something is musically complex, I need there to be a lot of humanity in it."
The album's epic opener, "Language Is," presents the CHEER-ACCIDENT
sound in microcosm, constantly shifting and transforming throughout its 11-minute length, frequently disarming the listener without ever becoming aggressively alienating. In its early moments it's a lovely, lyrical piano ballad that becomes gradually complicated by staggered rhythms before erupting into an angular freneticism. That resolves into a droning, agitated ambience which veers briefly into an off-kilter approximation of jazz improvisation that coheres into a tense, stabbing horn fanfare that is finally corrupted in a static burst of aural entropy.
The song's lyrics croon a theme that became inadvertently central to the album: the elusiveness of capturing the richness and complexity of the human experience through language, the inadequacy of words to communicate the full breadth of emotion. "Language is only the sound of what is no more," Jones sings, a sentiment made even more potent in "Hymn," which asserts that "Hemingway never wrote about shooting metaphors into his mouth."
The lyrics for the latter song were written by keyboardist and vocalist
Amelie Morgan
, who doesn't actually perform on the album – which points to a distinguishing characteristic of CHEER-ACCIDENT: there seem to be multiple, parallel incarnations of the band at any given time. One is a tight live group, which in its current incarnation has featured Morgan and bassist
Dante Kester
for the last several years; while the other is a more amorphous studio concoction, able to realize a more densely layered idea of what the band is.
"People who are used to a certain idea of what a band is might quickly get very frustrated with this approach," Jones admits, "but it's really been working well for the last decade or so. On stage we have a real band dynamic, but then there's another stream of activity happening simultaneously."
That more expansive definition of what a band can be also encompasses
Scott Rutledge
, who has been CHEER-ACCIDENT's chief lyricist for more than 25 years. Rutledge co-wrote four of the new album's seven songs with Jones, who calls him "a key figure in the CHEER-ACCIDENT world. I can't imagine what it would be like if we hadn't been working with him for all these years because I get too attached to the sound of a syllable and can't write actual, meaningful words. We definitely consider him to be a member of the band."
Rutledge's contributions include the lively, dramatic
"Immanence,"
featuring the fervently alluring vocals of
Carmen Armillas
, the lyrics of which gave the album its title; the percussive
"More and Less,"
which sounds like the folk music of some alien tribe combined with an example of the band's unique take on math-pop; and the jangling
"Lifetime Guarantee,"
a collision of rock anthem and
Zappa
antics. Jones'
"Wishful Breathing"
is a further elaboration and abstraction of the Beatles' tape-manipulation psychedelia, while
"Falling World"
tosses the band onto jagged shores lined with barbed-wire guitar.
As Jones suggested, these are songs that ask questions, ones that can only be answered in the mindspace of the receiver.
Putting Off Death
, he says, is "not a complete thought. It's a question awaiting an answer. It requires an audience with which to interface. Others' ears and minds are required to complete the story."
CHEER-ACCIDENT have performed at numerous rock and progressive music festivals worldwide, including the acclaimed
Rock in Opposition Festival
(2013) in
France
. They recently shared the stage with
Tortoise
, and this summer they'll perform two Chicago shows with
Free Salamander Exhibit
, who consist of former members of
Sleepytime Gorilla Museum
(whom CHEER-ACCIDENT frequently played with in the past). To support
Putting Off Death
, CHEER-ACCIDENT's Summer 2017 tour schedule will include numerous shows throughout the USA, including concerts in Chicago, St. Louis, Kansas City and other Midwest cities, in addition to a tour of the East Coast. They'll also be performing in Europe; on Sept. 15, 2017, CHEER-ACCIDENT return to France to perform again at the Rock at Opposition Festival.
PROMOTIONAL TRACK
//
If you'd like to share music from this release, please feel free to use the following track:

"Immanence"
stream: @
SoundCloud
/ @
Bandcamp
/ @
YouTube

PURCHASE LINKS
//
ITUNES
-
AMAZON
-
BANDCAMP
-
WAYSIDE MUSIC
ARTIST WEB SITES
//
www.cheer-accident.com
-
www.facebook.com/CheerAccident
-
www.twitter.com/cheeraccident
-
www.cuneiformrecords.com
// CHEER-ACCIDENT - TOUR DATES: 2017
//
June 16
USA
Dreamland
Louisville, KY
June 17
USA
The Pilot Light
Knoxville, TN
June 20
USA
Infinite Room
Columbia, SC
June 21
USA
Nightlight
Chapel Hill, NC
June 22
TBA
June 23
TBA
June 24
USA
Rhizome
6950 Maple St NW
Washington, DC
July 29
USA
Shafly Tap
St Louis, MO
[with Yowie]
July 30
USA
Record Bar
Kansas City, MO
[with Free Salamander Exhibit]
July 31
USA
Beat Kitchen
2100 W. Belmont Ave
Chicago, IL 60618
[with Free Salamander Exhibit!]
August 1
USA
Radio Radio
Indianapolis, IN
September 15
FR
Rock In Opposition Festival
Cap D'ecouverte
Le Garric 81450, France
September 16
FR
TBA
Lyon, France
September 17
FR
TBA
September 19
FR
Mora Mora
Orleans, France
[fb event]
September 20
FR
TBA
Metz, France
September 22
DE
Freakshow Art Rock Festival
Würzburg, Germany
[with Poil and Le Silo]
September 23
CH
OFF
Basel, Switzerland
-----
The Great Harry Hillman Gleefully Hurdle
The Boundaries Between Jazz, Rock, & Improv
For A Winning Performance In Tilt

The Great Harry Hillman

Tilt

STREAM/SHARE:
"The New Fragrance"
stream: @
SoundCloud
/ @
Bandcamp
/ @
YouTube
Cat. #:
Rune 433
, Format:
CD / Digital Download

Genre:
Jazz
/
Post-Jazz
Release Date:
May 26, 2017

Switzerland
doesn't produce many musical acts compared to other European countries, but the ones that do emerge are always of the highest quality. Whether it's the arty metal of
Celtic Frost
and
Coroner
, the witty pop of
Yello
, the clattery punk of
LiLiPUT
, or the airtight funk grooves of post-jazz ensemble
Nik Bärtsch's Ronin
, Swiss passports are a virtual guarantee that the music will be smart, engaging, and highly enjoyable.
The Great Harry Hillman
is a Swiss post-jazz quartet–composed of
Nils Fischer
on reeds;
David Koch
on guitar and effects;
Samuel Huwyler
on bass;
Dominik Mahnig
on drums–from
Lucerne
, a lakeside city in the country's center. About the name:
Harry Hillman
was an American hurdler who received three gold medals at the 1904 Summer Olympics, memorable as the first Olympics held outside Europe, in St. Louis.
The Great Harry Hillman
, the band, formed in 2009 - 105 years after Hillman's victory, a landmark noted by the band - and in 2015 won the
2015 ZKB Jazz Prize.
And yes, you're correct to assume that a European jazz band named in tribute to American athlete Harry Hillman is not your 'normal' jazz band adhering to staid standards. Since forming, this band of energetic Millennial musical iconoclasts have played nearly a hundred concerts, performing at jazz festivals and touring extensively across Northern Europe. They've recorded two previous albums, 2013's self-released
Livingston
and 2015's
Veer Off Course
, released by the German label
Klaeng records
. Now they've joined the
Cuneiform Records
roster for their third release,
Tilt
.
The Great Harry Hillman
's music combines jazz, rock, and improv into a subdued, layered, yet thrilling sound that will appeal to fans of bands like
Radian
or
Tortoise
, as well as modern jazz artists like
Mary Halvorson
and
Nik Bartsch's Ronin. Mahnig's drumming is light but emphatic, his snare ticking like a fine watch as he sets up shifting rhythms that clatter and bounce. Koch's guitar work is often as much about atmosphere as riffs, though he can get loud at times; at the climax of
"354°,"
his guitar is a
Sonic Youth
-like clang, as Fischer erupts into long screams. Huwyler's bass is almost dubby at times, maintaining a subtle but powerful presence that gives even the group's most abstract pieces (
"Agnes fliegt"
) a solid core. And while Fischer is often playing the most overtly melodic role, he's just as happy to step into the background and simply comment on the others' interactions.
The Great Harry Hillman
thinks of itself as a collective, with nobody dominating the creative process and everyone making their voice heard. "We have music from all four bandmembers on the album," say the musicians, who speak as one. "Everyone brings tunes, fragments, et cetera, and we finalize every song together. Everything is a collective decision at the end." This philosophy has helped them to create a sound like no one else, one that has gradually mutated over time while retaining its essence. "Although we all have different backgrounds and work in different genres, it is very important that we are always open to any kind of influences from each of us."
Their open-mindedness and exploratory spirit extends beyond the music to every aspect of their existence as a band. Their live performances have energy and a sense of fun that keeps the complexity of the compositions and interplay from feeling dry or academic. And the same goofy exuberance can be seen in their band photos–which cleverly continue allusions to sports–and in their wildly creative YouTube videos. The 360* video that they created to accompany
Tilt
is an artistic and technical tour-de-force that one viewer compared to a
Danny Elfman
movie. The Great Harry Hillman know that while music is an art, fueled by internal creative fires, they also know that music, like sports, is also entertainment, and like sports requires skill, practice, determination and an enjoyable, winning performance to succeed.
The songs come wrapped in obscure titles like
"The New Fragrance," "How to Dice an Onion,"
and
"Moustache,"
and those are just the ones in English. While they flow seamlessly together, each piece has its own identity. "We wanted every song to have it's own strong mood," they say. "It was not the idea to feature extended solos, but to feature a strong sound as a band."
The album also has a strong live feel; while the sounds are electronically manipulated at times, this is music made by four men in a room. This is made most obvious on "How to Dice an Onion," which ends with laughter and studio dialogue. "We thought a lot about how we could put the energy and vibe we create live into a recording, and it turned out very well," say the band.
Indeed.
Tilt
is
The Great Harry Hillman
's best work to date: a quiet but powerful album by four thoughtful musicians who are more than capable of rocking out when they feel like it, but would more often than not rather wrap the listener in delicately constructed sonic webs of indefinable beauty. There are no gold medals in music (unless gold records count), but
The Great Harry Hillman
deserve a spot on the artistic podium for sure.
PROMOTIONAL TRACK
//
If you'd like to share music from this release, please feel free to use the following track:

"The New Fragrance"
stream: @
SoundCloud
/ @
Bandcamp
/ @
YouTube

MUSIC VIDEO //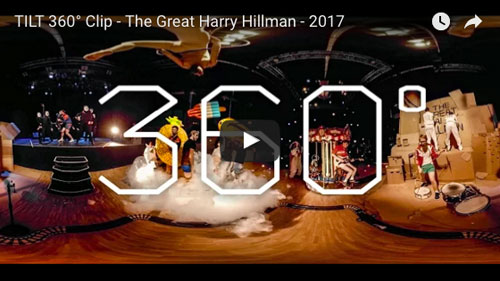 Watch The Great Harry Hillman's 360° music video for "How to Dice an Onion"


PRE-ORDER LINKS
//
ITUNES
-
AMAZON
-
BANDCAMP
-
WAYSIDE MUSIC
ARTIST WEB SITES
//
www.thegreatharryhillman.com
-
www.facebook.com/thegreatharryhillman
-
www.twitter.com/tgharryhillman
-
www.cuneiformrecords.com
// THE GREAT HARRY HILLMAN - TOUR DATES: 2017
//
May 13
JP
Bird
Hiroshima, Japan
May 14
JP
Candy
Chiba, Japan
May 15
JP
Tokyo Club Meguro
Meguro
Tokyo, Japan
May 16
JP
Airegin
Yokohama, Japan
June 11
BE
Hot Club Ghent
Ghent, Belgium
-----
Progressive Vets Miriodor Send an Otherworldly Message on Signal 9

Miriodor
Signal 9


STREAM/SHARE:
"Venin"
stream: @
SoundCloud
/ @
Bandcamp
/ @
YouTube
Cat. #:
Rune 438
, Format:
CD / Digital Download

Genre:
Rock
/
Avant-Progressive

Release Date:
May 12, 2017

"Metaphorically, we could say that Miriodor is a planet, with aliens communicating in their mysterious ways with planet Earth," says Miriodor's keyboardist, Pascal Globensky. In that sense, the long-lived Montreal band's ninth album, entitled
Signal 9
, could simply be considered the ninth set of musical messages from that exotic heavenly body.
It's been more than three decades since Miriodor sent out its first signal with the release of
Rencontres
. Since then, they've established themselves as premier practitioners of the RIO (Rock In Opposition) movement, a wing of progressive music pioneered by the likes of Henry Cow, Art Zoyd and Univers Zero that embraces the avant-garde in its agenda of challenging convention at every turn.
The Miriodor discography, most of which has been released on U.S maverick institution Cuneiform Records, has been building strength upon strength with each successive album. The band combines jazz, classical, rock, and international influences for an arresting, idiosyncratic sound that eludes description but remains immediately identifiable as Miriodor.
Picking up where the most recent coded message from planet Miriodor, 2013's
Cobra Fakir
, left off,
Signal 9
arrives like an invitation to an otherworldly voyage. Each track marks another twist and turn in a journey across strange, captivating landscapes populated by creatures, crafts, and constructions whose like has never been glimpsed outside the band's idiosyncratic ecosystem.
Globensky, drummer Rémi Leclerc, and guitarist Bernard Falaise have expanded Miriodor to a quartet with the addition of bassist Nicolas Lessard as a full-time member. Accordingly, the band works like a one eight-handed, four-brained organism here, operating more organically and collectively than ever.
And while Miriodor often forges some of their heaviest sounds to date over the course of
Signal 9
, the album is also loaded with off-the-wall humor and some beautiful, contemplative melodic moments. The combination makes for some crafty contrasts, frequently flipping back and forth drastically from one mood to another multiple times within a single composition for a jarring-but-thrilling effect.
The album's opening track, "Venin" (French for
venom
), begins with what sounds very much like some sort of alien craft revving up for takeoff. The trip begins in earnest with a series of knotty, hard-hitting riffs that alternate with quieter passages and woozy seesaw-ride evocations, for a schizophrenic feel that's right in keeping with
Signal 9
's sense of dizzying sonic delirium.
The herky-jerky stabs of melody and rhythm that begin "Peinturé dans le coin" are followed quickly by a muscular but jazzy groove not a million miles from the dark, heavy Zeuhl style popularized by French prog legends Magma. "Transit de nuit à Jakarta" stretches strange, electronically manipulated sounds tersely across a syncopated sort of futuristic funk feel.
On "Portrait-robot," a King Crimson influence seems to come to the fore, via crushing guitar and bass riffs slamming up against a backdrop of orchestral-sounding keyboards. But the album's characteristic tongue-in-cheek humor comes into play when these ominous doings give way to a sudden onslaught of what could only be called circus music.
"Déboires à Munich" combines discordant guitar stabs with a hurtling rhythm, punctuated by shards of wordless, highly processed vocals and wobbling keyboards. Everything but the kitchen sink gets thrown into "Chapelle lunaire", from doomy, apocalyptic throbbing to amiable jazzy ambles that recall U.S. jazz-rockers The Muffins, and some feverishly intense, intricate interplay between the men of Miriodor.
By the time the journey progresses to "Chapelle lunaire", all the sharp, unexpected transitions should come as a given. But that still doesn't prevent a touch of scintillating surprise when the track's lambent, jazzy guitar and keyboard lines rub up against markedly more arch, angular sonic tapestries. And the proceedings reach an apogee of idiosyncrasy with the twisted carnival sounds of "Gallinule d'Amérique," coming off like a circus band jamming with Frank Zappa and The Residents in a strobe-lit hall of mirrors.
After the relatively low-key respite of "Douze petites asperges," with its gentle, almost Tortoise-like post-rock textures,
Signal 9
's strange, stirring trip takes its final turn, as the ship starts coming in for a landing. The album's final track, "La ventriloque et le perroquet," opens up with what sounds like a pool of bubbling lava before leading into keyboard-led lattices of inviting weirdness, ultimately collapsing into a tower of Babel were manipulated voices become instruments on a pointillist canvas.
Once you return to your everyday life after emerging from the alternative universe of
Signal 9
, the whole album seems like some kind of fever dream you've just emerged from. But the big difference is that it's a dream you're eager to leap right back into again.
Once captivated by the music on
Signal 9
, you'll not want to miss seeing this amazing band live. Miriodor will celebrate
Signal 9's
release by touring Europe in September 2017, where they'll perform at the
Rock in Opposition Festival
in Carmaux, France ; on a double-bill with
Yugen
in Milan (Italy), and at the
FreakShow Art Rock festival
in Wurzburg (Germany) in addition to playing at other European venues. Following its return to Canada, Miriodor will be performing in its Montreal hometown.
PRESS RELEASE //
DOWNLOAD
(PDF)
PROMOTIONAL TRACK
//
If you'd like to share music from this release with your readers/listeners, please feel free to use the following track:

"Venin"
stream: @
SoundCloud
/ @
Bandcamp
/ @
YouTube

PURCHASE LINKS
//
ITUNES
-
AMAZON
-
BANDCAMP
-
WAYSIDE MUSIC
ARTIST WEB SITES
//
www.miriodor.com
-
www.facebook.com/miriodor
-
www.twitter.com/contactmiriodor
www.cuneiformrecords.com
// MIRIODOR - TOUR DATES: 2017
//