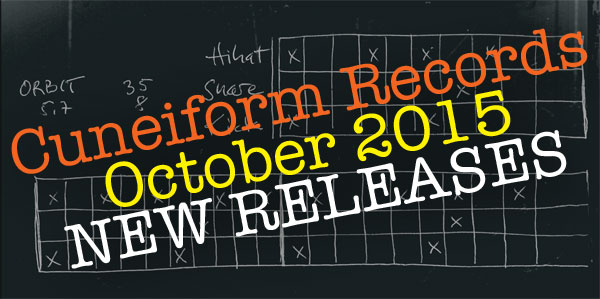 CUNEIFORM RECORDS ANNOUNCES ITS
OCTOBER 2015 RELEASES:


RAOUL BJÖRKENHEIM / eCsTaSy
LE REX
RICHARD PINHAS
PIXEL
ADAM RUDOLPH / GO: ORGANIC GUITAR ORCHESTRA
SONAR
THINKING PLAGUE
___
It's October 2015 - And we have a LOT of NEWS to talk about
First and foremost, we're proud to announce the 3 albums that we released OCTOBER 2, 2015 on CUNEIFORM:

Thinking Plague's In This Life
: a remastered reissue of Thinking Plague's early art-rock masterpiece, reissued in celebration of the album's 25th anniversary. Thinking Plague are responsible for creating some of the most sophisticated musical compositions in rock since the 1980s. Featuring Susanne Lewis' vocals and Mike Johnson's compositions,
In This Life
is one of the band's most accessible albums, and should appeal to young indie rockers as well as long standing Rock in Opposition fans.
Adam Rudolph / Go: Organic Guitar Orchestra's Turning Toward The Light
:
the debut release of Rudolph's 12 piece all-star, all-guitar orchestra. A prominent figure in world, jazz and creative music for several decades, Rudolph worked with Yusef Lateef, Don Cherry and other musicians before focusing on "an orchestral concept of world music" with his Go: Organic Orchestra, melding influences from East and West with his personal musical language, graphic scores and conducted improvisation. His all-guitar version of Go: Organic, debuted here, features that instrument played by its masters including Nels Cline and Rez Abassi, and takes Rudolph's concepts a dramatic step further, moving the idea of what orchestras could BE resolutely into the 21
st
Century.
Le Rex Wildman
: the third album and first release on Cuneiform by this young, all-acoustic jazz quintet from Switzerland. A globally-roving brass band consisting of alto and tenor saxes, trombone, tuba and drums, Le Rex create and record their music in, and in response to, specific geographic and cultural sites. Conceived on their tour of the American South and Midwest, recorded in Chicago, and released on an American label, Wildman reflects their American jazz experience while still honoring their European roots.
Big News:
These three albums are the first-ever Cuneiform releases, for which audiences can listen to a complete stream of the entire album on BANDCAMP (https://cuneiformrecords.bandcamp.com).
To enable listeners to familiarize themselves with our releases before they purchase them, Cuneiform is now offering limited streams of complete/entire albums on Bandcamp, in addition to providing one free track per album as we've long done on YouTube and Bandcamp.
More Big News:
On OCTOBER 16th, Cuneiform will release 4 additional albums, two of
them rock
(the first-ever vinyl reissue of
Chronolyse
,
Richard Pinhas
's masterful Moog tribute to
Frank Herbert's Dune
; and
Black Light
, a new release by Swiss minimalists
SONAR
),
and two of them jazz
from Scandinavia (
Out of the Blue
by
Ecstasy
, Finnish guitarist
Raoul Bjorkenheim's
ensemble; and
Golden Years
by Norwegian collaborative quartet
Pixel
, which includes bassist/vocalist
Ellen Andrea Wang
, drummer
Jon Audun Baar
, trumpeter
Jonas Kilmork Vemøy
, and saxophonist
Harald Lassen
(with everyone contributing vocals) ). We'll be sending out more info on those releases in a subsequent email.
And Even MORE Big News: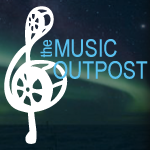 At the end of August 2015, Cuneiform launched a new company,
The Music Outpost
(
http://themusicoutpost.com/
) devoted to licensing adventurous, cutting-edge music to various media, including movies/film, tv, theatre, dance, advertising, and fashion and design companies. If you missed seeing our Music Outpost launch announcements, you can read it here:
http://cuneiformrecord.blogspot.com/2015/08/cuneiform-records-launches-the-music-outpost.html
The Music Outpost is currently adding music by all of Cuneiform's artists to its music library, which grows weekly. Once it completes that process, which will take at least several months, it will open its doors to innovative music by artists outside of Cuneiform. To find out more about what works by Cuneiform artists are in the Outpost, and when the library will consider works by other artists, sign up for the Newsletter on The Music Outpost's Contact Page
http://themusicoutpost.com/pages/contact/


We'll be sending out more information about our Fall/October 2015 in the days to come. All of us here at Cuneiform Records thank you for your interest in our artists, our releases, and our label. We're glad that YOU are an integral part of Cuneiform's life, a member of our Music Family, and we look forward to sharing more Big News with you in the months and years to come.
Best regards
Joyce and the Cuneiform Promo Team
Raoul Björkenheim / eCsTaSy
Out of the Blue
Genre: Jazz / Improv
Release Date: 10/16/2015
"Uptown"
stream: @SoundCloud / @Bandcamp / @YouTube


Le Rex
Wild Man
Genre: Jazz / Brass Band
Release Date: 10/2/2015
"Le Clic"
stream: @SoundCloud / @Bandcamp / @YouTube


Richard Pinhas
Chronolyse [Vinyl LP Reissue]
Genre: Rock / Electronic / Experimental
Release Date: 10/16/2015
"Sur Le Theme De Bene Gesserit VII"
stream: @SoundCloud / @Bandcamp / @YouTube

Pixel
Golden Years
Genre: Jazz / Indie
Release Date: 10/16/2015
"Nothing Beats Reality"
stream: @SoundCloud / @Bandcamp / @YouTube


Adam Rudolph /
Go: Organic Guitar Orchestra
Turning Towards The Light
Genre: Guitar / Improv / Experimental / Jazz / Creative Music
Release Date: 10/2/2015
"Heliotropic"
stream: @SoundCloud / @Bandcamp / @YouTube


SONAR
Black Light
Genre: Rock / Minimalism
Release Date: 10/16/2015
"Black Light"
stream: @SoundCloud / @Bandcamp / @YouTube


Thinking Plague
In This Life
Genre: Rock / Avant Progressive / Art Rock / Rock in Opposition
Release Date: 10/2/2015
"Lycanthrope"
stream: @SoundCloud / @Bandcamp / @YouTube


-----
CUNEIFORM'S NEW RELEASES
OCTOBER 2015
Free Flights and Soaring Song Forms from the
Finnish Guitar God Raoul Björkenheim and His Transcendant Quartet
on Their Second Album
Out of the Blue
RAOUL BJÖRKENHEIM / eCsTaSy
OUT OF THE BLUE



STREAM/SHARE: "Uptown"
stream: @SoundCloud / @Bandcamp / @YouTube

Cat. #: Rune 413, Format: CD / DIGITAL DOWNLOAD
Genre: Jazz / Improv
Release Date: October 16, 2015



eCsTaSy is usually an all too fleeting experience offering the briefest glimpse at transcendence. But a heightened sense of consciousness and discovery manifests throughout Out of the Blue, the transporting second album by composer and guitar maestro Raoul Björkenheim and his extraordinary Finnish quartet eCsTaSy. Out of the Blue is Björkenheim's fifth album on Cuneiform, and a tremendously satisfying follow-up to the band's 2014 debut eCsTaSy.

Featuring the celebrated drummer Markku Ounaskari, Björkenheim's longtime partner in sonic exploration, and the young and dauntingly prolific bassist Jori Huhtala and saxophonist Pauli Lyytinen, eCsTaSy has forged more than a signature sound. Over the course of five years the musicians have honed a supremely interactive modus operandi marked by unstable textures, rapidly shifting meters, and emotionally charged melodic flights. Earthy, pristine and unmistakably Nordic, the music evokes the grandeur of Finnish landscapes and the hothouse intimacy of a tight-knit Helsinki scene where the musicians regularly convene to refine their volatile sound.

"I always felt there's something special about having a band," Björkenheim says. "An all-star session can be good too, but the thing I'm missing nowadays in jazz is really good bands playing together tightly, turning on a dime together, and especially improvising together."

On Out of the Blue, the quartet explores two disparate but complimentary strategies. The shorter tracks are song-like pieces based on fairly straightforward forms, while the longer pieces evolve through group improvisation. The opening tune, "Heads and Tales," represents that latter case, with its elliptical harmonies and unhurried melody that only truly reveals itself at the end of the piece. Free jazz is often stereotyped as furious blowing, but this is Finnish free improv, cool, judicious and unabashedly introspective. Which isn't to say that Finns don't know how to party hearty, as the second track, "Quintrille," taps into a rollicking boogie feel with echoes of pianist Keith Jarrett's 1970s trio with Charlie Haden and Paul Motian.

No piece better captures the singular sonic realm carved out by eCsTaSy than the meditative soundscape "A Fly In the House of Love." Most conspicuously, Björkenheim prepares his guitar with alligator clips, bringing out overtones that bring to mind the ringing cadences of a Balinese gamelan metallophone. While slyly alluding to Anaïs Nin's famous novel A Spy In the House of Love, the piece isn't so much erotically charged as hypnotically seductive, a shimmering mood enhanced by the exotic tones of Lyytinen's oboe-like zurna, an instrument associated with folk music across the Near East, Balkans and Caucasus.

"I'm very aware of gamelan music and using that mystical soundscape," Björkenheim says. "This piece is quite visual, and even though the title came after we recorded it, it does have this feeling of watching everything that's going on."

The mood switches again with the brisk, pulse-quickening Mingusian blues "Uptown," a piece built on Ounaskari's deep but utterly individual feel for the pocket. The brief atmospheric interlude "You Never Know" paves the way for the cinematically sweeping "OLJ," a majestic but ominous theme in search of a malevolent space invader (that almost sub-audible rumble comes from Lyytinen's bass saxophone). While not thematically connected to "OLJ," the next piece "Roller Coaster" certainly sounds like a straight-ahead jazz number with its DNA scrambled by a jolt of gamma rays. A brief but zany tune featuring some sprightly Björkenheim prepared guitar, piping soprano sax, and quicksilver Huhtala bass work, it's a delirious sprint over broken ground.

The album's longest and most ambitious track is also the closer, "Zebra Dreams," a stream-of-consciousness sojourn deep into the bush. Developed via bandstand experimentation, the spacious soundscape hints at southern African vistas with Björkenheim's guitar ringing like a sacred Shona mbira (thumb piano). Somehow, the album's previous excursion seems to lead up to this final journey, a prime example of the rapidly fading art of programming an album to enhance the impact of each track.

"We tried different sequence ideas, and I am hoping that people will put the record on and listen from beginning to end," Björkenheim says. "Instead of ending with a bang, I like the idea of a dreamscape that you can fall into, and then hopefully listen to the record again."

Anyone who's followed Björkenheim's career won't be surprised by the depth, humor, and high-wire improvisation on Out of the Blue, but the album leaves no doubt that the guitarist hasn't lost his gift for creating strikingly beautiful music while reaching unexpected destinations.

Listeners impressed by Bjorkenheim's wondrous recordings will be floored by eCsTaSy's powerful live performances. Bjorkenheim's band, which has toured in Finland and played at such European jazz venues as Porgy and Bess (Vienna, Austria), is an amazing live unit. Notably, eCsTaSy has also performed at numerous jazz festivals in Scandinavia and Europe, including Tampere Jazz Fest (Finland), Festival Emergences (Tours, France), D'Jazz Nevers Festival (France), Tallinn Music Week (Estonia), Nasjonal Jazzscene (Oslo, Norway), Eskilstuna Jazz Festival (Sweden) and many more. eCsTaSy is currently planning shows to celebrate the release of Out of the Blue.

PROMOTIONAL TRACK //
If you'd like to share music from this release, please feel free to use the following track:


"Uptown": @SoundCloud / @Bandcamp / @YouTube

PURCHASE LINKS //
ITUNES - AMAZON - BANDCAMP - WAYSIDE MUSIC

ARTIST SITES //
www.raoulbjorkenheimecstasy.net - www.cuneiformrecords.com






-----
The Swiss Avant-Gutbucket Quintet
Le Rex
Takes Chicago with Wild Man
LE REX
WILD MAN


STREAM/SHARE: "Le Clic"
stream: @SoundCloud / @Bandcamp / @YouTube

Cat. #: Rune 411, Format: CD / DIGITAL DOWNLOAD
Genre: Jazz / Brass Band
Release Date: October 2, 2015
Location, location, location. In jazz as in real estate, a musician's position in time and space goes a long way toward defining the parameters of a project's possibilities. For the rambunctious avant-gutbucket Swiss quintet
Le Rex
, a recent sojourn through the American South and Midwest centering on
Chicago
provided the creative fuel that turbo-charges the band's thumping third album
Wild Man
, their first release on the American label
Cuneiform Records
.
Featuring alto saxophonist
Benedikt Reising
, trombonist
Andreas Tschopp
, tuba player
Marc Unternährer
, drummer
Rico Baumann
, and the primary composer, tenor saxophonist
Marc Stucki
, the horn-laden quintet has honed a singular sound that embodies the
Art Ensemble of Chicago
's famous dictum "ancient to the future." Encompassing
New Orleans
polyphony and
AACM
exploration, Le Rex's original music is both strikingly familiar and wondrously oblique, a lens that both sharpens and refracts jazz essentials.
"
Louis Armstrong's
Hot Five
wasn't a direct influence, but I can see the connection," says Unternährer. "You could say there's an influence from
Stevie Wonder
and other groove music as well. All of this comes together in this band. We don't want to copy American jazz. We're big fans, but we want to make our own European version. We want to show our own roots too."
While its instrumentation sets Le Rex apart, what really distinguishes the protean ensemble is ferocious interplay and hurtling energy. Drummer and presenter
Mike Reed
, a major force on Chicago's improvised music scene for the past two decades, raved about the band after a Chicago performance that preceded the Wild Man recording session, declaring Le Rex "one of my new favorite bands. I love
Atomic
,
Jelly
, and
William Parker's Quartet
is great. I think this band might be as great…I want to try to figure out how to get them back here."
Wild Man
is very much a response to the band's Chicago experience. Le Rex was founded with maximum portability in mind, often performing in unamplified settings. The musicians have made the most of their mobility, turning each recording into a site-specific happening. The band created its 2010 debut album
Le Corse
on
Corsica
, recording outdoors in various locations around the sun-baked Mediterranean island (sound engineer
Martin Ruch
documented their quick-hit performances using three omnidirectional microphones powered by car battery and pastis). With their impressive 2012 follow up
Ascona
(both albums are on the label
Unit
), Le Rex turned to their homeland for inspiration, recording at about a dozen locations around Switzerland. For their third album, the pull of Chicago was inexorable.
Unternährer has deep, decade-long ties to the Windy City's improv scene, and the band composed most of the
Wild Man
music there. They honed the new material on a US tour, and then returned to Chicago to record the tunes with veteran sound engineer
Griffin Rodriguez
, who has recorded most of the major figures on Chicago's raucous jazz scene.
"It's a natural evolution," Unternährer says. "After the second release, which was recorded in many different locations around
Switzerland
, it made sense to make the third about the United States and Chicago. We've all spent a lot of time listening to American jazz and the AACM movement is really important influence. On this record we let this side of our music come to the foreground."
The album opens with Tschopp's trippy
"Mole's Dream Of The Prairie,"
which evokes
Ellington
's jungle music more than the wide-open plains. Stucki's herky jerky
"Home Alone"
paints a vivid picture of dread and melancholy on a small canvas, while Reising's
"The Dwarf"
sprints through a muddy alley in New Orleans, juking to a fierce second line groove.
While Unternährer and Tschopp often hold down the low end, delivering propulsive and booting bass lines, Le Rex isn't married to any particular instrumental roles. The quick-change textures and unpredictable shifts from frontline to rhythm section duties turns each pieces into a slippery sonic realm where the usual instrumental roles don't apply. Stucki's
"Mr. Richard Kiel"
attains hurtling moments on Reising's insistent four-note figure, while the interlocking lines of Tschopp's
"Le Clic"
threaten to spin off the tracks.
The album's title track features an extended slow-burning melody that's stalwart, quietly resolute and increasingly weighty, an example of Le Rex's orchestral palette. The buoyant
"Riff Raff,"
a sing-song melody set an a calypsonian groove, captures Le Rex at its most celebratory, while the sober and judicious
"Sugar Maple"
takes some
Rahsaanian
harmonies for a tour in the countryside.
Wild Man
closes with Stucki's gradual workout
"Be in Shape!"
an ode to the
Shape Shoppe
studio where the band honed the album's arrangements. With Reising's alto wailing over a thick mesh of brass, the piece is an extended crescendo that never quite reaches its climax. In the world of Le Rex, you have to expect the unexpected. With
Wild Man
, the group has immersed itself in the hurly burly of Chicago's improvisational ethos without severing ties to their Swiss roots. It's a tour de force that leaves one wondering where they might head next.
PROMOTIONAL TRACK
//
If you'd like to share music from this release, please feel free to use the following track:

"
Le Clic
"
:
@
SoundCloud
/ @
Bandcamp
/ @
YouTube

PURCHASE LINKS
//
ITUNES
-
AMAZON
-
BANDCAMP
[
24 bit / 48khz
] -
WAYSIDE MUSIC
ARTIST SITES
//
www.lerexmusic.ch
-
www.facebook.com/LeRexMusic
-
www.cuneiformrecords.com
-----
First-Ever Vinyl Reissue of
Chronolyse,The Moog and 70s Analogue Electronics Masterwork Created by
Richard Pinhas,
France's Legendary Electronique Guerilla,
in Tribute to
Frank Herbert's Sci-Fi Classic, Dune

RICHARD PINHAS
CHRONOLYSE [Vinyl LP Reissue]



STREAM/SHARE: "Sur Le Theme De Bene Gesserit VII"
stream: @SoundCloud / @Bandcamp / @YouTube

Cat. #: Rune 30, Format: CD / LP / DIGITAL DOWNLOAD
Genre: Rock / Electronic Music / Experimental
Release Date: October 16, 2015



Cuneiform Records is proud to announce the first-ever vinyl reissue of Chronolyse, the masterwork of 1970s analogue electronics that French electronic musician and guitarist Richard Pinhas created in tribute to Frank Herbert's sci-fi classic, Dune. This special reissue, pressed on 180 gram white vinyl and featuring the original album artwork, celebrates Chronolyse's conception nearly 40 years ago as well as the 50th anniversary of Dune, the first volume of which was published in 1965.

Back in 1974, Pinhas received his PhD in Philosophy from the Sorbonne, where he had studied with French philosopher Gilles Deleuze and written his dissertation, "Science-Fiction, Inconscient et Autres Machins", on the intersections of time, time manipulation, science fiction and analogue electronic music. That same year he founded Heldon. a band that fused his searing guitar with experimental electronics to revolutionize rock music in France. By 1976 Heldon had released several albums on Pinhas' Disjuncta label (one of France's first independent labels), and began working on a new album, Interface. Simultaneous with the Interface sessions, Pinhas immersed himself in a highly personal and heartfelt solo project. He had been deeply affected by Frank Herbert's Dune novels and the complete universe that they contained, and wanted to dedicate a full album to Dune. Acquiring a Moog P3 and a new Polymoog to accompany two Revox A700s he had installed in his home Heldon Studio, Pinhas now had the perfect analogue electronic arsenal to weave his own sonic and philosophical universe in response to Dune's.

Between January and June 1976, he recorded his Dune tribute on Moog and Polymoog direct to tape; he recalls that the music flowed to him easily, "like a dream". He used his "Big MOOG P3" and the two Revox (one for recording, one for a delay) to record side A of the album, which included 7 tracks dedicated to "Variations Sur Le Theme des Bene Gesserit" and one track named after "Duncan Idaho". For side B, he used his Polymoog and the two Revox to record a "Tronix" base for a single, lengthy track, "Paul Atreïdes". Originally, he had thought to do an all-Moog album. But instead, he went into the Davout Studio with his guitar and his Heldon colleagues, Didier Batard (drums) and François Auger (bass) to record their instruments over the Polymoog track. All the track names derived from Dune. "Bene Gesserit" is a name of the race of the woman who has ESP. "Duncan Idaho" is a military aide of the clan of Atreides; the name also was similar to that of one of Richard's sons, Duncan, who was then a little more than one year old. "Paul Atreides" is a boy who corresponds to the hero of the story. But Pinhas did not want his album to be a too "commercial" Dune tribute, and thus chose his album's name, Chronolyse, from a work by French science fiction novelist, Michel Jeury, whose writings dealt with time manipulations.

Chronolyse came out on vinyl in 1978, released by Cobra only in France. Although it was his first solo recording, it was his second solo album release, as Rhizosphere had come out the year before. As completed, it included one side of solo, live Moog synthesizer pieces, notable for their wide, stereo field and unique sound - a product of the weeks he spent setting up and programming the sounds on his huge Moog P3 modular synthesizer. The other side was a lengthy, stormy, drone-filled, epi of mellotrons (Polymoog), electronics, guitar, bass and drums by his Heldon colleagues. In Chronolyse, Pinhas not only explored new synthesizer technologies, new sonics and materials, but also the philosophical concepts that he held dearest, such as timeless repetition and the superimposition of events. In Chronolyse, Pinhas wove his separate worlds of music, philosophy, science fiction and literature, physical reality and family life into a single sonic and philosophical universe.

Steve Feigenbaum, Cuneiform's founder and CEO, had long admired Pinhas' work; he calls Chronolyse "absolutely one of Richard's very finest works: half live Moog electronics that make fantastic use of stereo imaging and mix aggression with the repetitiveness of Phillip Glass or Terry Riley, and half with Heldon in a 30' King Crimson-ish stormy drone-epic of mellotrons, electronics, guitar, bass, and drums." 25 years ago, after months of communicating across the Atlantic, he took the train from Washington DC, Pinhas flew from Paris, and the two met in person in New York City to discuss a collaboration. Cuneiform and Pinhas signed a contract for Cuneiform to reissue on CD and distribute internationally all of Pinhas early solo and Heldon recordings, originally released on LP in France. They decided to reissue the back catalogue in groups of two. The first Cuneiform CD reissues, Chronolyse and East/West, came out in 1991 with a Cuneiform press release written by NYC-based science fiction novelist Norman Spinrad. Now, Cuneiform is doing the first-ever vinyl reissue of Chronolyse, 35 years after it last appeared in that medium.

Composer, electronics innovator and guitarist Richard Pinhas is one of France's major experimental musicians. He has long been recognized as a pivotal figure in the development of combining rock music with electronics. Years before MIDI existed, Richard was creating sophisticated electronic music using vast walls of the available components of the day. Both as a solo artist and with his band Heldon, he released a number of advanced and classic albums in the 70s that set the stage for much of what is thought of as 'contemporary music'. A ceaseless innovator, he continued to experiment and expand his music over the subsequent decades and into the present day, releasing dozens of solo and collaborative recordings that continue to expand the parameters of rock. In a 21st century creative surge, Pinhas has released numerous new recordings on Cuneiform in recent years, including collaborations with such artists as Merzbow, Tatsuya Yoshida and Oren Ambarchi. His work has been discovered by new generations of fans, some of whom have sampled his music (Four Tet). Pinhas also performs live, solo or in various groupings, and frequently performs at festivals of rock, experimental and electronic music. In 2015 he'll do a three-night appearance at London's TUSK festival.

PROMOTIONAL TRACKS //
If you'd like to share music from this release, please feel free to use the following track:


"Sur Le Theme De Bene Gesserit VII": @SoundCloud / @Bandcamp / @YouTube

PURCHASE LINKS //
ITUNES - AMAZON - BANDCAMP - WAYSIDE MUSIC

ARTIST SITES //
www.richard-pinhas.com - www.cuneiformrecords.com [also: Pinhas and Merzbow]






-----
The Award-Winning Jazz Quartet
PIXEL
Featuring Four of Norway's Fastest Rising Young Jazz Stars
Captures the Youthful Pulse of an Exciting Time in Jazz with
- GOLDEN YEARS -
Their Stellar Third Album on Cuneiform

PIXEL
GOLDEN YEARS



STREAM/SHARE: "Nothing Beats Reality"
stream: @SoundCloud / @Bandcamp / @YouTube

Cat. #: Rune 412, Format: CD / LP / DIGITAL DOWNLOAD
Genre: Jazz / Indie
Release Date: October 16, 2015

A golden age is usually defined in retrospect, discerned from a comfortable distance of decades or centuries. For the award-winning Norwegian jazz quartet
Pixel
, the urgency of their music allows for no such hesitation. The band is in the vanguard of a jazz scene brimming with exceptional young musicians, charting an exhilarating, improvisation-steeped path infused with the cathartic energy of rock. This is an exciting time in jazz's evolution, as it expands to embrace other popular musics worldwide. Pixel stands out in this phenomenon, as no one else is melding jazz with the song structure and accessibility of pop and indie rock as they do. Pixel's third album
Golden Years
captures the next step in the band's own rapid evolution, following their 2014 breakthrough
We Are All Small Pixels
and 2012's impressive debut
Reminder
(all on
Cuneiform
). Pixel consists of double bassist and vocalist
Ellen Andrea Wang
, drummer
Jon Audun Baar
, trumpeter
Jonas Kilmork Vemøy
, and saxophonist
Harald Lassen
(with everyone contributing vocals).
Pixel tends toward translucent textures, tight orchestration and pop-inflected songcraft. While the sound is essentially acoustic, Vemøy and Lassen increasingly employ subtle effects that provide deeper textural depth to the already charged mélange of bright harmonies and protean rhythmic thrust.
"This album has a darker sound than the two previous ones," Pixel says. "It's more spacious, more open and maybe even more mature. We feel that we're evolving together as a band and as individual musicians. We have worked more collectively on writing new songs, where somebody brings in an idea to the rehearsal and we start to play it and form it."
Golden Years
opens with Wang's
"Rainforest,"
a gorgeous piece inspired by Norwegian trumpet player
Arve Henriksen
's breakout 2004 album
Chiaroscuro
. In many ways it embodies one facet of Pixel's less-is-more aesthetic, with Wang's loping groove establishing a questing mood that's accentuated by Baar's light touch on the trap set. Vemøy and Lassen introduce the haunting melody, and when Wang blends her wordless vocals with Vemøy's trumpet, the band has vividly evoked an emotional realm that's as forbidding as it is enticing.
From the ethereal, the album pivots to the telegraphic pop concision of "
People Pleaser,
" a brief confessional blast propelled by Lassen's slap tongue pops. The multi-section
"Nothing Beats Reality
" displays another Pixel specialty as the quartet segues from tightly arranged churning jazz rock and melodically charged pop to spaciously appointed improvisation.
Lassen contributed the gently soaring theme
"Our Beauty"
(which includes album's titular lyric) as an almost nostalgic shout out to reckless creativity of youthful musical exploration.
"Arp"
is an
evolving melodic movement that captures the fragile luminous with Vemøy playing arpegios one step at a time. Speaking of youth,
"Dani Anana"
is a singsong piece that evokes the suspended-in-time feel of a late summer afternoon. But adult concerns quickly resurface on
"Move On,
" a power-pop vehicle for Wang's expressive vocals.
The band takes on a satiric edge with
"I Have the Right to Go to Syden,"
an aggressive tune about Norwegian restlessness and the way that social media has transformed the experience of travel. With it's lyrics and repetative phrases
"Slinky"
reveals a playful childlike remembrance, with Lassen and Wang merging in a pop duo.
With its slinky groove, atmospheric textures and tendril melodic lines,
"Space Is Going to the Moon"
evokes a very different kind of exploration. The album concludes with another cosmic interlude,
"Airborne
," a brief gossamer excursion that could only be rendered by an ensemble that can anticipate what each player is going to leave out.
In fact,
Golden Years
is the result of Pixel's bustling 2014, a year in which the quartet played nearly 100 gigs (while also each pursuing projects of their own). When they started the recording process at the end of the year, everyone brought new songs to the table, tunes documented over five intensive days in the studio. The collaborative nature of the group continues to deepen within Pixel.
Ellen Andrea Wang
, described as one of the greatest talents on the Norwegian music scene, has distinguished herself as an inventive artist, blending genres in new and unprecedented ways. She debuted as a solo artist, bassist, singer, songwriter and producer, all at once with her critically acclaimed album
Diving
(Propeller Recordings) in 2014. Wang recently joined drum legend
Manu Katché
band. Wang has received numberous awards for her compositions and playing (NOPA award for her composition "
Be Mine
" and TONO prize for "
Call M
e") in July 2015 Wang received Kongsberg DNB Musician Award, an award given to the most prominent Norwegian jazz artists of the year. Wang has the last years collaborated with musicians like
Marilyn Mazur
,
Jon Balke, Tore Brunborg
and she has played on over 20 records.
Harald Lassen
is a selective and dedicated musician whose unpredictable but personal mixture of saxophone, voice, effects and percussion has become his signature. "I'm not a saxophonist," he asserts. "I'm a musician." In addition to Pixel, Lassen has established and built acclaimed bands such as
Mopti
, which recently released its second album
Bits and Pieces
(
Jazzland Recordings
) in a collaboration with the experimental
DJ Bendik Baksaas
, and
Duplex
, his playful duo with the extremely innovative bass player
Christian Meaas Svendsen. Duplex
has recently released its third album
Èn
(
NORCD
). At an early age Lassen emerged as an essential new voice through his work with jazz legends such as bass player
Arild Andersen
and drummer
Jon Christensen
(who powered
Keith Jarrett'
s great 1970s
European Quartet
). In 2013 he received the prestigious
JazzIntro Award
and was named the
Young Jazz Musician of the Year
.
Jon Audun Baar
is a conservatory-trained musician who studied at the
Norwegian Academy of Music
with teachers like Jon Christensen and
Rune Martinsen
. A prolific sideman, he's performed at major festivals with numerous bands and artists over the past years. Outside of Pixel, Baar has been most visible in
Magnus Bakken Quartet
and an acclaimed trio with the well-traveled guitar master
Jon Eberson
, a pillar of the Scandinavian jazz scene since the early 1970s.
Jonas Kilmork Vemøy
is one of the most expressive trumpeters on the Norwegian scene, graduated from the
Norwegian Academy of Music
. Appearing on on more than 20 albums with different groups and artists, he's been sought out by a wide array of acts, including the Norwegian pop/rock band
Lama
created by former
Jaga Jazzist
keyboardist
Nils Martin Larsen, Stewart Sukuma, Dilon Djindji, Hope Masike
and
Kråkesølv
. In addition to Pixel, he's collaborated with pop/folk artist and songwriter
Helene Bøksle
and the Swedish soul and gospel singer
Samuel Ljungblad.


Working together, these extraordinary musicians create an expansive sound unlike any other band on the scene. Still growing and discovering what they're capable of, the musicians of Pixel are in their prime, and the group's third album makes a compelling case that these are the best of times on the Oslo scene
.


"We're young, we're curious, and we want to take chances," Pixel says. "We want to travel around and play our music for a new audience and to become better! Right now there's so much going on the Norwegian jazz scene. We want
Golden Years
to show that we're a powerhouse band where the music speaks for itself.
PROMOTIONAL TRACKS
//
If you'd like to share music from this release, please feel free to use the following track:

"Nothing Beats Reality:
@
SoundCloud
/ @
Bandcamp
/ @
YouTube
PURCHASE LINKS
//
ITUNES
-
AMAZON
-
BANDCAMP
-
WAYSIDE MUSIC
ARTIST SITES
//
www.pixelband.no
-
www.cuneiformrecords.com
-----
Winter Solstice Marks the Moment for
Composer and Bandleader Adam Rudolph
to Turn Towards the Light
and Debut his Extraordinary 'Future Orchestra':
the Go: Organic Guitar Orchestra,
an Unprecedented Summit of 11 All-Star Guitarists
Including
Nels Cline, Rez Abbasi, Liberty Ellman, Joel Harrison

ADAM RUDOLPH / GO: ORGANIC GUITAR ORCHESTRA
TURNING TOWARDS THE LIGHT



STREAM/SHARE: "Heliotropic"
stream: @SoundCloud / @Bandcamp / @YouTube

Cat. #: Rune 406, Format: CD / DIGITAL DOWNLOAD
Genre: Guitar / Improv / Experimental / Jazz / Creative Music
Release Date: October 2, 2015

On the
Winter Solstice
of 2014 - the Northern Hemisphere's longest night of the year - composer, bandleader and percussionist
Adam Rudolph
convened 11 of New York City's finest and most adventurous guitarists in a New Jersey studio for a most auspicious event: the debut of
Go: Organic Guitar Orchestra,
his all-guitar orchestra
.
In attendance were guitarists
Rez Abbasi
,
Nels Cline
,
Liberty Ellman
,
David Gilmore
,
Miles Okazaki
, and
Marvin Sewell
, all on
electric guitars and effects;
Damon Banks
on bass guitar;
Marco Capelli
on acoustic guitar, effects;
Jerome Harris
on electric guitar, electric bass guitar, and lap steel guitar;
Joel Harrison
on electric guitar and national steel guitar; and
Kenny Wessel
on electric guitar and banjo. Rudolph had assembled an all-star orchestra; each of these remarkable guitarists were composers and bandleaders in their own right, with a collective musical experience that spanned a universe of contemporary music, from
Wilco
to
Cassandra Wilson
to
Ornette Coleman
and beyond. The studio's atmosphere on that dark November night was electric. With Rudolph at the helm, an antenna conducting musical charts and creative improvisational energy, the orchestra began to play. The result is this extraordinary release,
Turning Towards the Light
, the dawn of Rudolph's visionary, all-guitar
"Future Orchestra"
and his first release on DC-based
Cuneiform Records
.
Turning Towards the Light
is the 10th release in Adam Rudolph's series of recordings for
Go: Organic Orchestra
, a concept for "new" global/creative orchestra that he began developing in 2001. His previous 9 recordings for Go: Organic Orchestra, released on
Meta Records
, featured an array of instrumentation to bring to life his rhythmically unique creative music. But for
Turning Towards the Light
, Rudolph envisioned a new kind of orchestral sound conveyed by a single instrument: guitars, whose strings, coaxed by the right hands, are capable of unleashing an orchestra of different musical sounds. He says: "I try to do something new with each performance and recording. This time I wanted to experiment with a new kind of orchestration. I felt that with their range of sound and rhythm, these 11 electric guitars could generate a sonic palate that had never been heard before. I was looking for a
new
kind of "Future Orchestra" - and I think we found it."
Rudolph grew up and began playing music on the South Side of Chicago, performing with artists like
Fred Anderson
. By 1978 he was touring Europe with
Don Cherry
. Hailed by the
New York Times
as "a pioneer in world music", in 1977 Rudolph began his collaborations with kora player
Foday Musa Suso
, followed by his work with the Gnawa musician
Hassan Hakmoun
,
L. Shankar
and other musicians from around the globe. His longest and most significant collaboration was with the great
Yusef Lateef
; from 1988 until Yusef's passing in 2013 they performed as a duet and collaborated as composers on many large ensemble projects. "Even when I started focusing more on my own music projects in the early 1990's, I would always make the time to tour and record with Yusef. I learned so much from him not only about music, but how to live a deeper more spiritual life."
Since 1992, Rudolph's primary outlet for his unique compositional vision has been his
Moving Pictures
ensemble. But in 2001, he founded
Go: Organic Orchestra
to expand his instrumentation. "I had always been interested in the idea of an orchestral concept of world music, and fascinated not only with the sounds but also with the organizing concepts that structure orchestrations from around the world. …the colotomic structure of Javanese Gamelan or the thematic fibers of a Bantu drum and trumpet orchestra are all valid ways of organizing orchestra. At the same time my approach to orchestra comes out of my work since 1974 in electronic music. With Go: Organic Orchestra, I feel the resonance of iconic electronic music composers such as
Pierre Schafer
,
Stockhausen
or
Subotnick
. And of course I am, like many creative musicians today, a student of the great 20th Century composers of the European tradition -
Messian
,
Carter
,
Ligeti
,
Bartok
and my personal favorite,
Toru Takemitsu
."
Rudolph has integrated and transformed these influences into a highly personalized language, a language whose rhythmic component, which he calls "
Cyclic Verticalism
," combines polyrhythms (from African music) and rhythm cycles (from Indian music). Rudolph's Go: Organic Orchestra has performed worldwide at music festivals and served residencies in such countries as USA, Turkey, Mexico, Italy, Finland, Denmark and Norway.
Rudolph's process is more egalitarian and community driven than the top down structure of Western orchestra. "My idea is to get the most structural and aesthetic focus from the music with the least amount of reading. I want the musicians to bring their own voice, feeling, and phraseology to the music. In a kind of "de-composing" process, he creates
graphic scores
that consist of what he calls "pure elements" - "
Interval Matrices," "Cosmograms"
and
Ostinatos of Circularity
". Add to the process Rudolph's
unique conducting method
. "Through trial and error I have invented my own way of conducting. As with the score, I wanted my conducting to yield as much interpretative range as I could get with the fewest, simplest and clearest gestures possible. I think of my conducting method as being more related to the idea of something that conducts electricity than someone who is always leading. When I begin a concert, I don't know what is going to happen, how the music will unfold. After my initial gesture, as I hear the first sounds of the orchestra I follow the feelings and ideas of where the music flows. But we are all PREPARED due to deep study of the elements in the score. So the score, the musicians and myself as conductor, we all dialogue in a process which I consider "organic."
With the
Go: Organic Guitar Orchestra
he moves the idea of what an orchestra can actually BE resolutely into the 21st century. He states: "When you generate new creative processes, the result will be prototypical art." On
Turning Towards the Light
the 11 guitarists sound in turn like a futuristic string section, percussion group, woodwinds, and brass. Rudolph says that his NOT being a guitarist was an advantage in leading this project. "Since I don't play guitar, I don't really think "guitaristically," I'm thinking compositionally and percussively. Perhaps that led us into some areas we might not have gotten to otherwise. I have to say also that these musicians were so incredible - they were so generous in letting their virtuosity serve the musical moment. They played with so much imagination and soulfulness. I am grateful."
Go: Organic Guitar Orchestra
is a natural evolution for Rudolph's orchestral vision. The music asks to be heard on its own terms; its unprecedented sounds and formulations invite the listener to set aside their preconceived ideas and expectations. Rudolph adds: "while I was mixing the recording I felt the music itself was so new that is was teaching me HOW to listen to itself. The act of listening to it became a creative activity. I think there are still people who like to engage music that way."
To celebrate the release of
Turning Towards the Light,
Go: Organic Guitar Orchestra will be playing shows in major cities along the East Coast, in venues including Roulette and Ars Nova. The all-star guitar orchestra is also available for festival bookings worldwide.
PROMOTIONAL TRACKS
//
If you'd like to share music from this release with your readers/listeners, please feel free to use the following track:

"Heliotropic"
: @
SoundCloud
/ @
Bandcamp
/ @
YouTube
PURCHASE LINKS
//
ITUNES
-
AMAZON
-
BANDCAMP
[
24 bit / 48khz
] -
WAYSIDE MUSIC
ARTIST SITES
//
www.metarecords.com/go.html
- @
Facebook
-
www.cuneiformrecords.com
-----
Enigmatic Musical Polymaths and Disciplined Guitar Warriors
SONAR
Join forces with Producer
David Bottrill (King Crimson, Peter Gabriel, Tool)
To Up the Ante on
Black Light
Their Newest Work of SONic ARchitecture

SONAR
BLACK LIGHT



STREAM/SHARE: "Black Light"
stream: @SoundCloud / @Bandcamp / @YouTub

Cat. #: Rune 414, Format: CD / 2xLP / DIGITAL DOWNLOAD
Genre: Rock / Minimalism / Avant-Progressive
Release Date: October 16, 2015

Far too many groups are described using the words "nobody sounds like them," but with Switzerland's
SONAR
, it's a description of rare verisimilitude. Rejecting the kind of guitar histrionics and posturing found in so many groups that fit within the general world of rock, SONAR's previous recordings—its two full-length albums,
A Flaw of Nature
(released on fellow Swiss
Nik Bärtsch's Ronin Rhythm
imprint) and
Static Motion
(the group's 2014
Cuneiform
debut), along with the self-released
Skeleton Groove
EP and
Live at Bazillus
—set a high bar for conventionally configured twin guitar/bass/drums groups that few but SONAR's four exceptional members could attain.
At a time when most guitarists' acumen is measured in notes per second, SONAR is, instead, the confluence of rigorously considered writing, collective restraint, and a sound instantly recognizable as much for what is not there as for what is. A musical animal that manages to engage the mind while hitting the heart and the feet (despite its disposition towards complex polyrhythms), to call SONAR "instrumental rock" is unfairly reductionist for a group whose purview extends beyond progressive rock into contemporary classicism...certainly minimalism...a subtle taste of jazz...and, on its latest album,
Black Light
, perhaps even a hint of surf music described by the group's primary composer, guitarist
Stephan Thelen
, as "Duane Eddy Meets Jackson Pollock."
That's fellow guitarist
Bernhard Wagner
's solo on
Black Light
's title track to which Thelen is referring; one of six new compositions that—with hindsight—were found to mirror the format of one of the group's most apparent touchstones,
King Crimson
, and its landmark 1973 recording
Larks' Tongues in Aspic
, which also had, in the days of vinyl, three songs per side.
And while SONAR's music avoids conventional song form, there's something about
Black Light
that sounds more like actual songs than any of the group's previous recordings. "
Larks' Tongues in Aspic
has a very special kind of adventurous spirit which I think is not very far from what you hear on
Black Light
," Thelen explains. "A lot has to do with the odd time signatures and minor intervals, but also with a strong emphasis on group interplay. Our track
'Black Light'
—which was originally
'Black Light, Part Two'
—also has some formal similarities with
'Larks' Tongues in Aspic (Part II).'
"
Thelen may cite Crimson, the compositional rigour of Nik Bärtsch, and minimalist composer
Steve Reich
amongst SONAR's more obvious touchstones but, just as its previous albums did,
Black Light
manages to come out of the gate sounding like none of them. An integrated team of players who place music ahead of ego, guitarists Thelen and Wagner relentlessly eschew flashy gymnastics and even largely avoid the usual arsenal of effects beyond a touch of reverb and a bit of distortion;
Christian Kuntner
is a lithe, dancing and eminently intuitive bassist while, at the same time, providing a potently visceral foundation; and, despite mirroring Crimson drummer
Bill Bruford
's mathematical precision, there the similarities end as
Manuel Pasquinelli
accomplishes the seemingly impossible feat of simultaneously delivering multiple rhythms in real time. Recorded live in the studio with no overdubs,
Black Light
is as in-the-moment as it gets.
Black Light
also represents the first time SONAR has recorded with an outside producer in tow. And
what
a producer:
David Bottrill
, whose work as a producer and/or engineer, in addition to Crimson,
Peter Gabriel
and
Tool
, also includes time spent with
Rush
,
Smashing Pumpkins
and
Dream Theater
. "The music is at once simple and complex," Bottrill writes at his website, "polyrhythms over melodies over thunderous bass and a drummer who can seem to split his own body in half to play in two or more different meters at once."
"David is a very good listener," says Thelen. "He listens carefully to what you play, tries to understand what is special about it and then makes suggestions as to what could be changed to make it sound even clearer. He has no ego problems at all if you don't like his suggestions; he is really just genuinely trying to help you find your own voice."
SONAR's genesis—which began with Thelen's exposure to the music of King Crimson, Steve Reich and, yes, surf music when he was growing up in Santa Rosa, California, was further cemented upon meeting Wagner, the two of them taking part in Crimson co-leader/guitar icon
Robert Fripp's Guitar Craft
. With shared interests, the two put the group together in the summer of 2010, recruiting bassist
Christian Kuntner
and drummer
Manuel Pasquinelli
. They selected
SONAR
as their band name, an abbreviation of
SONic
Architecture
, alluding to the highly structured, polymetric rock they aspired to construct. According to Thelen, "the band came together very quickly" after creating "a really strong concept" based on an alternate guitar tuning and a "less is more" approach to composition.
For a group with such humble beginnings, SONAR has attained international visibility—and critical acclaim—with surprising rapidity. "Had
MC Escher
made music instead of drawing his famously impossible perspectives, it would sound like SONAR," praised
Sid Smith
in
Prog Magazine
."
Jeff Miers
, of
The Buffalo News
, was even more enthusiastic: "An anti-hero's masterpiece...a revolutionary shot across the bow...that radically reinvents instrumental interplay...SONAR has defied the norm by crafting something singular and magical."
Innerviews' Anil Prasad
writes: "This is a superb, ultra-deep minimalist groove record pulsing with dynamic energy and creative intrigue. SONAR stands for 'SOnic Architecture,' which is apt given the razor-sharp compositional focus of the record. How often can you say you've encountered a truly unique act? Here's one that qualifies." And
All About Jazz's
John Kelman
enthuses: "With progressive rock experiencing a significant resurgence, SONAR remains a rare outfit looking ever forward, with unrelenting emphasis on the true meaning of the word 'progressive.'...
Static Motion
is an album whose slow-build approach to dramaturgy, couched in intrinsic minimalism, reveals plenty more with each and every listen."
But it's not just critics who love SONAR: "A lot of musicians have written to tell me how much they like what we are doing," says Thelen. "My favourite reactions are from people who have been listening to music for a very long time and have written into publications with comments like: 'Best music that I stumbled upon in 2014. Thank you
Guitar Player
. It's so fantastic that the synapses can still be mystified and truly excited after 50+ years of listening to virtually everything that I could get my ears on,' and 'I find it quite wonderful that four blokes armed with guitars, bass and drums can have seasoned old gits like us exploding with such joy and enthusiasm. First time I heard the samples of this band, it was like being a teenager and hearing that game changing music (whatever it might have been for any of us) for the first time.
Additionally, SONAR's music has resonated outside the confines of music aficionados, and into the worlds of fashion and art. The fashion house
Helmut Lang
, known for its elegant minimalist design, selected
"Zero Tolerance,"
a track from
Static Motion
, for its runway show at
2014's New York Fashion Week
, premiering its Fall/Winter 2014/2015 clothing line.
Currently available for bookings, and with past gigs including Brooklyn, USA's renowned
Shapeshifter Lab
, Washington, DC's
Sonic Circuits Festival
and London, England's heralded
The Vortex
, SONAR is poised to take its music—and its reputation—to the next level. SONAR has upcoming performances already set to premiere
Black Light
in Zurich, Switzerland and five dates across four German cities between October, 2015 and March, 2016.
Cuneiform is releasing SONAR's
Black Light
in three formats: on CD; as a double vinyl set; and digitally. In addition to the six-track studio album, the double-vinyl version of
Black Light
will also include two bonus tracks of live performances.
PROMOTIONAL TRACKS
//
If you'd like to share music from this release, please feel free to use the following track:

"Black Light"
: @
SoundCloud
/ @
Bandcamp
/ @
YouTube
PURCHASE LINKS
//
ITUNES
-
AMAZON
-
BANDCAMP
-
WAYSIDE MUSIC
ARTIST SITES
//
www.sonar-band.ch
-
www.facebook.com/sonarband
-
www.cuneiformrecords.com
-----
Remastered in Celebration of its 25th Anniversary,
In This Life,
Thinking Plague's Early Art Rock Masterwork,
Enthralls a New Generation of Rockers

THINKING PLAGUE
IN THIS LIFE


STREAM/SHARE: "Lycanthrope"
stream: @SoundCloud / @Bandcamp / @YouTube

Cat. #: Rune 407, Format: CD / DIGITAL DOWNLOAD
Genre: Rock / Avant Progressive / Art Rock / Post-Rock
Release Date: October 2, 2015

Musically riveting, an album that grabs listeners by the throat,
In This Life
is not merely a fascinating album of extraordinary rock-based songs. It is a landmark recording in the life of one of America's most distinctive bands and in the international spread of
Rock in Opposition
-style sophisticated post-rock. Recorded in 1988-89 by Denver-based
Thinking Plague
, one of the most esteemed and longstanding American avant-progressive ensembles,
In This Life
marked Thinking Plague's stylistic coming-of-age. The band had recorded two earlier LPs (
…A Thinking Plague
and
Moonsongs
) in the years since its 1982 co-founding by
Mike Johnson
and
Bob Drake
. Those early works brought Thinking Plague national "underground" acclaim. But the lineup responsible for
In This Life
, with Mike Johnson handling composition and
Susanne Lewis
supplying lyrics and vocals, proved to be the early group's ideal creative brew.
In This Life
originally came out in 1989 on
Recommended Records (ReR)
, the London-based label run by
Chris Cutler
, founder of the Rock in Opposition movement and member of renowned band
Henry Cow
. One track on the album featured a guest appearance by
Fred Frith
, the legendary
Henry Cow/Art Bears
guitarist. It became ReR's first-ever release on the then-radically-new format of CD - a format that simplified the disc's international distribution.
In This Life
cemented Thinking Plague's status on the international RIO scene and launched their international career, receiving glowing reviews in the music press on both sides of the Atlantic.
Nearly a decade would pass before Thinking Plague released an album following
In This Life
. When it resumed recording under composer Mike Johnson's leadership, it did so with a different lineup. In 1998, Thinking Plague's fourth album,
In Extremis,
came out on
Cuneiform Records
. Subsequent recordings of new Thinking Plague material -
A History of Madness
(2003) and
Decline and Fall
(2012) - would also come out on Cuneiform. In 2000, Cuneiform reissued Thinking Plague's first two recordings,
…A Thinking Plague
and
Moonsongs
, together as a CD titled
Early Plague Years
.
In This Life
completes Cuneiform's reissue of all of the band's early recordings.
In This Life's
reissue on
Cuneiform Records
is the first-ever for the sonic landmark, whose music sounds as starkly new and strikingly original today as it did to audiences 25 years ago. The sound is better than ever, thanks to tapes remastered by
Mark Fuller
. The packaging retains Bob Drake's and Susanne Lewis' original artwork, and includes a 12-page booklet featuring Lewis's stunning lyrics. An essential acquisition for fans of Rock in Opposition-inspired music, Cuneiform's reissue of
In This Life
should be an exciting discovery for a new generation of adventurous listeners, interested in expanding the depth, breadth and genre borders of rock songs.
Thinking Plague is currently recording an album of all-new material for Cuneiform, tentatively titled
Hope Against Hope
. Thinking Plague also remains a live ensemble, performing at music festivals worldwide.
PROMOTIONAL TRACKS
//
If you'd like to share music from this release, please feel free to use the following track:

"Lycanthrope"
: @
SoundCloud
/ @
Bandcamp
/ @
YouTube
PURCHASE LINKS
//
ITUNES
-
AMAZON
-
BANDCAMP
-
WAYSIDE MUSIC
ARTIST SITES
//
www.thinkingplague.org
-
@Facebook
-
www.cuneiformrecords.com

-----
Cuneiform Records
www.cuneiformrecords.com/
www.twitter.com/cuneiformrecord
www.facebook.com/cuneiformrecords

www.soundcloud.com/cuneiformrecords

www.youtube.com/user/CuneiformRecords