Coinciding with the
First-Ever Vinyl Reissue of 1978's Chronolyse
out on Cuneiform October 16, 2015

Experimental Rock Icon
Richard Pinhas
Tours England and France in Fall/Winter 2015,


Performing Two Nites at England's Famed Tusk Festival
and at Venues in London, Paris, Poitiers and Toulouse
with Fellow Sonic Innovators
Stephen O'Malley, Yoshida Tatsuya, Ono Ryoko and Arthur Narcy
*****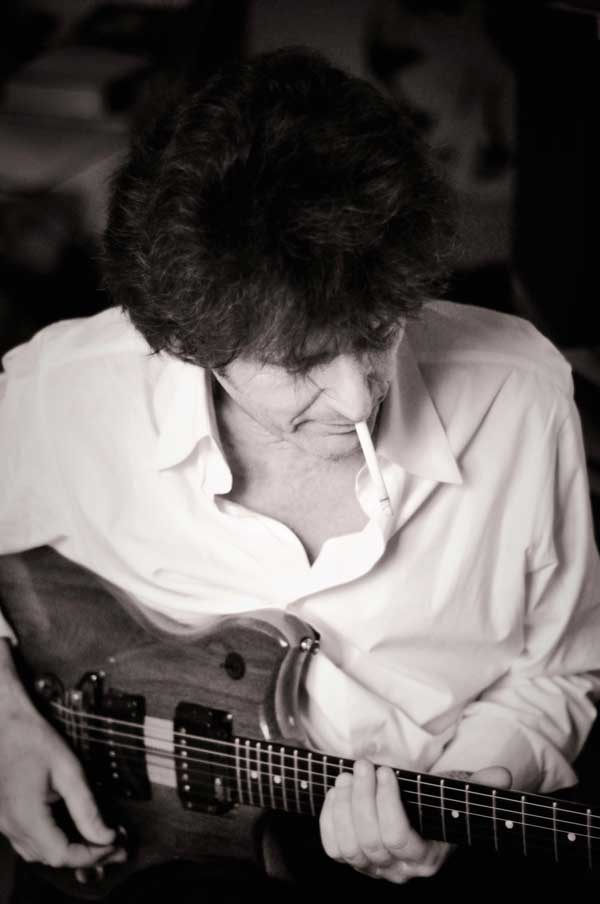 Upcoming Richard Pinhas Tour Dates
Fall/Winter 2015

Paris, France - Friday, October 9, 2015

Richard Pinhas and Pascal Comelade (mini-set one)
and
Energie Fantome (set one)
and

Richard Pinhas and Sax Ruins (Yoshida Tatsuya and Ono Ryoko) (set two)
and
Richard Pinhas and Sax Ruins and Patrick Gauthier (encore)
Sets at 8:00 pm/ 20:00 hr
Le Triton
11 Bis Rue du Coq French
Lilas (Les), France, 93260
http://www.letriton.com/
€ 20 Normal/ €15 Reduced/ €12 Member/ €8 Junior
Newcastle, UK - Saturday, October 10, 2015
Richard Pinhas and Yoshida Tatsuya and Ono Ryoko
Set Times: 6:00 pm onwards
Tusk Festival: Day One
Stepney Bank, Newcastle upon Tyne,
Tyne and Wear NE1 2NP, United Kingdom
http://tuskfestival.com/artists/
€55 Full Weekend Pass/ €20 day pass
Newcastle, UK - Sunday, October 11, 2015
Richard Pinhas and Stephen O'Malley
Set Times: 6:00 pm onwards
Tusk Festival: Day Two
Stepney Bank, Newcastle upon Tyne,
Tyne and Wear NE1 2NP, United Kingdom
http://tuskfestival.com/artists/
€55 Full Weekend Pass/ €20 day pass
London, UK - Monday, October 12, 2015
Richard Pinhas and Sax Ruins (Yoshida Tatsuya and Ono Ryoko)
Set time: 7:30 pm
presented by
Baba Yaga's Hut


Corsica Studios



4/5 Elephant Rd,
London SE17 1LB, United Kingdom
http://www.corsicastudios.com/
£11 Advance
Poitiers, France - Wednesday, October 14, 2015

Richard Pinhas and Sax Ruins (Yoshida Tatsuya and Ono Ryoko)
Set Time: 9:00 pm/ 21:00
Planetarium, Espace Mendés France
1 Rue de la Cathédrale,
Poitiers, France 86038
http://emf.fr/
PT: € 6; TR: € 3.50
Toulouse, France - Saturday, December 17, 2015

Richard Pinhas and Arthur Narcy

Set Time: 7:00 pm/ 19:00

les Abattoirs, Auditorium
76 Allées Charles de Fitte,

Toulouse, France 31300

http://www.lesabattoirs.org/en/
€ 7 admission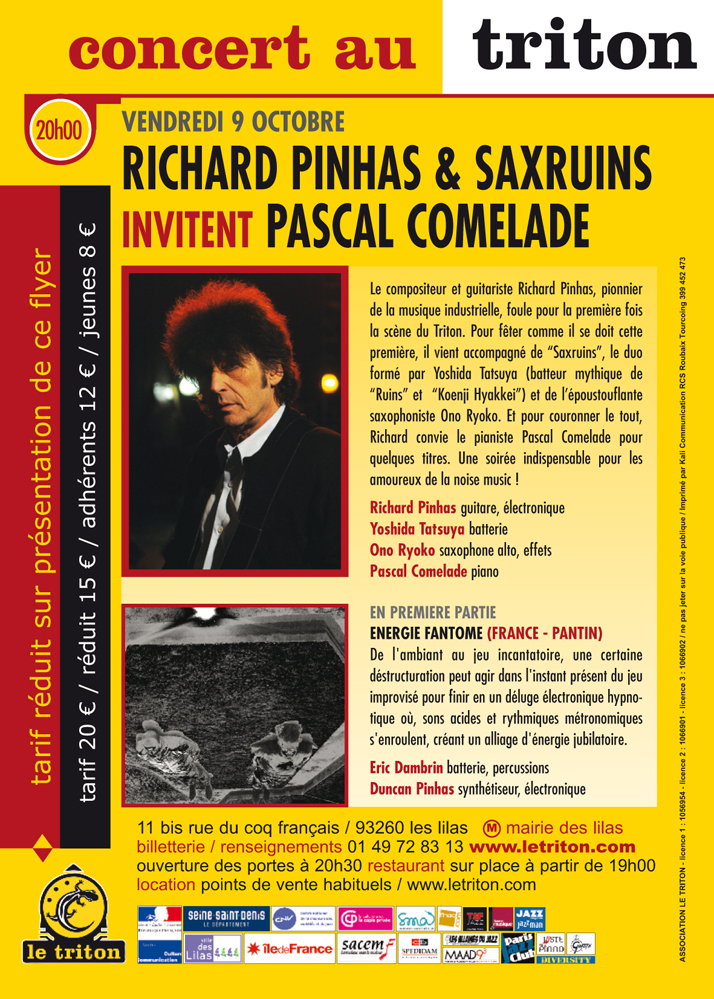 To book Richard in Europe, please contact Julie Tippex:

http://julietippex.com/


To book Richard in Japan/USA, please contact Richard via the contact section:

http://www.richard-pinhas.com/contact.php


Richard Pinhas is currently planning a USA tour for Spring/Summer 2016.
Please contact him regarding availability.

For press or radio interviews while on tour
, album inquiries or other information, please contact
Cuneiform Records Publicity and Promotion
Joyce
:
joyce@cuneiformrecords.com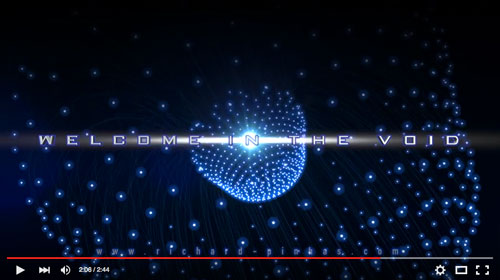 [
WATCH: Announcment Video for Pinhas, Tatsuya, Ryoko - 2015 tour
]
*****


First-Ever Vinyl Reissue of Richard Pinhas'
Chronolyse
Street date: October 16, 2015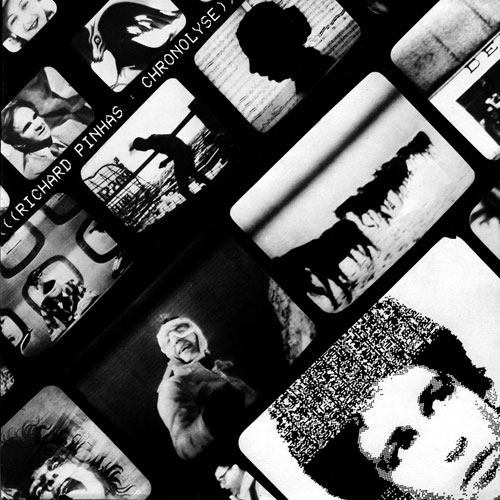 RICHARD PINHAS
CHRONOLYSE
[Vinyl LP Reissue]



STREAM/SHARE: "Sur Le Theme De Bene Gesserit VII"
stream: @SoundCloud / @Bandcamp / @YouTube

Cat. #: Rune 30, Format: CD / LP / DIGITAL DOWNLOAD
Genre: Rock / Electronic Music / Experimental
Release Date: October 16, 2015


Cuneiform Records
is proud to announce the first-ever vinyl reissue of
Chronolyse,
the masterwork of 1970s analogue electronics that French electronic musician and guitarist
Richard Pinhas
created in tribute to
Frank Herbert's
sci-fi classic,
Dune
. This special reissue, pressed on 180 gram white vinyl and featuring the original album artwork,
celebrates
Chronolyse
's conception nearly 40 years ago as well as the 50th anniversary of
Dune
, the first volume of which was published in 1965.
Back in 1974, Pinhas received his PhD in Philosophy from the
Sorbonne
, where he had studied with French philosopher
Gilles Deleuze
and written his dissertation, "
Science-Fiction, Inconscient et Autres Machins
", on the intersections of time, time manipulation, science fiction and analogue electronic music. That same year he founded
Heldon
. a band that fused his searing guitar with experimental electronics to revolutionize rock music in France. By 1976 Heldon had released several albums on Pinhas'
Disjuncta
label (one of France's first independent labels), and began working on a new album,
Interface
. Simultaneous with the
Interface
sessions, Pinhas immersed himself in a highly personal and heartfelt solo project. He had been deeply affected by
Frank Herbert's Dune
novels and the complete universe that they contained, and wanted to dedicate a full album to
Dune
. Acquiring a
Moog P3
and a new
Polymoog
to accompany two
Revox A700s
he had installed in his home
Heldon Studio
, Pinhas now had the perfect analogue electronic arsenal to weave his own sonic and philosophical universe in response to
Dune's
.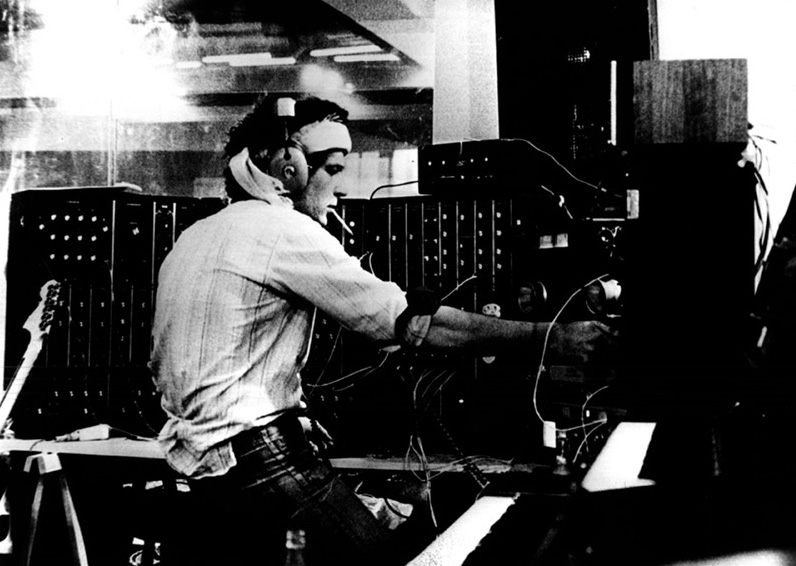 [Richard Pinhas]
Between January and June 1976, he recorded his Dune tribute on Moog and Polymoog direct to tape; he recalls that the music flowed to him easily, "like a dream". He used his "Big MOOG P3" and the two Revox (one for recording, one for a delay) to record side A of the album, which included 7 tracks dedicated to "Variations Sur Le Theme des Bene Gesserit" and one track named after "Duncan Idaho". For side B, he used his Polymoog and the two Revox to record a "Tronix" base for a single, lengthy track, "Paul Atreïdes". Originally, he had thought to do an all-Moog album. But instead, he went into the Davout Studio with his guitar and his Heldon colleagues, Didier Batard (drums) and François Auger (bass) to record their instruments over the Polymoog track. All the track names derived from Dune. "Bene Gesserit" is a name of the race of the woman who has ESP. "Duncan Idaho" is a military aide of the clan of Atreides; the name also was similar to that of one of Richard's sons, Duncan, who was then a little more than one year old. "Paul Atreides" is a boy who corresponds to the hero of the story. But Pinhas did not want his album to be a too "commercial" Dune tribute, and thus chose his album's name, Chronolyse, from a work by French science fiction novelist, Michel Jeury, whose writings dealt with time manipulations.

Chronolyse came out on vinyl in 1978, released by Cobra only in France. Although it was his first solo recording, it was his second solo album release, as Rhizosphere had come out the year before. As completed, it included one side of solo, live Moog synthesizer pieces, notable for their wide, stereo field and unique sound - a product of the weeks he spent setting up and programming the sounds on his huge Moog P3 modular synthesizer. The other side was a lengthy, stormy, drone-filled, epi of mellotrons (Polymoog), electronics, guitar, bass and drums by his Heldon colleagues. In Chronolyse, Pinhas not only explored new synthesizer technologies, new sonics and materials, but also the philosophical concepts that he held dearest, such as timeless repetition and the superimposition of events. In Chronolyse, Pinhas wove his separate worlds of music, philosophy, science fiction and literature, physical reality and family life into a single sonic and philosophical universe.

Steve Feigenbaum, Cuneiform's founder and CEO, had long admired Pinhas' work; he calls Chronolyse "absolutely one of Richard's very finest works: half live Moog electronics that make fantastic use of stereo imaging and mix aggression with the repetitiveness of Phillip Glass or Terry Riley, and half with Heldon in a 30' King Crimson-ish stormy drone-epic of mellotrons, electronics, guitar, bass, and drums." 25 years ago, after months of communicating across the Atlantic, he took the train from Washington DC, Pinhas flew from Paris, and the two met in person in New York City to discuss a collaboration. Cuneiform and Pinhas signed a contract for Cuneiform to reissue on CD and distribute internationally all of Pinhas early solo and Heldon recordings, originally released on LP in France. They decided to reissue the back catalogue in groups of two. The first Cuneiform CD reissues, Chronolyse and East/West, came out in 1991 with a Cuneiform press release written by NYC-based science fiction novelist Norman Spinrad. Now, Cuneiform is doing the first-ever vinyl reissue of Chronolyse, 35 years after it last appeared in that medium.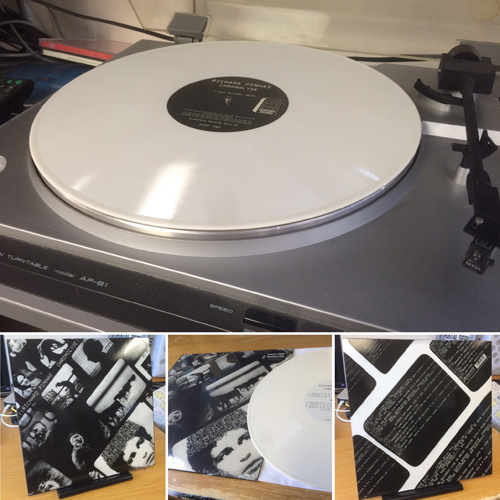 [The first-ever vinyl reissue of this classic, which has been unavailable on vinyl for 35 years]
Cuneiform asked Richard Pinhas for some of his memories about creating

Chronolyse

.


Here is what he said:
"CHRONOLYSE is an album that I made on my own at my home (the Heldon Studio) in Paris, parallel to my work with Heldon on the INTERFACE session... The majority of the tracks (side A on the original Chronolyse lp) were made using only a Big MOOG 3P recorded directly into a Revox with another special Revox for delay (so 2-track Stereo in both) – and no guitar at all. It was initially meant to be an all-MOOG album.
The MOOG 3P is the first MOOG (big one) analog that I got from England. It was a Modular analog system with a dual sequencer (8 steps each), MOOG SEQ B. It came from the MacCartney studio, in an exchange for my label DISJUNCTA.
I had two A700 REVOX; I dedicated one to the direct stereo recording, the other one I used to construct the delay I needed for these tracks. The A700 were the last ever made by REVOX(STUDER); the more common was the 77...
The two longer tracks started with a long "Tronix" track which I made at home, using the original POLYMOOG that I got just for this album. The Polymoog was a polyphonic instrument, played with the hands [like a keyboard], a great instrument that I still regret not having anymore... I made loops and loops and delays with this Polymoog at home, often with only one take, directly hand played, and recorded in stereo directly into the A700 Revox (for 2 tracks only).
On one track ["Paul Atreides"], I went into Davout Studios with my guitar and Heldon friends Didier Batard (bass) and François Auger (drums) to add other instruments on top of the electronic track.
It was a very intense work period... I have always been a Sci-fi Fan, an avid Sci-fi reader, and I personally knew Philip K. Dick and was (and still am) very good friends with Norman Spinrad. With UBIK from P.K. Dick and BUG JACK BARRON from Norman SPINRAD, Frank Herbert's DUNE was one of my three most important, most beloved sci-fi books.
I had referenced Science fiction in my music before. I named my band after Heldon, the mythical land in Spinrad's THE IRON DREAM.

Heldon one [Electronique Guérilla, the first Heldon album] was, in a way, already dedicated to Dick, and I had worked with Spinrad on many other albums…
DUNE had a tremendous impact on me... I wanted my DUNE project to be a full-length experiment. You had at that time [during the early '70s] volumes on the DUNE suites… The stories were a COMPLETE UNIVERSE
! The DUNE universe – the people, the stories, the landscapes etc. – were VERY IMPORTANT to me and to MY ENTIRE UNIVERSE; the Dune universe intersected with my own, the two worlds mirrored each other, shadowed each other, step by step, PLENTY of times….
So I wanted to dedicate a full album to the DUNE story, but with a little noncommercial (subversive) trick to give a non-Dune NAME to the album. The name CHRONOLYSE came from a book by a French author, Michel JEURY, very close to the Time Manipulation Stories and connections. (Spinrad's main novel is based on TIME manipulation…just as electronic music like mine is especially based on delay times and delays stereo manipulations.) In a way, the album was also a special Thanks to Jeury.... but all of the Album has DUNE as its main Theme…the BENE GESSERIT Story and of course " Duncan Idaho"…a name not so far from the name of my son Duncan, who was born one year and a few months before.
The tracks on CHRONOLYSE came naturally to me.

They flowed in a natural way, just like in a dream, and I recorded them in a very simple way, direct to stereo …no re-recording... Working on the initial moog patterns and sounds took
a

special feeling…developed in Time…and very small Variations...
So at the end Yes, it was a hard thing to do a direct-to-stereo Album with only one synth… Even A big one...but THE SOUND was the most important subjet... And the sound of this MOOG is Fantastic for the DUNE Music Variations... :-)
Instruments used on Chronolyse:
2 Revox A700 (one for the delay, and one for the stereo recording)
On the long additional track: As usual, my Heldon friends, Didier BATARD on bass and François AUGER on drums ...Perhaps even a little bit guitar (me) on the last track."
–
Science fiction=) time=) Time manipulations = Electronic analog synthetic Musik=) time manipulations too
–
Richard Pinhas, September 2015
************
Recent Recordings by Richard Pinhas on
Cuneiform Records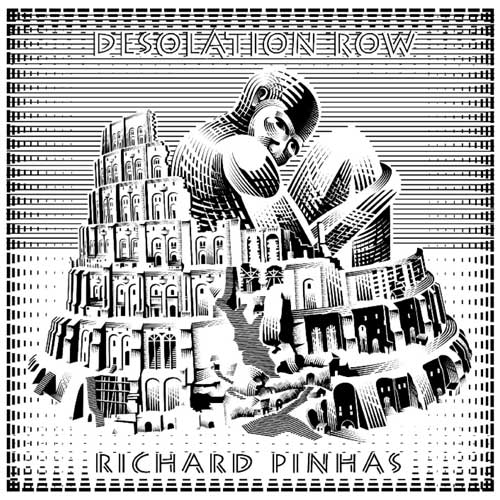 Richard Pinhas
Desolation Row

STREAM "Circle" from Desolation Row

SoundCloud
/
Bandcamp
/
YouTube
Purchase @
AMAZON - ITUNES - BANDCAMP - WAYSIDE MUSIC
************
Cuneiform Records is honored to have released and/or reissued the complete
RICHARD PINHAS and HELDON catalogs as well as collaborative albums by PINHAS/MERZBOW, PINHAS/AMBARCHI and PINHAS/TATSUYA.
For more information on any of these titles and more, click on any cover below.
w: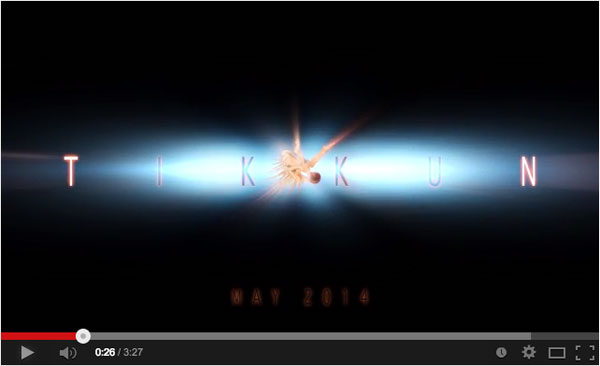 [WATCH: 'Tikkun' Album/DVD Teaser Video]

************


RICHARD PINHAS: BIO MATERIAL
[Richard Pinhas]
Richard Pinhas is still a force in world music today… his music has the emotive depth that most other electronauts hardly begin to grapple with. Add to this its other attributes: alien atmospheres, futuristic imagery, feelings of the mystery of technology, precise clinical production, belief in creative and political revolution, an obscure intellectual base and references to science fiction…then there is a musical force that has little or no rival."
- Audion


Ceaselessly innovative in a career spanning nearly 40 years,
Richard Pinhas
is recognized as one of France's major experimental musicians. A composer, world-class guitarist and electronics innovator, he is a key figure in the international development of electronic rock music. During the 1970s, Pinhas' stature in France was analogous to
Tangerine Dream
's in Germany: the father figure of an entire musical movement. Years before MIDI existed, Richard was creating sophisticated electronic music using vast walls of the available components of the day. His band Heldon fused electronics, "diabolical guitar work" and rock to create a pioneering, aggressive music that was a precursor to the industrial music and techno to come. The groundbreaking music he created in the '70 with Heldon and solo remains vital and unsurpassed today, evident in its worldwide revival among a new, younger generation of musicians and fans.
In the 1990s, Cuneiform began working with Pinhas to reissue his Heldon and early solo recordings. The label also began releasing Pinhas' new recordings, as Pinhas continued to explore and expand rock's sonic edge in multi-layered instrumental works infused with influences from sci-fi and philosophy. Pinhas' subsequent work, featuring his
"Metatronic"
system of electronically treated solo guitar compositions, was as radically innovative as anything in his early career. Incorporating influences from and sharing aesthetics with the work of
Fripp
,
Eno
and
Godspeed You! Black Emperor
, Pinhas' guitar / electronics / spoken word works have appealed to longstanding fans while also attracting new admirers.
In the 21st century, Pinhas' uncompromising sonic quest has led him to joined forces with some of Japan's top noise artists, including
Merzbow (Masami Akita)
,
Yoshida Tatsuya
, and
Keiji Heino
, as well as such other global sound explorers as
Wolf Eyes
and
Oren Ambarchi
. In recent years, in an astonishing creative surge, he has released numerous new solo and duo/collaborative instrumental works recordings on Cuneiform that fuse his guitar work variously with electronics, noise, other guitar work and/or drums, and continue to expand the parameters of rock. Pinhas new releases, inspired by 21st century political and philosophical concerns, are astoundingly powerful and sophisticated musical works that rival those from his Heldon days.
Pinhas is also an active live performer. In recent years, he's toured throughout Europe, in Japan, and in North America. Both solo and in various groupings, he's performed as headliner for festivals of avant-garde and electronic music worldwide.