Ergo Release a New Music Video for "Yet but"
from their
New Album As subtle as tomorrow
and Announce Record Release Show in NYC

-----
Beautiful Savage
premieres Ergo's new "Yet but" music video animated by
Alex Barry
http://beautifulsavage.com/music/yet-but-ergo-alex-barry-hand-drawn-animation/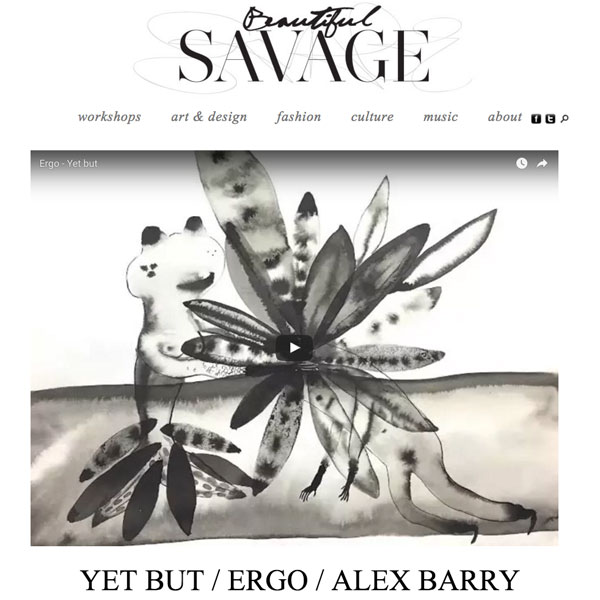 The animated video for
"Yet but"
was created by Brooklyn artist
Alex Barry
, using his own stunning, black and white watercolor drawings and
Ergo
's gorgeous music.


---

Ergo
Celebrates the Release of
As subtle as tomorrow
on Cuneiform Records
with a
NYC Record Release Show
at
Cornelia Street Cafe
on
Tuesday, April 26th
.
Inspired by the stark intensity and hymn-like clarity of the Emily Dickinson poem it's named after, As subtle as tomorrow is a suite of pieces in which overlapping melodies, motifs and improvisations played by the acoustic ensemble are transformed into electronic elements of the music in real time. With pianist Sam Harris, drummer Shawn Baltazor, and Brett Sroka on trombone and computer, Ergo draws on the spirit of the avant-garde, inflections of minimalism and computer electro-acoustic techniques, to sow a sound unique in modern jazz.

For this rare performance Ergo will play two sets: at 8 p.m. the trio plays the new suite As subtle as tomorrow in it's entirety, and at 10 p.m. its will expand on some of the more improvisational pieces from its three previous records.


Tuesday,
April 26, 2016
, 8pm & 10pm
Ergo - Record Release Show
Cornelia St. Cafe
29 Cornelia St.
New York, NY
$10 cover, $10 minimum
facebook event page

---


About
Ergo'
s new album,
As subtle as tomorrow: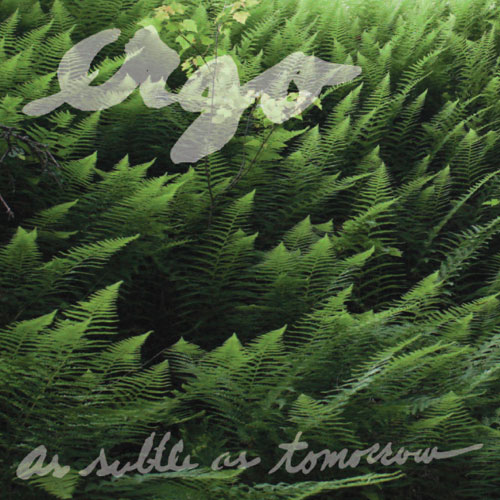 ERGO
AS SUBTLE AS TOMORROW


STREAM/SHARE: "That never came"
stream: @SoundCloud / @Bandcamp / @YouTube

Cat. #: Rune 419, Format: CD / Digital Download
Genre: Jazz / Electronic / Minimalism


As subtle as tomorrow Track Listing:

1. as tomorrow (6:15)
2. A warrant (3:30)
3. As subtle (4:07)
4. That never came (6:03)
5. a conviction (6:18)
6. Yet but (5:52)
7. a name (10:17)

for radio:
FCC: Clean!
Start with tracks: #2, 4, 5

Ergo
Brett Sroka - trombone, computer
Sam Harris - piano, prepared-piano, Rhodes electric piano
Shawn Baltazor - drums

All songs composed by Brett Sroka (Srokasonic-SESAC).

Recorded at Peter Karl Studio, Brooklyn, NY by Peter Karl, July 18 & 25, 2013.

Mixed by Brett Sroka and Shawn Baltazor, 2014–2015.

Additional mixing by Ben Rubin at the House of Cha Cha, Brooklyn, NY, October 6, 2015.

Mastered at On Air Mastering, Brooklyn, NY by Julian Silva, October 2015.

Cover and liner photographs by Anne-Claire Rohé.

Cover design by Andrew Cornell Robinson.

Package design by Bill Ellsworth.

As subtle as tomorrow
That never came,
A warrant, a conviction,
Yet but a name.

--Emily Dickinson
With his embrace of open space and strategic use of silence, trombonist, composer, and sonic architect
Brett Sroka
has honed an inviting improvisation-laced sound in his trio
Ergo
, an electro-acoustic group approach that often reveals astonishing, strangely beautiful and unexpected realms. What's not surprising about Ergo is discovering Sroka's affinity for
Emily Dickinson
, the poet whose radical concision and visionary deployment of silence is unmatched in the English language. Featuring drummer
Shawn Baltazor
and
Sam Harris
on piano, prepared piano and Fender Rhodes, Ergo's third Cuneiform album
As subtle as tomorrow
is based on a brief and typically cryptic
Dickinson
verse. The project captures the latest evolution of Sroka's singular vision.
A seven-piece suite in which overlapping melodies, motifs and improvisations organically evolve into and out of the music's electronic elements,
As subtle as tomorrow
takes its name from a Dickinson poem that can be reconstructed from the fragments and phrases that Sroka borrowed as tune titles. Evocative and mysterious, playful and spiritually charged as a Zen koan, the music is inspired by the stark intensity and hymn-like clarity with which Dickinson considers and transcends thoughts of time and destiny.
"She's my favorite poet," Sroka says. "There's something about her simplicity and succinctness and clarity, which is so direct and poignant, that I decided I wanted to use that verse for this suite. As I started writing I gave fragments to different pieces, and the only reason that the poem is broken up is that the music flowed better that way. The title for each one felt right."
Steeped in jazz and inspired by artists from
Stockhausen
,
Xenakis
, and
Terry Riley
to
Sigur Ros
and
Aphex Twin
, Sroka infuses Ergo's music with an improvisational ethos. While he uses various effects, every sound is drawn from or created out of the acoustic instruments sampled in real time as the trio plays together. The experience of performing the music in concert deeply informed the suite's development, and the music unfolds with its own interior logic.
The album opens with "As tomorrow," a spare, shimmering soundscape that introduces the haunting theme that reconstitutes itself in various guises throughout the suite. The results can be uneasy and dreamlike ("A warrant"), mournful and resigned ("As subtle"), or jubilant and spritely ("A conviction"). Concluding with "A name," which is almost a mini-suite in itself,
As subtle as tomorrow
doesn't resolve neatly or deliver a cozy resolution. With Sroka's trombone tranquilly searching in the midst of a sparse field of electronic textures, Baltazor's cymbal caresses and Harris's repetitive, rising and falling piano line, the music raises more questions than it answers, which seems to be exactly what Dickinson intended with the verse.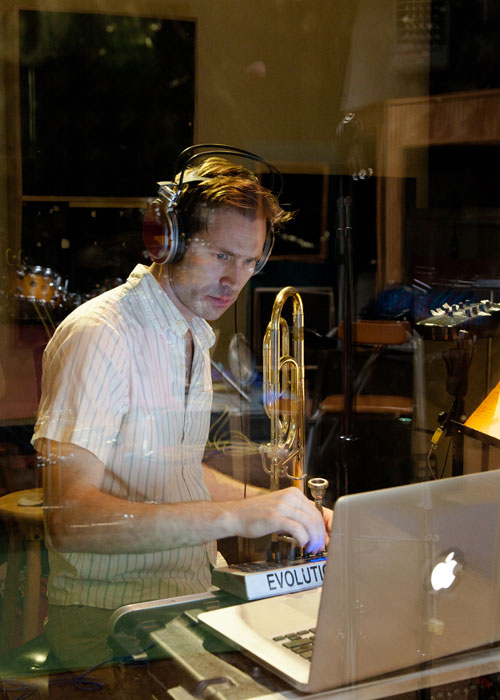 [Brett Sroka | credit: Anne-Claire Rohé]
In something of a "chicken and egg" approach, Sroka composed the themes on paper in conjunction with designing a Max/MSP software instrument to sample and process them. Through a combination of techniques, including slicing/sequencing, granular synthesis, time stretching and pitch shifting, this custom Max/MSP patch creates loop-based rhythms, abstracted timbral accompaniments, and interactive responses.

Under Sroka's direction the trio is devoted to exploring the push and pull between structure and freedom, density and spaciousness, and electronic and acoustic timbres. One can see Ergo's transparent sound as a conscious reaction to the prevalence of frenetic, sonically dense music being created by some of Sroka's contemporaries.

"There's something that appeals to me about space and silence and attractive melodies," he says. "I'm interested in ambient music, which led to Arvo Pärt and John Cage and patient listening music that incorporates a lot of silence. One motivation might have been a response to jazz that's out there, music that's hyper technical, hyper busy, with a lot going on all the time."

In many ways, Ergo is the sum of its manifestly creative parts. Raised in Lexington, Mass., Sroka studied with trombone greats Britt Woodman and Steve Turre at Manhattan School of Music, where he earned a BA in 1997 and pursued his own compositional studies by dissecting dozens of Duke Ellington scores. He made his recording debut as a leader with 2002's impressive Fresh Sound-New Talent CD Hearsay, a stellar sextet session featuring rising masters Jason Moran, Eric Harland and trumpeter Avishai Cohen. Shortly after the album's release, electronic music captured his imagination. Feeling hemmed in by the limited opportunities for his horn, Sroka immersed himself in synthesizers and software.

"When you're a trombonist playing jazz, you feel marginalized," Sroka explains. "You're not the most popular instrument. I think I felt inadequate and that motivated me to get into electronics, to develop another palette to draw from. It's funny, there's a bunch of other trombonists who use electronics. I saw a video of George Lewis and he said something to a similar effect, that the trombone wasn't enough."

Ergo came together in 2005 when Sroka was working with a cadre of similarly inclined musicians unconcerned about genre conventions, performing in venues with audiences open to musical exploration such as Mercury Lounge, 55 Bar and Galapagos. Evolving out of these musically permissive forums, Ergo released its 2006 debut album Quality Anatomechanical Music on its own Actuator label, an album lauded as the year's best debut CD by All About Jazz-NY. The original lineup featured Sroka on trombone and computer, Carl Maguire on Rhodes electric piano, Prophet Synthesizer and effects, and drummer Damion Reid (best known for his work with Robert Glasper, Greg Ward and Rudresh Mahanthappa).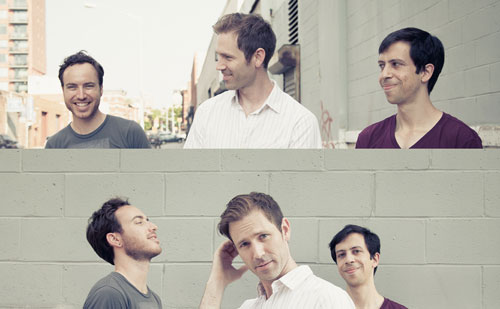 [Ergo | credit: Anne-Claire Rohé]
The album's success led to performances at an international array of major festivals and Ergo's ongoing relationship with
Cuneiform
. Ergo's Cuneiform debut, 2009's
multitude, solitude
, featured a new version the band with Sroka, Maguire and drummer Shawn Baltazor, a dynamic, stylistically expansive drummer and composer who performs with heavyweights like
Jon Irabagon
,
Seamus Blake
,
Ben Street
,
Ben Monder
and
Darcy James Argue's Secret Society
.
Baltazor also works regularly in various settings with pianist Sam Harris, who joined Ergo on 2012's
If Not Inertia
(a critically hailed album that featured left-field guitar star
Mary Halvorson
on three tracks). Born and raised in Dallas, Tex., Harris has emerged in recent years as one of the most sought after young pianists in New York City, performing and recording with superlative artists such as trumpeter
Ambrose Akinmusire
, vocalist
Gretchen Parlato
, and drummer
Rudy Royston
.
"Shawn and I were in a group Atticus led by
Sebastian Kruger
before Ergo, and he's really self motivated and open to the concept of the music," Sroka says. "It's spacious and can sound simple but there's a lot of freedom within that, and you have to get into that mindset. I met Sam when Jason Moran recommended him. Initially I wanted Ergo to go in a much more electronic direction, but by the time Sam came in I was ready to incorporate acoustic piano. He's an amazing, fiery young player and I designed some compositions to push him and Shawn in the directions they might not otherwise go."
In the works for several years, Sroka started developing the new suite when he was a fellow at the I-Park Foundation in Connecticut in 2012. He completed the music in the spring of 2014 at the Vilnius Academy of Art - Nida Art Colony in Lithuania. To draw on the input and distinctive styles of the ensemble members, excerpts were also developed live, before a broad range of audiences, including experimental music fans at the Sonic Circuits Festival in Washington D.C., New York City jazz crowds at Shapeshifter Lab and the Cornelia Street Café, and composition students during a workshop at the University of Pennsylvania.
In addition to Ergo, Sroka is a prolific film composer who co-leads the melodronoise duo
Cherubim
(and was formerly a member of the psych/noise/rock collective
12,000 Trees
). When he's not making music, Sroka is a carpenter who also works for a prestigious New York art gallery.


PROMOTIONAL TRACK //
If you'd like to share music from this release, please feel free to use the following track:


"That never came": @SoundCloud / @Bandcamp / @YouTube

PURCHASE LINKS //
ITUNES - AMAZON - BANDCAMP - WAYSIDE MUSIC

ARTIST WEB SITES //
www.ergoisaband.com - www.facebook.com/ergoisaband - www.cuneiformrecords.com

BAND MEMBER WEB SITES //
Brett Sroka - trombone, computer - www.brettsroka.com
Sam Harris - piano, prepared-piano, Rhodes electric piano -www.samharrispiano.com
Shawn Baltazor - drums - www.shawnbaltazor.com

TOUR DATES //

Tuesday, April 26, 2016, 8pm & 10pm
Ergo - Record Release Show
Cornelia St. Cafe
29 Cornelia St.
New York, NY
$10 cover, $10 minimum
facebook event page

---

what the press has said about As subtle as tomorrow
"
Emily Dickinson meets electro-acoustic jazz
.
3 1/2 stars...
.. .The result is acoustic-electro jazz with a perceptive structure and freedom, frequently ambient and atmospheric, where silence and space is more important than overreaching technicality or hyperkinetic virtuosity. Sometimes the music is ethereal. ...the opener, "as tomorrow,"... is an austere, iridescent soundscape which has a haunting characteristic akin to rock and electronic artists such as Mogwai or Tycho. A comparable, dreamlike demeanor flits through the uneasy, darting "A warrant"..." -
Audiophile Audition
http://www.audaud.com/ergo-as-subtle-as-tomorrow-cuneiform/