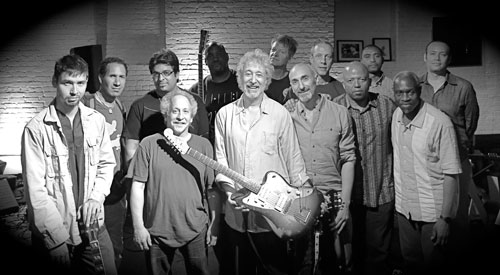 [Adam Rudolph / Go: Organic Guitar Orchestra]
Rudolph has integrated and transformed these influences into a highly personalized language, a language whose rhythmic component, which he calls "Cyclic Verticalism," combines polyrhythms (from African music) and rhythm cycles (from Indian music). Rudolph's Go: Organic Orchestra has performed worldwide at music festivals and served residencies in such countries as USA, Turkey, Mexico, Italy, Finland, Denmark and Norway.

Rudolph's process is more egalitarian and community driven than the top down structure of Western orchestra. "My idea is to get the most structural and aesthetic focus from the music with the least amount of reading. I want the musicians to bring their own voice, feeling, and phraseology to the music. In a kind of "de-composing" process, he creates graphic scores that consist of what he calls "pure elements" – "Interval Matrices," "Cosmograms" and Ostinatos of Circularity". Add to the process Rudolph's unique conducting method. "Through trial and error I have invented my own way of conducting. As with the score, I wanted my conducting to yield as much interpretative range as I could get with the fewest, simplest and clearest gestures possible. I think of my conducting method as being more related to the idea of something that conducts electricity than someone who is always leading. When I begin a concert, I don't know what is going to happen, how the music will unfold. After my initial gesture, as I hear the first sounds of the orchestra I follow the feelings and ideas of where the music flows. But we are all PREPARED due to deep study of the elements in the score. So the score, the musicians and myself as conductor, we all dialogue in a process which I consider "organic."

With the Go: Organic Guitar Orchestrahe moves the idea of what an orchestra can actually BE resolutely into the 21st century. He states: "When you generate new creative processes, the result will be prototypical art." On Turning Towards the Lightthe 11 guitarists sound in turn like a futuristic string section, percussion group, woodwinds, and brass. Rudolph says that his NOT being a guitarist was an advantage in leading this project. "Since I don't play guitar, I don't really think "guitaristically," I'm thinking compositionally and percussively. Perhaps that led us into some areas we might not have gotten to otherwise. I have to say also that these musicians were so incredible – they were so generous in letting their virtuosity serve the musical moment. They played with so much imagination and soulfulness. I am grateful."

Go: Organic Guitar Orchestra is a natural evolution for Rudolph's orchestral vision. The music asks to be heard on its own terms; its unprecedented sounds and formulations invite the listener to set aside their preconceived ideas and expectations. Rudolph adds: "while I was mixing the recording I felt the music itself was so new that is was teaching me HOW to listen to itself. The act of listening to it became a creative activity. I think there are still people who like to engage music that way."

To celebrate the release of Turning Towards the Light, Go: Organic Guitar Orchestra will be playing shows in major cities along the East Coast, in venues including Roulette and Ars Nova. The all-star guitar orchestra is also available for festival bookings worldwide.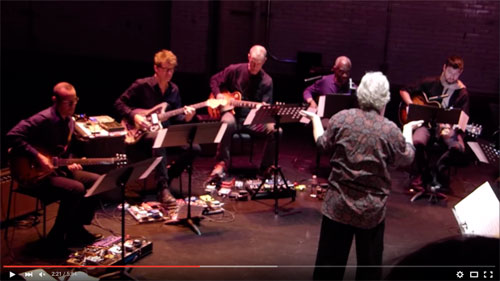 [WATCH: Adam Rudolph/Go: Organic Guitar Orchestra Live @ Fringe Arts, Philadelphia, PA - 11.22.2015 - #1]
ADAM RUDOLPH / GO: ORGANIC GUITAR ORCHESTRA
WEB SITES
//
www.metarecords.com/go.html
- @
Facebook
-
www.cuneiformrecords.com
PROMOTIONAL TRACK
//
If you'd like to share music from this release, please feel free to use the following track:

"Heliotropic"
: @
SOUNDCLOUD
/ @
BANDCAMP
/ @
YOUTUBE

PURCHASE LINKS
//
ITUNES
-
AMAZON
-
BANDCAMP
[
24 bit / 48khz
] -
WAYSIDE MUSIC
ARTIST WEB SITES
//
www.metarecords.com/go.html
- @
Facebook
-
www.cuneiformrecords.com
HIGH-RES
PROMO PHOTOS // photo credits in file names.